We're always here for a Big Sean video in Detroit where we can readily identify hometown landmarks. The latest from the emcee — back on the scene after taking time for therapy and self-care — takes him back to familiar stomping grounds and a new addition to the city's landscape.
She started swimming in a westside Detroit rec center. Now she's on the International stage.
[email protected]
Tue, 05/28/2019 - 10:45
What's it like to be a competitive deaf athlete? AnQuniece Wheeler can tell you.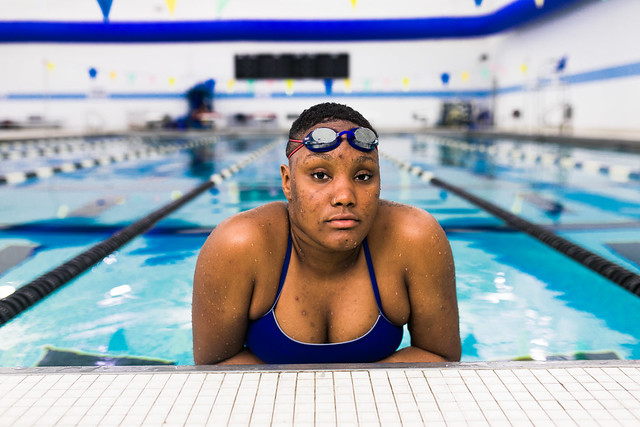 Wheeler, 18, will represent the United States in the World Deaf Swim Championship in Brazil this summer. She's been swimming locally at Adams-Butzel Recreation Center since she was 9.
The GOAL Line will be having its first enrollment fair for Detroit parents interested in getting their kids on a new bus loop serving 10 schools this fall.
A new bus loop serving 10 schools in Northwest Detroit debuts this fall, giving parents in several west side neighborhoods the option to allow their children to be picked up at a school nearest to their house and be dropped off at the school they attend and an after-school program on the loop if they choose.
Unless you've been living under a vibranium rock, you already know this weekend brings the cinematic premiere of Black Panther. Set in the fictitious African country of Wakanda, Black Panther is the highlight of Black History Month 2018, or maybe all of 2018 as its already the highest-grossing film of the year thus far.
For Valentine's Day, The Neighborhoods will be sharing short and sweet love stories from Detroit couples who met in Detroit. Join in on the love using our #DetroitLoveStory hashtag.
FREDERICK PAUL AND IESHA MITCHELL
Neighborhood: Harmony Village
How they met: Iesha says, "Fred and I met during our senior year at Renaissance High School. He sat next to me in class and wouldn't give up until I became his girlfriend."
Janice Onwenu and Jennifer Onwenu are shaking up the wig industry in Detroit. The two sisters soft launched their shop Chi Chi Beauty in late November.
"If I started a wig company, it would definitely be with nobody but my sister," Jennifer, the younger sister says. Chi Chi Beauty sells high quality synthetic fiber units – just simply known as "wigs" to the uninitiated.
At The Neighborhoods, we're interested in hearing from everybody in Detroit about what matters most to you.
Do you have a story to tell about what your community group is doing in the neighborhood? Tell us.
Do you have a story to tell about a home that needs to come down in your neighborhood? Tell us.
Subscribe to Harmony Village