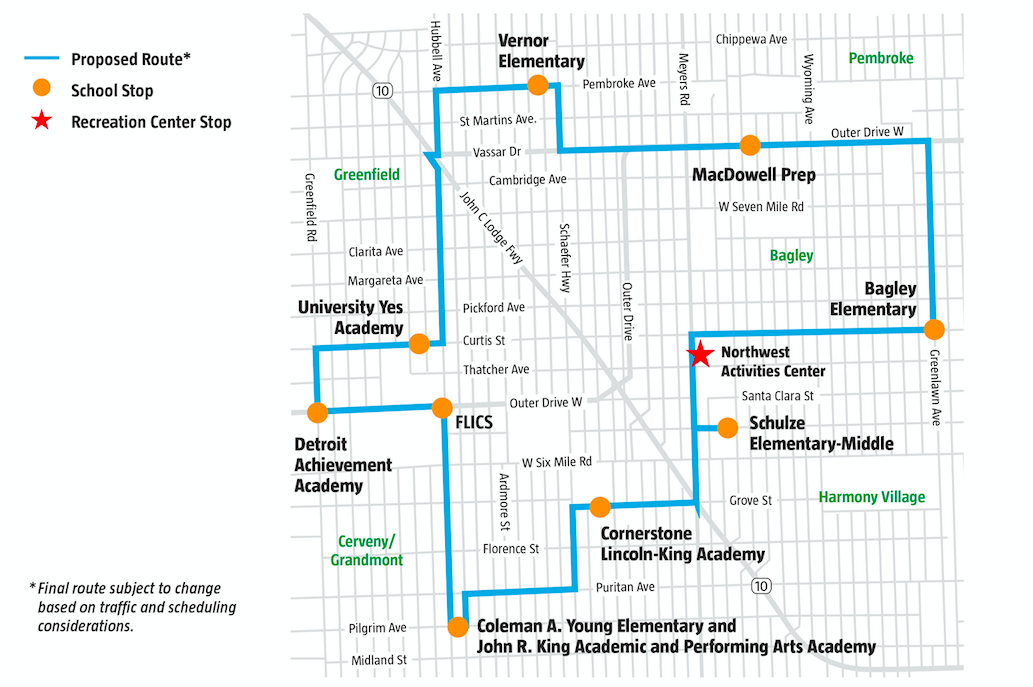 New GOAL Line bus loop looks to bring students back to Detroit schools, aid parents with transportation
Route lets kids get on at school nearest their house, then drops off at where they're enrolled
A new bus loop serving 10 schools in Northwest Detroit debuts this fall, giving parents in several west side neighborhoods the option to allow their children to be picked up at a school nearest to their house and be dropped off at the school they attend and an after-school program on the loop if they choose.
Called the GOAL Line (Get On and Learn), the loop is targeting parents who currently enroll their children in schools outside Detroit and parents who have transportation challenges getting their children to and from school. The loop moves along a route that includes the Pembroke, Schaefer 7/8 Lodge, Bagley, Blackstone Park, Greenwich, Schulze and McDowell neighborhoods.
Here's how it works.
There are 10 schools participating on the GOAL Line: Vernor Elementary, Coleman A. Young Elementary, John R. King Academic and Performing Arts Academy, Foreign Language Immersion and Cultural Studies School, Bagley Elementary, Schulze Academy for Technology and Arts, MacDowell Preparatory Academy, Cornerstone Lincoln-King Academy, Detroit Achievement Academy, and University Yes Academy.
If a parent lives near one of these schools but has their child enrolled in another of the 10 schools on the route, their child can ride a bus to one of those schools with a swipe card. When the child swipes the card as they board and exit, the parent receives a text message each time letting them know that their child has gotten on or off the bus. An adult aid will also be present during all bus rides. 
After school, the child can board a GOAL Line bus and be dropped off at the same school they were picked up at in the morning, or they can ride to an after-school program at the Northwest Activities Center that includes swimming, tutoring and other enrichment programming. Transportation back to any school on the loop will be provided until 6:30 p.m.
More than 32,000 children living in Detroit attend a school in a district outside the city. Detroit Public Schools Community District currently enrolls 51,000 students living in the city and charter schools enroll 32,500. The area in Northwest Detroit covered by the GOAL Line has one of the highest concentrations of students who attend school outside Detroit.
The GOAL Line operates under the authority of the newly formed Community Education Commission, a nonprofit tasked with attracting more students back to Detroit schools regardless of affiliation. The CEC is overseen by a board of directors that will be appointed by Detroit Mayor Mike Duggan and will include representation from DPSCD administration, a DPSCD classroom, charter school administration, a charter school classroom, a representative of a labor union representing Detroit teachers and at least one parent.
Sign-up for the GOAL Line begins before the fall enrollment season. For more information, visit goaldetroit.org or call 313-224-1222. Parents also can contact one of the 10 participating schools to get on the route.