Think StockX but for the local shoe connoisseur. That's what Fahrenheit 313 is bringing to the Avenue of Fashion.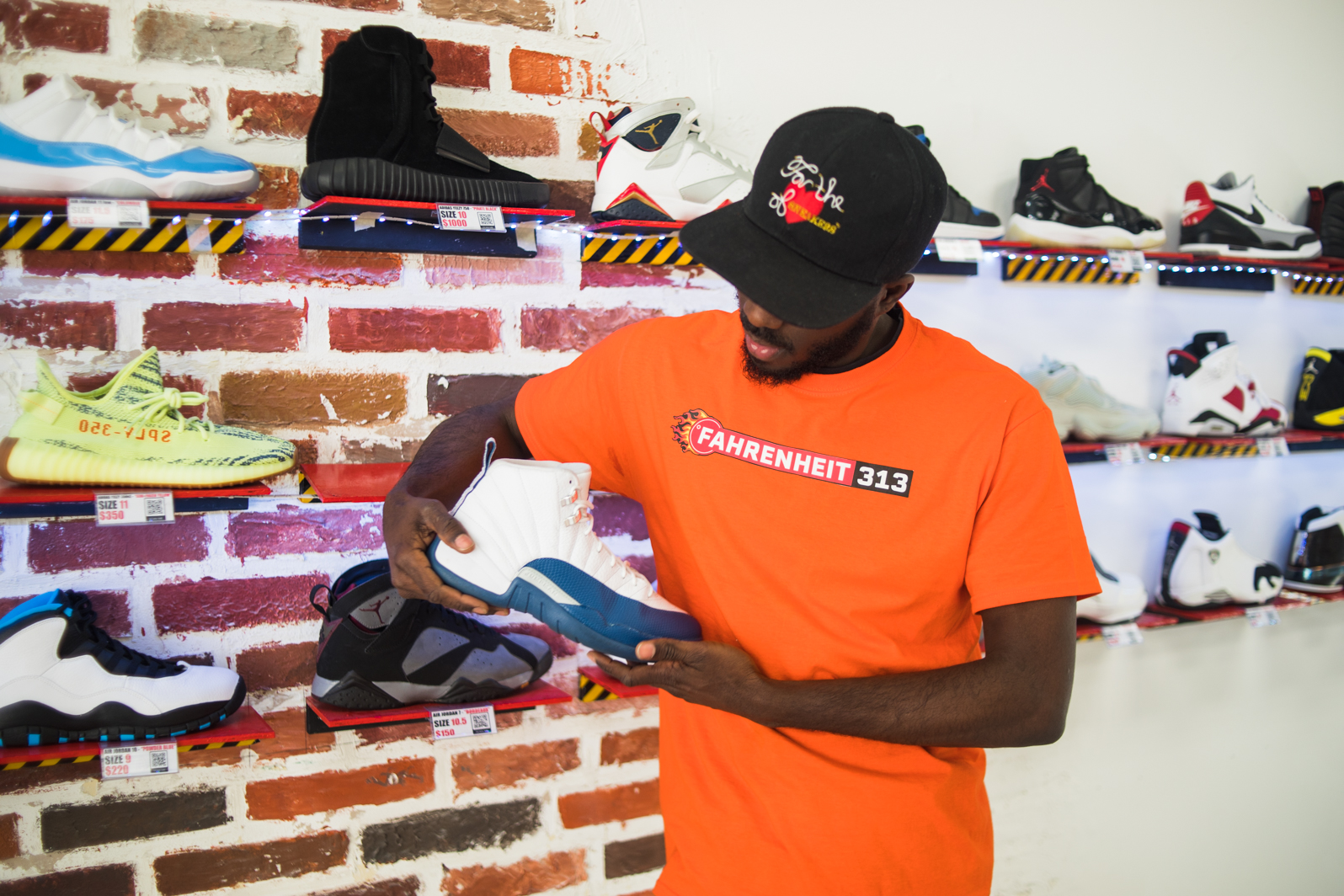 Detroit launches free park-and-ride shuttle for Livernois businesses
[email protected]
Wed, 08/14/2019 - 12:35
A pilot shuttle designed to move shoppers up and down the Livernois corridor during road construction launches today.
Starting August 14, riders can park at 11 locations around the Avenue of Fashion and ride the shuttle for free between locations from August 14-16. Riders are encouraged to patronize the shops along the route.
The shuttles run from noon to 6 p.m. on weekdays. The pickup and drop-off locations are detailed in the map below.
Like many self-made Detroit business leaders, Clement "Fame" Brown Jr. started off trapping out the trunk.
Brown had a vision: Selling original streetwear that was true to Detroit, and something a Detroiter would be proud to wear. His brand, Three Thirteen, takes its name from the city's dominant 313 area code.
Do you hate the Livernois island? Talk to the mayor about it
[email protected]
Wed, 08/15/2018 - 14:55
A community meeting will be held on August 16 for residents in and around Livernois-McNichols to discuss proposed streetscape improvements to the area.
Top of the agenda for residents? A chance to sound off on the long-debated median along Livernois Avenue, which has been a source of back-and-forth for Detroiters for years. The City of Detroit Planning Department is looking to take feedback on possibly removing the median completely and instead widening the street or widening the sidewalk.
'Design Center in a Box' meeting to be held in Livernois-6 Mile area
[email protected]
Tue, 07/31/2018 - 16:29
A community meeting will be held on August 1 for residents in and around the Livernois-6 Mile neighborhoods to discuss design-centric improvements to the area.
The meeting is hosted by the City of Detroit's Planning and Development Department as part of Design Center in a Box, a collaboration between the Cdepartment and the Detroit Collaborative Design Center at UD Mercy. It is funded by the Knight Foundation's Cities Challenge.
Residents asked for feedback on proposed bike lanes on Livernois
[email protected]
Wed, 06/06/2018 - 16:56
District 2 residents are invited to discuss a pair of proposed streetscapes along the Livernois Avenue corridor during a community meeting with the City of Detroit Planning and Development Department Thursday night.
The two proposed options primarily affect the Avenue of Fashion between the University of Detroit Mercy and Eight Mile Road. Residents are asked to voice their feedback on whether to add bike lanes or an extended sidewalk on both sides of Livernois.
Gail Rodwan has been a Sherwood Forest resident for the past 48 years. On the outside, her home is stately and made of stone with ivy creeping up the front. Inside, Pewabic-inspired tile lined the foyer and the parlor was bright and warm. Sherwood Forest celebrated the 100th anniversary of its founding in 2017.
At The Neighborhoods, we're interested in hearing from everybody in Detroit about what matters most to you.
Do you have a story to tell about what your community group is doing in the neighborhood? Tell us.
Do you have a story to tell about a home that needs to come down in your neighborhood? Tell us.
SHARE YOUR EVENTS
Edgar
Tue, 07/11/2017 - 12:19
Share your events with people all around the city.
Subscribe to Sherwood Forest