Detroiters, start thinking now about being strategic with your yard waste, because the time is coming where regular waste pickup goes on hiatus.
Regularly scheduled bi-weekly collection in the first two weeks of December will be the last until it resumes in April 2019.
Remember when the only time you heard the word "scooter" was when you were watching reruns of "Living Single," and not, like, every waking hour in Detroit for the past five months? It's time to talk about scooters some more, especially as we speed headfirst into winter much faster than ever before because climate change is going to wreak havoc on us more than those two-wheeled contraptions ever will.
Last Monday, Twitter user Bria Renee asked the timeline to list their top five places to meet new people in Detroit.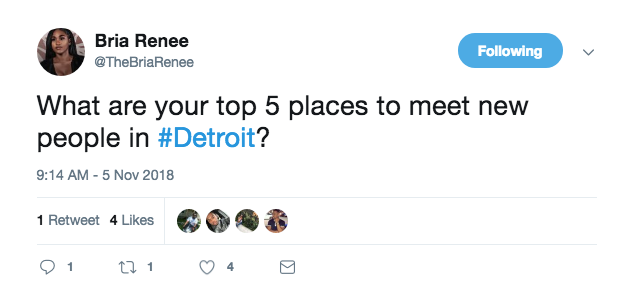 Image: Twitter/@TheBriaRenee
You might have heard that Proposal 1 in Michigan, a statewide initiative that would allow residents to grow marijuana in their homes, buy marijuana without a medical marijuana card and tax marijuana sales, has passed. That means you, the average Detroiter, can go out and buy weed right now, right?
Not quite.
The City of Detroit's Media Services Department continues to expand its programming slate with a little help from Detroit Public Television.
This month, Comcast cable channels 21 (The Neighborhoods) and 22 (Education) will air DPTV programming, including "Detroit Performs," "American Black Journal" and "One Detroit."
Step on set with film director Chris Bailey as he directs his first feature film. Host Sheila Grant talks with Chris about coming home to Detroit to feature the city in his movie, Curtis.
"Art Detroit" airs on Comcast Channel 21 and at the City of Detroit's YouTube channel.
NOVEMBER 2
Get ready to cosplay as your favorite anime character at Youmacon.
Watch the aerial arts and live orchestra combine at the Detroit Symphony Orchestra's Cirque de la Symphonie.
NOVEMBER 3
As we pointed out before here on The Neighborhoods, this year's Halloween activities in Detroit are going back to the children. We know that kids are excited for the holiday and they'll be so adorable and Instagram-ready in their costumes. We also know that it'll be a high-sugar, high-energy day and those crumbsnatchers will be running all over the place.
Subscribe to Citywide