Black Girl MATHgic
Thinking Outside the Box about math and our youth.
A number of systems have failed a great deal of our youth. Math and literacy skills are in sad shortage for many – especially young women in Detroit.
We're talkin' about fundamental skills that open doors and create opportunities. Without em' – forget it.
For perspective…
We're living through what many experts call The Fourth Industrial Revolution. They say the first one started hundreds of years ago, when hand production methods first shifted to steam and water use. We get the second one when new technologies lead to extensive railroad and telegraph networks – transferring people, ideas and electricity like never before. These advancements begin molding and shaping American society long before most people alive today were even born. And those with the access to education and resources for plugging into the mushrooming number of well-paying jobs prospered accordingly.
Over-packed urban neighborhoods were abandoned for little boxes on a suburban hilltop. White picket fences and all that. The bells and whistles got fancier. We even get a third, digital revolution towards the end of the 20th century.
We know who got left behind. Not for nothing, but many of the same communities left behind on all that were – and are – simply too busy struggling for basic stuff – like liberty.
And now we got Googles and Apples and self-driving cars. Forget about fully automated (no humans) McDonald's – they're already making plans for fully automated plants and factories.
STEM – an acronym that stands for Science, Technology, Engineering and Math – is the school of the future.
The best educations integrate all four of those subjects together. It prepares young people for the new jobs waiting to be filled, in fields like: aeronautics, biology, civil engineering, computer and environmental science...it's a long list.
The old jobs – behind the counter or on a production line – are vanishing. Maybe to be replaced one day with minimum-wage gigs playing rich kids in online video games. The rich kids prefer actual human opponents instead of bots. And they spend much money on these games – so the industry caters to them. That's actually a thing, check it out.
So this is what it comes down to: do you want to make peanuts playing Minecraft or Call of Duty all day on someone else's time? Or do you want to be the creator, facilitator or purveyor of the next WHATEVER phenomenon that serves our needs, captures our collective interest and might, just might -  generate a million – or billion dollar profit?
Thinkin' outside the box
The Neighborhoods team first told you back in 2018 how Brittany Rhodes created Black Girl MATHgic to help steer and empower kids towards the latter option.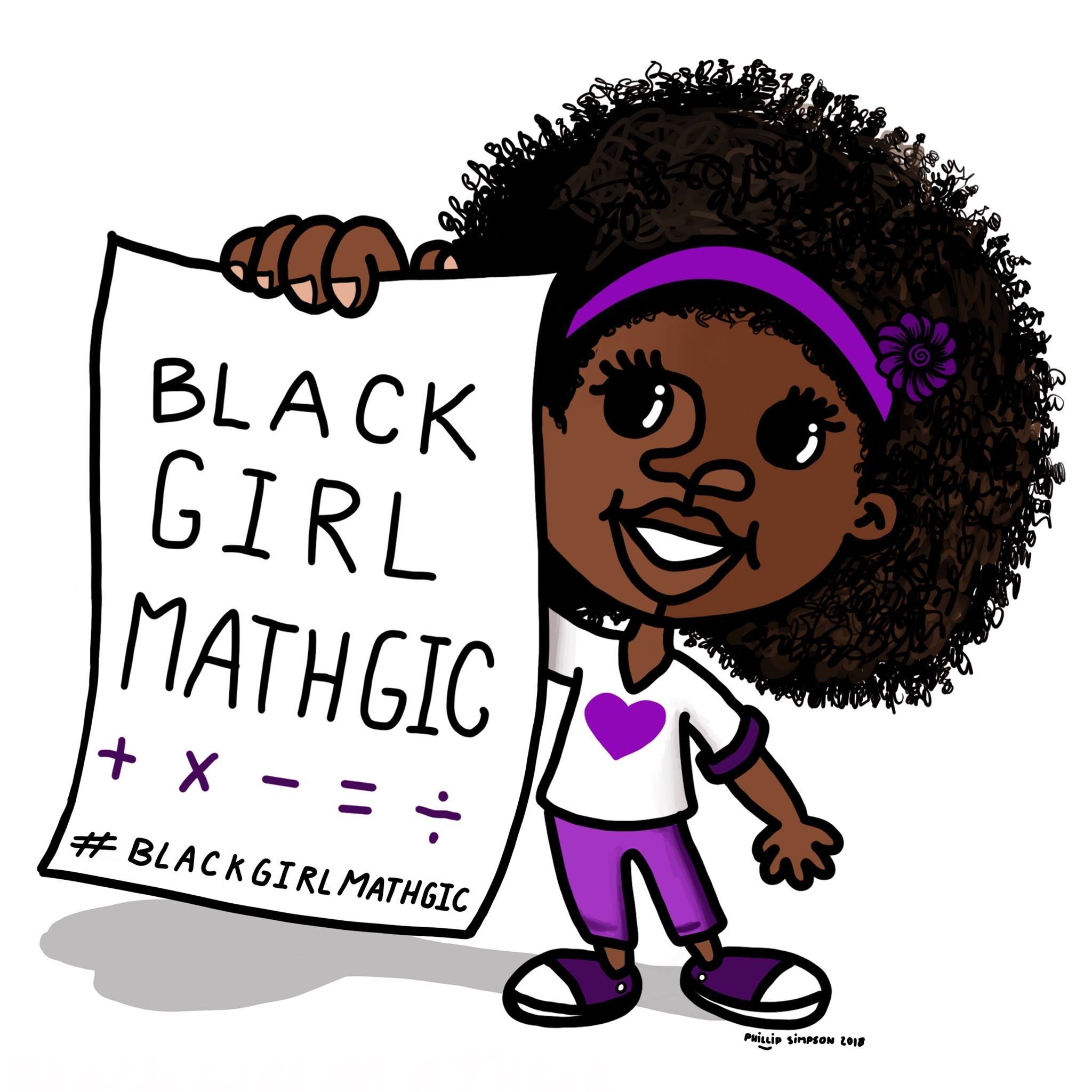 Monthly subscription boxes are shipped straight to doorsteps. Inside are tools for at-home activities to help teach and build confidence, targeted specifically for black girls. But this is important – and straight from MATHgic's Website:
"The company title and box imagery are curated for black girls because of the unique circumstances they face as a doubly marginalized group and their large underrepresentation/underestimation in STEM fields. But the exciting thing about the box is that ALL girls of all backgrounds enjoy and benefit from the math confidence it boosts while learning more about black history (which is American history) every single month, which benefits us all!" ( https://blackgirlmathgic.com/faqs/#hfaq-post-1638)
Every month subscribers receive a new box that contains:
A foundational math lesson/activity booklet based on a real-world theme to show relevance and create excitement.
3-5 items (including at least one screen-free activity or manipulative) to make the lesson engaging and fun (items will differ month-to-month)
An affirmation to strengthen her math confidence
A profile of a black woman mathematician to show representation and develop her math identify (her ability to see herself as a learner and doer of math)
A Caring Adult Guide to help you help her maximize her box experience (you do NOT have to be a math whiz to help her enjoy the Black Girl MATHgic Box! Commitment is all you need)
Math can be tough. And struggling in front of peers (sometimes less-than-compassionate grown-ups, too) adds a dollop of anxiety on top of the struggle. And that's just one challenging aspect of being a 3rd-8th grade girl growing up these days in our communities.
But a pretty purple box - for real? The solution for a problem that has young women feeling boxed in – comes in the form of a pretty purple… box?
Of course, it works. We're Detroiters - you can put our solution in a sandwich bag and we'll avail ourselves just fine.
In the passage of time since we first introduced you to Black Girl MATHgic, a young local mother named Katrina Turnbow began subscribing for her daughter Asha.
Katrina is no stranger to STEM. In fact, she's one of the most prominent Detroit faces representing the whole movement. She owns and runs a boutique marketing firm called Kanopi Social, helping clients build recognition and attract new business, according to her Linkedin profile.
She is also partnered with Google as a Detroit Digital Coach. She was recognized by Google as one of nine community leaders passionate about creating economic opportunity for the digitally underserved. She specializes in strategy and analytics. She's in DEMAND, people.
So let's go back just prior to the pandemic. People were still getting together in large numbers and Katrina was hosting an event for Google. Brittany Rhodes was a featured guest at the event, there to promote MATHgic, and the two met.
After learning what MATHgic was all about, Katrina quickly started a subscription for her daughter, Asha.
"I was just so thoroughly impressed with what her product was," Katrina says before playing a little Detroit geography. "I kind of already knew (Brittany) from working a previous position with the Belle Isle Aquarium and also – she went to high school with my sister."
At this point in our conversation, Asha made a cool point after she was asked about her feelings towards Math prior to MATHgic.
"I was (already) good at it, but when I got the boxes – lots of them helped…and kinda helped with all the problems I could practice on," she explained.
It wasn't like she had that all-too-common child allergy to certain or all kinds of school work. She was actually pretty cool with it! But, like most kids, she'd still come across a problem with a solution that seemed elusive. This is often times a dead-end and – let's be real – it's acceptable in most homes. Not too many kids catch heat for getting only one wrong. But certain folks get it a different way.
They ask themselves instead, "Why not get it all right?"
Many ask themselves an even better question, "Who or what can I lean on for help?"
We should all ask ourselves, "Why not provide a child with all necessary resources to reach their potential?"
In this type of atmosphere, you'll get a mom like Katrina.
"In terms of giving her math confidence, she had shown some areas at the time of just…getting frustrated with math, and it (MATHgic) was just put together so well. I was willing, number one, to look at a fun and creative way for my daughter to get interested in math, but furthermore, as a small business entrepreneur and trainer, I really wanted to support her with the launch of her business."
Then the boxes started arriving.
"At first, she was just kind, 'what is this, I don't understand,' but within two months she was very excited to have her monthly math boxes," says mom.
"I was really excited. I like getting packages and I got lots of cool things I can use in the future," Asha says.
She starts remembering opening up some of her favorite MATHgic boxes.
"One of my latest boxes had some chalk, and I got a renovation of my room and we added a chalk wall. (Another) had some fun games with simple questions and math problems," she adds, describing what some might call a force multiplier. All these things start with and involve learning – and lead to more positive activity promoting her growth.
And hey Mikey! I think she likes it! (I'm old, I admit it. No one's gonna get this. Change it no hard feelings lol)
She's even been thinking about her future, and it sounds real sweet. "I want to be a baker," she says with a big smile. "And I think math will help. In math, there things like liters and grams and stuff…measuring will be a big thing."
So will budgets and overhead costs, but she's still got time for all that. And with mom making sure things like Black Girl MATHgic are available to her, there's no doubt she can make it happen.
The City of Detroit can help too, with programs like Motor City Match. And in the meantime, check out the City's Youth Services Department:    https://detroitmi.gov/departments/youth-services