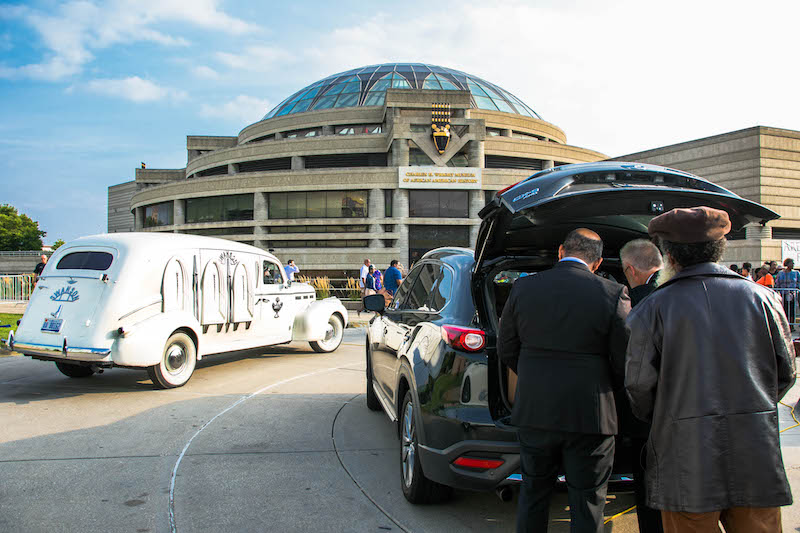 'Who did the body?': On Detroit's black funeral culture, and why it matters
Swanson's handling of Aretha Franklin's services are reflective of one of the city's most cherished traditions
There are measures, sometimes imposed by those who first claimed residence here when the QLine was still being called M-1 Rail, about what a real Detroiter is or isn't. I'll go ahead and add one to the list: You're not a real Detroiter unless an elder in your family, or you yourself, have a copy of Swanson's Book of Prayers.
If you don't know, you don't know. Don't Google — this tradition predates the internet. But if you do know, you know about that little blue and white booklet kept in nightstands, the middles of Bibles or atop fireplace mantels in homes across the city. I don't know how many people have actively read the Swanson's Book of Prayers or rely on it as a source of comfort. I couldn't tell you a single prayer printed within. But I do know that every woman over 50 in my family has one and has had it since at least 1993.
The Swanson's Book of Prayers is printed by the Swanson Funeral Home, which has been in Detroit since 1958. It is Swanson, singuluar, but they've reached a stature here locally where, just like Krogers and Meijers, we add the Michigan "s." And everyone here — well, mostly everyone — in Detroit has been to a Swanson funeral.
They're known here for their fleet of classic hearses. Detroiters who have been around long enough know it's a Swanson funeral, especially if the deceased is someone of note, if the processional has a midcentury Cadillac leading the way. They're also known because the funeral game is and always has been big business in Detroit, particularly the black-owned ones: O.H. Pye, Stinson, James H. Cole — every family has their preferred favorite. And at most Swanson services, patrons take home their signature Book of Prayers, another added touch of making each experience special.
In a city full of black folks, funeral services are important to us. We're a people deeply rooted in faith, so services are long and full of praise. We're a city where we support our own; black funeral homes (and let's not forget the florists that overlap in customer service with them; hello, Brazelton's) are now among the longest-lasting black-owned businesses in Detroit, in a city that didn't have very many of them when they first opened.
But we're also a prideful people who have to look our best at all times, especially in this dress-to-impress town of Detroit. The flowers have to be right, the casket has to be sharp, and the body — "who's doing the body?" truly is a legitimate question here in Detroit. We love an open casket because we want to remember the deceased in their best form, but if the body ain't right, someone's going to hear about it.
Swanson has handled final rituals for a number of noted Detroiters, including Rosa Parks, David Ruffin, the Rev. C.L. Franklin — "people who have made great contributions to social justice, to music, just to the history of Detroit and the history of our nation," O'Neil Swanson, the family-owned company's director, says. It's no surprise that to honor a woman known plenty of pomp that the family reached back out to Swanson as they did for her father years ago. "We started helping the family to plan prior to Aretha's passing," Swanson says.
Spectators took note of a motorcade — unusual for Swanson services, Swanson notes — led by a classic hearse, where Franklin lay in a gold casket. "This is a 1940 Cadillac LaSalle hearse, just a great, great tribute. It was the same hearse, ironically, that carried her father to Woodlawn Cemetery," Swanson says.
And about those fabulous hearses and how they became popular? "This is the automotive capital of the world, still."
"Aretha Franklin was an unusual lady with an unusual gift," Swanson adds. "She was an unusual lady with an unusual gift, and she has an unusual service with a very unique tribute, and our family is just really honored to be able to give that kind of tribute."