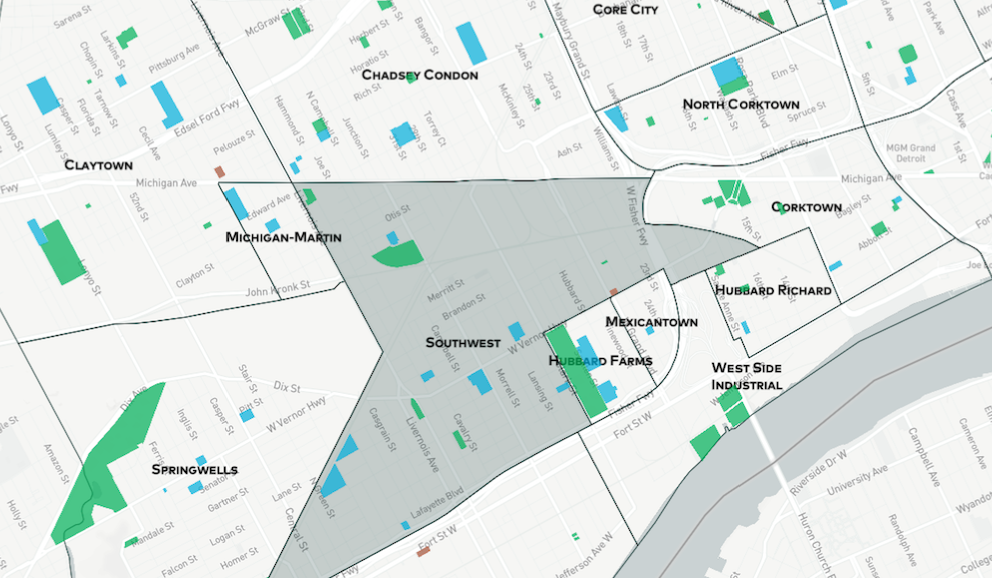 SOUND OFF: Your feedback on Southwest or Southwest Detroit
Respecting identity without re-branding is the goal
Earlier this month, The Neighborhoods asked for feedback on a designated name for the shaded area above on our citywide map. Is it Southwest, Southwest Detroit or Central Southwest?
First things first, after culling feedback from our inbox (reminder: email [email protected] anytime!), Twitter and Facebook, Central Southwest was decidedly not what the area is called. So that's gone. The end. Fin. But what we didn't expect was passionate discussion about District 6 as a whole, as well as the meaning behind neighborhood identity.
First off, a clarification. We're not trying to rename or re-brand this particular neighborhood. In fact, as was said in the last post, the name of the neighborhood — as well as every neighborhood in the city — was determined by residents. The Department of Neighborhoods, established in 2014, surveyed every area of the city to figure out what every neighborhood's name is.
We know that in Detroit, neighborhood names are sacred. They are tied to not just a block's identity or an intersection's identity, they're tied to individual identities. We're proud of where we come from, and more importantly, we're protective of where we come from. And the citywide map is only meant to reinforce that pride people have in their neighborhoods.
But for some areas, we're just stuck. Is it called one thing, or another thing? And that's how we ended up with this Southwest or Southwest Detroit debate.
We're still at an impasse with this particular area, but another clarification should be made: We know, just like you know, that the majority of District 6 can be called "Southwest Detroit." That includes as far north as Mexicantown and as far south as Boynton. Almost anything west of Vernor, and anything south of Grand River, that's collectively Southwest Detroit, and I think we can agree with that. As one reader noted, "Southwest is not a neighborhood, it's a region of neighborhoods. There are plenty of native Detroiters who do not know the name of their neighborhood: when you ask, they say they're West side, or from Southwest."
We know that in Detroit, neighborhood names are sacred. They are tied to not just a block's identity or an intersection's identity, they're tied to individual identities.
We agree with the fact that many Detroiters don't know the name of their neighborhood, which is why we put together this map to try to help. That brings us back this particular neighborhood within Southwest Detroit that borders Michigan-Martin and Hubbard Farms — what do we refer to that as? Here are a few responses from our inboxes, and feedback on other neighborhoods:
"The name of the area you are referring to is called Southwest. It will always and forever be called Southwest. Southwest is large, but it is what it is."
"Southwest all Day!"
"I see that where I live now is called Claytown, I never heard of that nor do I particularly care for it. I used to live in what looks like Michigan-Martin, see my aforementioned opinion. I don't think that giving names to small portions of what I grew up calling "southwest" gives an identity or connections to those residents that hold any more value than what it was originally called. I have never spoken to anyone who doesn't know that when I say I'm from "Southwest", it's encompassing all of these "neighborhoods". It's not the name, it's the people. So my vote is for Southwest just because you've changed all of my beloved southwest Detroit into neighborhoods named differently for no good reason."
"Southwest."
"Frankly, I have lived here in Southwest Detroit (SWD) pretty much my entire life (I am 61 yrs. old now) and the name, "Southwest Detroit" encompasses the area of residential neighborhoods bounded by the man-made barrier of the John C. Lodge 10 to the East, to the City Limit to the West, along the Detroit River to the Southwest, & to I-94 & even up & along to Warren Ave. to the North and so, Southwest has always included Corktown, Mexicantown, Hubbard Farms, Springwells, Delray, South Schafer & North Corktown, Condon, Chadsey, Claytown, Woodbridge for example! All of SWD is within District 6 that is presently represented by (Councilwoman) Raquel (Castenada-Lopez)."
"Southwest is the name."
Since it looks like people are leaning toward Southwest, we'll leave it as is. But as several have noted, other boundaries in other neighborhoods may need some work. The beauty of the map is that it's a living document; it's not set in stone. As we continue to tweak and modify per residents' feedback, we'll keep everyone apprised.
Got any more feedback? Drop us a line at [email protected]