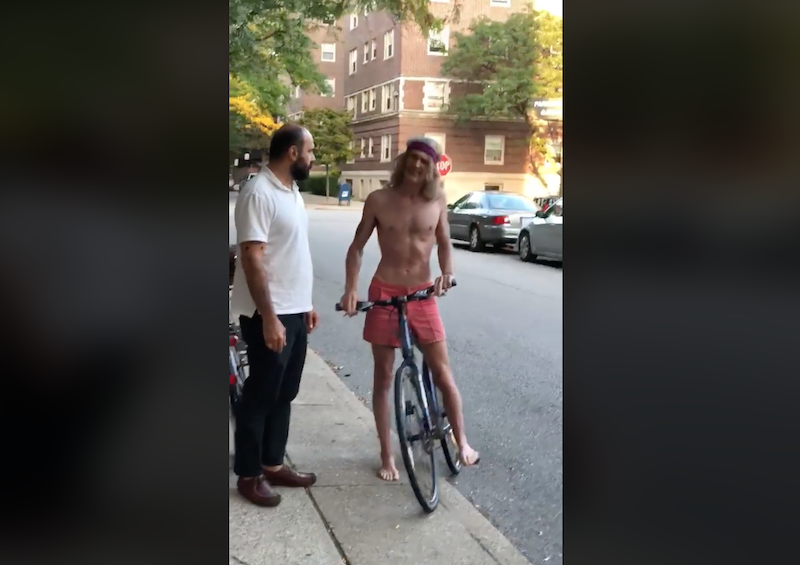 The racist West Village video shows that we've still got a long way to go in Detroit's social recovery
The city's physical recovery is fragile, but it also hinges on race relations in changing neighborhoods
You've seen it by now but if not, here it is above: A video of a lanky, barefoot white cyclist on Agnes Street in West Village, ranting at whoever's listening and frequently using the word "ni***r" in describing perceived issues in "his" neighborhood. It is uncomfortable to watch, so please take caution. 
The video was captured by National Business League (birthed from the merger of the Michigan Black Chamber of Commerce and the League itself) president Ken Harris, and the irony of a leader of black business capturing this particular exchange can't be ignored. It's viral. Thousands of people worldwide have seen it. This, right now, is what people are saying about Detroit, thinking about Detroit. Not a month out when the world's eyes were on the city during the weeklong memorial for Aretha Franklin. Here we are in the spotlight, and for all the wrong reasons.
Disclosure is needed: Without the input of the man on the bike or the customers on the patio at Craft Work, there's no way to conclude exactly what happened in this video. (It's not even known if he actually lives in West Village as he claims. Or even in the city of Detroit period.) But let speculation abound: A white cyclist — let's not pretend white people on bikes (or scooters) in this town doesn't elicit its own reaction — in a neighborhood that has undoubtedly seen an uptick of white residents in a black city. A young white man complaining about other black people in the neighborhood. West Village, a neighborhood with black residents, black-owned businesses and black developers, but can still sometimes feel unwelcoming to black Detroiters. All three swirling together in this national hellscape of black people having to prove themselves worthy of being equal and being human at every turn — and even in cities where we're the majority.
The cyclist rides away, and presumably life goes on at Craft Work. But while some of us may be ready to move on, a lot more of us are not going to forget this video. Perhaps this should be a lesson in what to do moving forward.
For people moving into neighborhoods like West Village, ask yourselves: Do you know how your neighbors are feeling? Have you been communicative with the residents around you, or are you standoffish? Do the spaces you patronize, whether in West Village or elsewhere in Detroit, feel open and welcoming to all? Are the spaces you're creating considerate to everyone? Are you engaged in community meetings, block club groups, person-to-person contact (Nextdoor, while certainly a valuable tool, isn't the only way, you know…)? Do you say more than "hello" to people? If there is an issue, is there way to come to a tactful resolve without resorting to the extremes?
Detroit's physical recovery is in a fragile state. It'd be remiss to note that you can't discuss this racial incident in front of a cocktail bar without discussing the monumental challenges black and brown residents face in this city. Poverty, while slightly decreasing, is still rampant. Public schools are struggling with clean drinking water. Violent crimes are still an unfortunate, regular occurrence and blight is still a cancer on neighborhoods. Knowing all of this, all of this, are you making sure that you're doing your part to not exacerbate the pain? 
It sounds cliche at this point, but it bears repeating that we've still got a long way to go. It's just difficult to figure out which will take longer: The physical recovery, or the social one.