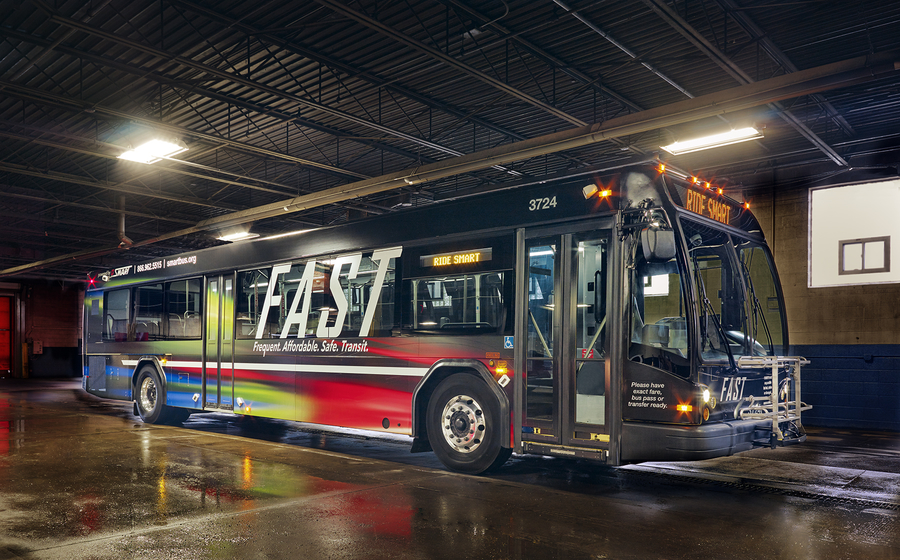 A quick note on riding the FAST bus to Detroit Metro Airport: It works
A transit agnostic ditches the $35 bus fare for a $3.50 bus ride
I'm a veteran of the Dexter bus, the #16 that I used to board at the corner of Fullerton and Dexter to get back and forth to Renaissance High School during the school year, and in the other direction downtown for a summer job I once held. I graduated from DDOT to CATA — that's Capital Area Transportation Authority — when I was a student at Michigan State University, which I rode for a good amount of time there. And I've used public transportation in some of America's largest cities: New York City, Chicago, San Jose and Boston among them.
Riding the bus isn't that bad, but I can understand the hesitation — and frustration — of using bus transit here in Detroit. Consider me part of the "No Scrubs" generation: Our parents were taught that you may not drive a great big Cadillac with a diamond in the back and that you should be thankful for what you've got. Me and the rest of their kids learned that it's best to have your own so you won't be hanging out the passenger side of your best friend's ride. That meant owning a car as soon as possible, and I'll be the first to admit that I drive one partially out of vanity.
Superficial reasons aside, the sheer hassle of riding between two bus systems in Metro Detroit — riding from DDOT to SMART, or vice versa — is enough to turn people off. And although DDOT is on a rebound, cuts to bus routes in previous years have left many customers dissatisfied.
I had an out-of-town trip recently and I needed to get to Detroit Metropolitan Airport, but from my house to the airport is a $35-ish Uber or Lyft ride that I've taken all too frequently. I decided to try SMART's new FAST system, which are newly implemented routes along some of Metro Detroit's busiest corridors: Michigan Ave, Gratiot, Grand River and Woodward.
(No, SMART did not contact me to write what I'm about to write. No, they did not ask me to test the route. i just had a particularly late flight out of DTW, and enough time to get there where I didn't have to be in a speeding car flying down 94, and I just want to talk about it.)
A SMART bus fare is $2, which includes the FAST route. If you board from a DDOT bus, there's a 25-cent transfer on top of the $1.50 fare. Getting to and from
DTW would be a grand total of anywhere from $4 to $4.50, versus the $70 in rideshare costs I'd usually pay.
For my airport trip, I had to board the #23 Jefferson bus, the route that goes through my neighborhood to get to the FAST stop in front of Coleman A. Young Municipal Center (hey, I work here!) and take the FAST Michigan route along Michigan Ave. It seemed easy enough. But how long would I be riding? I'm not going to lie, another reason I prefer car ownership is because i prefer getting to places at my own speed, which is generally faster than everyone else's. But then again, that would be money out the gas tank, right?
Would I recommend it to anyone else? Absolutely. Get on the bus.
My flight leaves at 9, so I figure if I start the route around 6:30 (having checked pickup times on both DDOT and SMART, by the way), I'll get there by 8 p.m., which is well enough time to get through airport security and board. What's tricky is that although the DDOT buses on my route leave every 12 minutes, the FAST buses leave every 30 minutes (I'm riding after peak hours; during peak hours, the buses run every 15 minutes), so i would have to time it right lest I miss the FAST bus.
I get on DDOT at around 6:23 with an estimated arrival at CAYMC in about 14 minutes. I have to make it to the FAST stop right out front by 6:59. This is enough time, I figure. I get on DDOT, and I have to give props to the driver for playing some excellent old-school — Rick James' "Cold Blooded" and Bobby Caldwell's "What You Won't Do For Love" among them. A bunch of us were lightly singing or humming along to the latter, and it's moments like this that I actually miss riding DDOT — those rare moments of Detroiters being Detroiters and fostering a sense of identity through music.
The music on the ride helps relieve the anxiety of getting there. We're going just under the speed limit and we're contending with the new bike lanes on Jefferson, so I know I have to understand we're going at the driver's pace and not my own. Still, we make it CAYMC right on schedule with DDOT's posted times.
Next is the brief wait for the FAST bus. It's supposed to come at 6:59. That time rolls through. Then 7:00. Then 7:01. I see it coming around the corner and it pulls up at 7:03. OK, OK, no nit-picking here — as long as it's not more than five or ten minutes late.
I'll say this about the SMART FAST buses: They're new, and clean. I'd forgotten about the DDOT/SMART transfer thing, so I paid the full $2 fare, but the driver saw my duffle bag and correctly guessed I was going to the airport. She was friendly to every passenger who boarded thereafter.
After a few stops along Michigan Ave in Detroit, we speed through Dearborn, Dearborn Heights, Inkster and Westland before headed up Merriman Road toward the airport. There are only a handful of stops on this route, so it went by fast. (It went by faster because of a playlist I'd made earlier.) My one complaint is that there was supposed to be free Wi-Fi on board (there's free Wi-Fi on all the FAST buses), but neither my phone nor my laptop would connect.
Sure enough, we got to the McNamara Terminal at DTW at just a hair over 8 p.m. I got to my flight on time and only spent $3.50 doing so. Would I do it again? Hell yeah, if I'm not rushing to get to an early flight (I'm going to have to trust the rideshare on this one, sorry transit folks). Would I recommend it to anyone else? Absolutely. Get on the bus.