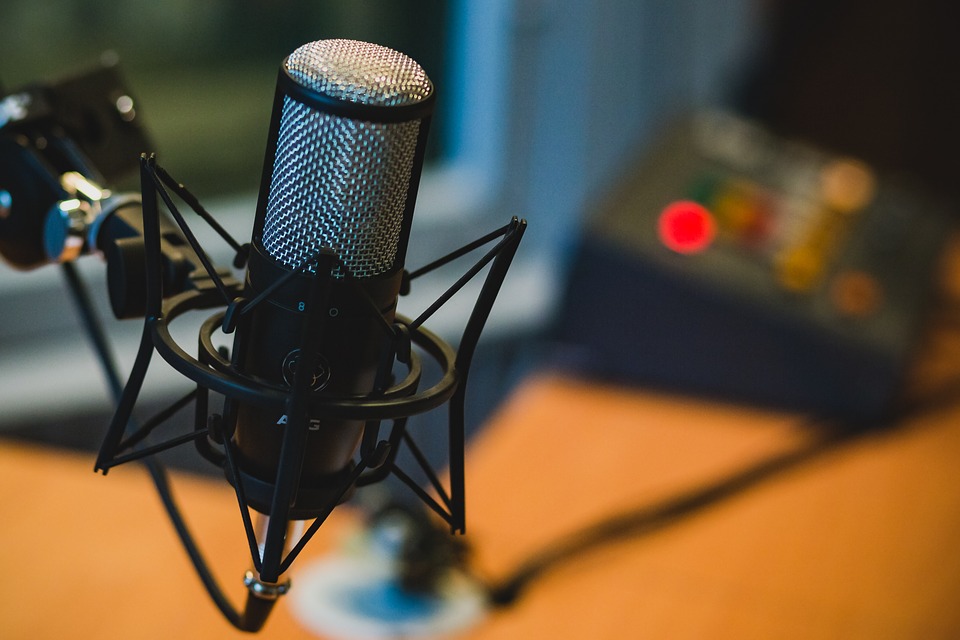 The Neighborhoods introduces a podcast suite from City's first podcast studio
Tell us what you want to talk about
When we launched The Neighborhoods platform in 2017, our mission was to tell as many Detroit stories as we could beyond the City of Detroit's cable channels. We have our digital outlet here at TheNeighborhoods.org, we share videos on our Facebook and Twitter accounts, we've exhibited our photography at the Detroit Public Library, and of course we produce regular content on Channel 21, the City's Neighborhoods channel. Our next step is audio, with the relaunch of one of our podcasts and the introduction of three more audio platforms.
We fashioned a podcast studio here in the Coleman A. Young Municipal Building — definitely the first for the City of Detroit, and possibly the first for a city government? — where we'll be having regular conversations and interviews with Detroiters. Web editor and audio producer Kinsey Clarke leads the way on this project.
"Circumference," a conversation that brings Detroit full circle. "Circumference" will be our regular roundtable podcast discussing the issues of the day facing Detroiters, but our hope is to transition it into a themed podcast where we go in-depth with a particular subject or individual. Think "This American Life," Detroit-style — but right now, "Circumference" is more like "The Read." Previous episodes we've done of "Circumference" include conversations on the African identity in Detroit, bike lanes, the "Witch of Delray," feminism and surviving Hurricane Maria. In an episode posted today, writer Jamilah Jackson talks with Toni Jones, a Detroiter and wellness coach behind the "Affirmations for the Grown-Ass Woman" project.
"137 Layers" is our new production featuring the City of Detroit's Planning and Development Department, with moderated conversation from chief storyteller Aaron Foley. With new development all over the City, the amount of information presented at community meetings and meetings with other city officials — that is, if you even make it to a meeting — can be overwhelming. What the hell is a streetscape? Where did these bike lanes come from? This is where we explain it all, in terminology that won't go over your head but still peeling back the "layers" of city planning. Urbanists wanting a peek behind the curtain should definitely tune in, but everyone concerned about how planners plan and how neighborhood frameworks are made — especially with those with a keen interest in Detroit's culture, particularly as it relates to race and class — should also listen. We're launching with a pilot episode introducing planners Chisara Brown, Khalil Ligon and Briana Mason (where in addition to discussing streetscapes, we also go back and forth on the neverending Cass vs. King vs. Renaissance hiearchy), and a second episode with planner Allen Penninman, who discusses the parallels between his hometown of Boston and Detroit, and how the late Nipsey Hussle motivates his planning efforts in Jefferson-Chalmers.
"Sound Bites" is just that: Vignettes and short stories from Detroiters about all things Detroit. We were looking for more community engagement with The Neighborhoods platform, so from here on out we'll be popping up at various events — we started with our own pop-up storytelling event at Three Thirteen last March — and capturing whatever's on your mind. We piloted this, sort of, with a short conversation from Jefferson-Chalmers residents about what it means to be a good neighbor (and not gentrify the neighborhood), but this is where we need more of your help. Let us know if we can tell your story here.
"Detroit In Film" (coming soon) is a production from Neighborhoods videographer Zachary Cunningham, who will be in regular conversation with local filmmakers who make magic in Detroit. Zachary will be talking with directors about what drives them to make films in Detroit, and why Detroit is a major talent base for filmmaking talent. This is an extension of our ongoing "Detroit in Film" initiative with Trinity International Film Festival, where we air independent films from Detroit filmmakers on Channel 21.
Right now, all of our podcasts are available on our Soundcloud account, which you don't need an account to listen to. We're exploring other platforms at the moment, including iTunes and Spotify (by the way, we do have our own Spotify account!), for publishing. Until then, listen up — and tell us more of what you'd like to hear.