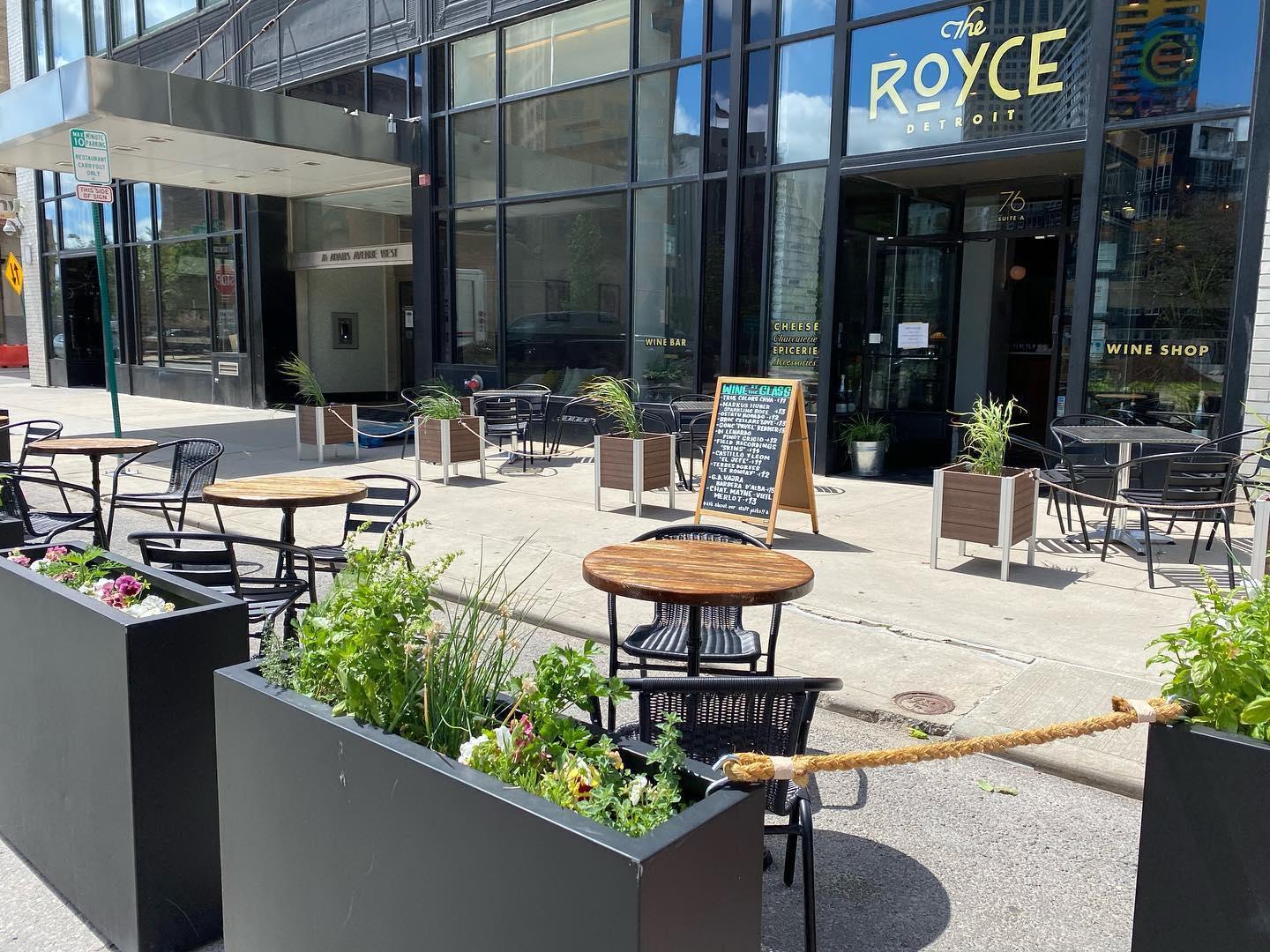 Need a safe place to dine outdoors?
The City of Detroit is providing opportunity for restaurants to safely open their doors
In March, many Detroit restaurant owners made the tough call to close their doors due to the rise of the coronavirus in the United States. Under Governor Whitmer's executive order, restaurants were allowed to serve customers with take-out only options, but fears of the virus had some businesses suffering drastically.
As the Governor's reopening plan for the state slowly progressed, restaurants were allowed to open their doors to customers but for outside seating only. That's where Detroit's Department of Public Works came in to help restaurants get back on their feet quickly and easily.
"Historically, the City of Detroit has had a very bureaucratic way of applying for outdoor dining that goes through many different layers of government, many different departments," Caitlin Malloy-Marcon, Deputy Director of DPW, said.
She and her team worked closely with the Civil Rights, Inclusion and Opportunity Department (CRIO) to create a simple and easy application process for restaurant owners to apply for outdoor eating permits that would allow them to get up and running in no time.
"We worked with City Council as well as the administration and tried to draft out a system that would allow for these restaurants to get up and running outdoors as soon as the governor's order would allow that action to happen," Malloy-Marcon said."
The Open Detroit program provides business owners and restaurateurs an easy system to apply for outdoor dining permits on city sidewalks, parking spaces and even parking lots adjacent to restaurants. Although the process would usually take up to two months, Malloy-Marcon says businesses have been approved for the same day.
Applying is simple. Businesses have to visit www.detroitmeansbusiness.org. There they will find a registration link and guidelines they must follow in order to be ADA compliant and in line with the governor's orders. Business owners have to submit their business license number, address and their plans for outdoor dining. They'll also have to indicate they have read and understood the guidelines put in place by the City of Detroit.
"We're giving the businesses the benefit of the doubt that they are going to read the guidelines," she said. "They're going to set up to the best of their ability to keep themselves, their staff and their customers safe, and that they're also going to just follow the basic City rules to make sure that the sidewalk is passable for wheelchairs."
Inspectors from DPW and the Buildings, Safety Engineering and Environmental Department are sent out periodically to check on businesses once their outdoor seating is set up to make sure everything is in compliance.
"We've really tried to even take a new approach to enforcement; to keep businesses in business," Malloy-Marcon said. "We will go out. We will tell them if they have any violations, give them an opportunity to correct that and continue to work with the business owner before taking any type of more stringent action on it."
Outdoor seating may be a solution for the summer and early fall months, but we all know how harsh Michigan winters can be. DPW is working to ensure restaurants can still maintain business once the current Open Detroit agreement with City Council ends in November.
At the beginning of the Stay Home order, DPW and the CRIO department helped businesses set up curbside pick-up locations in front of their buildings. Customers would place their orders ahead of time and then call upon arrival to indicate they were out front. Their food would be promptly brought to their cars.
"We have kept that temporary program up and running, even though many restaurants are now open for inside dining too," she said. "But, again, we're just trying to use as many tools as we have to keep people afloat."
As of July 30, the Open Detroit program for outdoor dining permits has approved 151 restaurants for business.
"Some of those are just sidewalks. Some of them are using the parking spaces and then a couple of them are full street closures."
Permit fees for outdoor dining have been waived for this year due to the COVID-19 hardships. The fee is usually $400 annually.
To register your restaurant, visit www.detroitmeansbusiness.org and complete the application today!
Here's a full list of restaurants with outdoor dining options:
District 1
Lola Mae's Bistro:15418 Schoolcraft
Opyum Lounge: 24587 W 8 Mile Rd
Views Bar and Grill: 24200 Grand River Ave
District 2
ConverZations Banquet & Event Ctr: 20238 Livernois
Good Cakes and Bakes:19363 Livernois Ave
Good Times on the Ave: 19416 Livernois Ave
Kuzzo's Chicken & Waffles: 19345 Livernois Ave
Menjo's: 928 W McNichols Rd
Narrow Way Cafe:19331 Livernois Ave
Noni's Sherwood Grille: 19700 Livernois
Teresas Place: 14000 W McNichols Rd
The Sweet Café: 20236 Livernois Ave
The Lockeroom: 8290 Livernois Ave
Yoshi Hibachi Grille: 19360 Livernois Ave.
District 3
MNM Eight Mile Inc.: 6200 E. Eight Mile Rd
Statefair Lounge: 19910 Hoover Rd
Tees: 17132 Conant St
District 4
Big Burgzs: 17627 E Warren Ave
Cadieux Cafe: 4300 Cadieux
Cornerstone Village Bar& Grill: 17315 Mack Ave
Delroy's First Place Lounge: 16921 Harper Ave
La Cina Mexican Restaurant 17201 Mack Ave
Lost River: 15421 Mack Ave
Pop Culture Vegan Cafe: 15439 Mack Ave
District 5
8 Degrees Plato Beer Company: 3409 Cass Ave
Amore da Roma: 3401 Riopelle
Astoria Pastry Shop: 541 Monroe
Atwater Brewery: 237 Joseph Campau
Bea's Detroit: 1533 Winder St
Brewery Faisan: 1087 Beaufait St
Buddy's Pizza: 1555 Broadway St
Buffalo Wild Wings: 1218 Randolph St
Checker Bar: 124 Cadillac Square
Ck Mediterranean: 119 Monroe
Coaches Corner Grill: 220 Bagley
Cornerstone Barrel House: 1456 Woodward Ave
Delux Cocktail Lounge: 350 Monroe St
Detroit Beer Company: 1529 Broadway St
Detroit City Distillery (on behalf of all businesses on 2400 block of Riopelle): 2462 Riopelle
Detroit Riverfront Conservancy (Rivard Plaza): 1340 Atwater
Detroit Sports Bar & Grill: 1570 Woodward Ave
Detroit Vineyards: 1000 Maple St.
Eastern Market Brewing Co: 2515 Riopelle St
Firebird Tavern: 419 Monroe
Flood's Bar & Grille: 731 St Antoine
Golden Fleece: 525 Monroe
Grand Trunk Pub: 612 Woodward Ave
Greektown Neighborhood Partnership: 400 Monroe St., Ste 340
Greenwich Time Pub: 130 Cadillac Square
Hammer & Nail: 3800 Woodward Ave
Harbor House Detroit: 440 Clinton St
IVY Kitchen + Cocktails: 9215 E. Jefferson Ave.
Kiesling: 449 E. Milwaukee St
La Casa De La Habana Detroit: 1502 Randolph Street
Lagerhaus: 51529 Adelaide
Loco's: 454 E Lafayette
Marrow: 8044 Kercheval St.
Metropolitan Master Tenant: 33 John R St, Detroit, MI 48226
MIX Bricktown: 641 Beaubien St
Mootz Pizza: 1230 Library St
Niki's Pizza: 735 Beaubien
Pappys Sports Bar: 517 Monroe St
PizzaPapalis Greektown: 553 Monroe St,
Queens Bar: 35 E Grand River Ave
Red Smoke Detroit: 573 Monroe St
Snack Camp: 1464 Van Dyke
Southern Fires: 575 Bellevue
Stache International: 1416 E Fisher Freeway
Supino Pizzeria: 2457 Russell St
Terry's Casablanca: 6366 Gratiot
The Detroiter Bar: 655 Beaubien St
The Elephant Room: 439 E. Congress St.
The Gathering Coffee Co: 2831 E Grand Blvd
The Greek: 535 Monroe St
The Hudson Cafe: 1241 Woodward Avenue
The Well: 1228 Randolph St
Thomas Magees (on behalf of the 1400 block of East Fisher): 1408 E Fisher Service Drive
Vertical Detroit: 1538 Centre Street
Villages Community Development Corporation: 7900 Mack Ave
Vivio's Restaurant: 2460 Market St
Wahlburgers: 569 Monroe St
District 6
Avalon International Breads: 422 W. Willis
Babo Detroit: 15 E Kirby, Suite 115
Bakersfield: 3100 Woodward Ave
Baltimore Bar: 1234 Randolph
Bash: 5069 Trumbull Ave
Batch Brewing Company: 1400 Porter St
BESA: 600 Woodward Ave
Bobcat Bonnie's: 1800 Michigan Ave
Bodega Cat: 2200 Scotten St
Brass Rail LLC: 18 West Adams
Cafe D'Mongos Speakeasy: 1439 Griswold St
Cannelle Detroit: 45 W Grand River Ave
Central Kitchen + Bar: 660 Woodward Ave
Chartreuse Kitchen & Cocktails: 15 E Kirby St., Suite D
Cold Truth: 4240 Cass Ave
Dagwoods Sandwich Shop: 400 Bagley St
David Whitney Building: 1 Park Ave
Detroit Shipping Company: 474 Peterboro
Eatóri Market: 1215 Griswold
El Parian Restaurant: 1631 Lawndale
El Zocalo: 3400 Bagley
For the Love of Sugar: 100 Erskine
Grandma Bob's Pizza: 2135 Michigan Ave
Hazels Place: 5516 Michigan Ave
Honest John's: 488 Selden St
Kwench Juice Cafe: 719 Griswold St. #110
La Terraza: 8445 W Vernor HWY
Leila Restaurant: 1245 Griswold Street
Mario's Italian Restaurant: 4222 2nd Ave
Mudgie's: 1300 Porter
Nest Egg - Folk/Mink: 1701 Trumbull Ave
Neveria Michoacana: 4336 W Vernor Hwy
Pao Detroit: 114 W Adams Ave
pho lucky: 3111 Woodward Ave
Republic Tavern: 1942 Grand River Ave (outdoor seating area will be on Adams St)
Rincon Tropical: 6538 Michigan Ave
Rusted Crow Detroit: 78 W Adams
Savannah Blue: 1421 Times Square
Savant: 51 W Forest Ave
SheWolf Pastificio & Bar: 438 Selden St
Super Mexicana LLC Supermercado La Jalisciense: 3923 Vernor Hwy
Taqueria El Nacimiento: 7400 W Vernor
Temple Bar: 2906 Cass Ave.
The Block: 3919 Woodward Ave
The Brakeman: 22 John R St
The Caribbean Club: 5506 Proctor
The Griot Music Lounge: 66 E Forest Ave.
The Peterboro: 420 Peterboro Street
The Royce Detroit: 76W Adams Avenue, Suite A
Tin Roof Detroit: 47 E Adams Ave
WXYZ Lounge @ the David Whitney building: 1 Park Ave
District 7
Banko's Lounge: 14168 Wyoming St
Fusion Flare Kitchen & Cocktails: 16801 Plymouth
Gigis: 16920 W Warren Ave
Hury Inn: 19430 W Warren Ave
Red Robin: 18650 Ford Rd