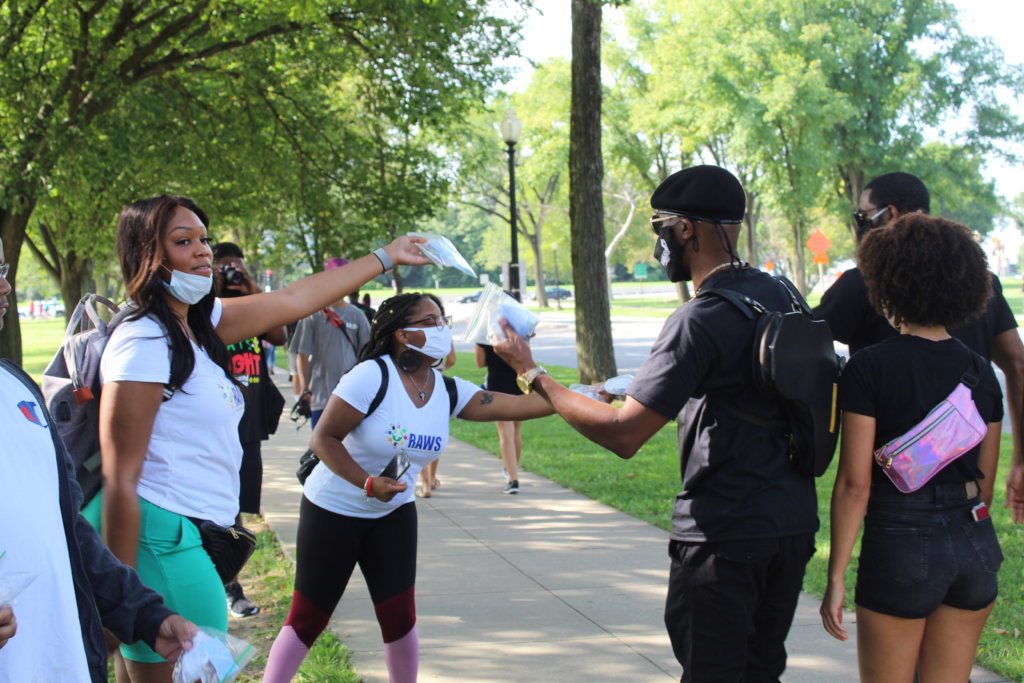 International Day of Charities: RAWS Michigan
This MSU graduate is tackling chronic diseases in minority communities
Sept. 5 is International Day of Charities. The international day of giving began after the United Nations General Assembly adopted the resolution in 2012 to observe and honor Mother Teresa of Calcutta. The Nobel Peace Prize winner was known around the world for her devotion to ending poverty. International Day of Charities urges the public to continue Mother Teresa's legacy by giving to those less fortunate and helping to end poverty worldwide.
Here in Detroit, Kady Cox is doing her part to end racial disparities in health. Her non-profit, Raising Awareness With Students Michigan (RAWS) focuses on preventive ways of combating diseases that disproportionately affect minority communities.
Cox created the organization in 2015 as a registered student organization at Michigan State University. Her main mission was to fight diabetes. As the organization grew, so did the range of diseases RAWS sought to prevent.
"Talking to a lot of my members, they were saying how their parents were affected by different diseases and that's when I decided that I should talk about more than just diabetes," Cox said.
In its early inception, RAWS' biggest event was an annual diabetes walk. Once the scope of diseases covered by the organization grew, Cox decided to build on that momentum to create other programs and events.
Currently, RAWS partners with Wayne State University's C2 Pipeline program. At the start of the year, Cox began a pilot program at Marygrove. "We worked on different programs |LS|for|RS| diabetes, mental health, HIV/AIDS, nutrition and different ways to live a healthier lifestyle," she said.
When the COVID-19 pandemic hit the United States, Cox and the RAWS team decided to focus on a much larger health disparity affecting Black and brown people: RACISM.
"We are trying to get people to understand that racism affects your health; it affects people's well-being; it affects people's mental health," Cox said. "Simply to wake up and be black in a country that is racist and treats people of certain colors differently is a public health crisis."
Leading studies from the Centers for Disease Control and Prevention and the World Health Organization have underscored issues relating to health equity in minority communities. Black and brown people suffer more from underlying conditions that put them at higher risks of contracting COVID and possibly dying from it. Other key issues to health inequity include access to quality healthcare, health insurance coverage and other social determinants of health (SDoH) such as non-medical issues as environment, housing, education, institutional racism, transportation and under and unemployment.
"We just recently returned from Washington, D.C. for our March on Washington |LS|anniversary|RS| trip where we basically gave out PPE care kits, but we wanted to let the community know that racism is a public health crisis," Cox said. "The two are definitely intertwined and now that's what we're dedicating our time towards COVID."
RAWS also has a cohort for younger students in the 7th to 11th grades, RAWS Jr. The cohort allows younger children the opportunity to combat and prevent chronic illnesses earlier on in life as well as leadership opportunities.
"RAWS Jr members get first priority because they have attended monthly trainings and discussions where we actually talked out the issues that are going on in America," she said. "E-board members are eventually given the opportunity to be promoted as interns."
Currently, RAWS has gone completely digital due to the COVID-19 pandemic. Each Friday, it hosts virtual HealthTea Parties on Zoom at 6 p.m.
"We're going over different topics like mental health, minorities in our hospitals, clinical therapy for children and things like that," Cox said. "Our virtual programs are basically just public programs where people can come in and network, meet other people."
The virtual HealthTea Parties are open to the public. You can register here.
In honor of International Day of Charities, we urge you to support RAWS and other grassroot non-profits in need of your time and donations. We've put together a list of non-profits in the city and items they'll need to continue their work.
RAWS Michigan (https://rawsmichigan.org/)
Gloves
Face Masks
Hand Sanitizer
Kleenex Packs
Ziploc Bags
Printing Paper
A Peaceful Retreat Inc. (Support for survivors of domestic abuse)
Donations are needed for the organization's or its refuge home remodeling.
Cement/masonry repair on the porch and driveway
Kitchen upgrades including floor/lighting/electrical upgrades
Bathrooms upgrades (1-full bath and 1-half bath)
Painting throughout the house
Floors need refinishing throughout the house
Basement needs finishing
Block glass basement windows
Lighting upgrades
Drywall repairs
Estimates on the work totaled $26,000.
MISSion.31 (mentoring program for girls in grades 6-12) https://www.missionthirtyone.org/
Balloons
Buttons
Canvases (Blank, 10x10)
Colored Pencils
Construction Paper
Flower Pots (Small/Medium)
Glue
Index Cards
Magazines
Markers
Paint
Paper Plates
Pens
Popsicle Sticks
Rubber Bands
Scissors
Sticky Notes
Tape
Tye-Dye Kits (Red, Blue, Green, Yellow, Purple, Orange)
Word/Letter Cutouts
3-Ring Binders (Purple, Black, or White)
Midnight Golf Program (MGP) (college readiness program through the skill of golf) https://midnightgolf.org/
$25,000: Crucial College Support Resources including: Tuition assistance, book costs, food and clothing, plane tickets home for the holidays. A $1,000 increase in a student's financial aid corresponds to a 9.2% decrease in the likelihood that they will drop out of college.
$10,000: The cost to support 2 first-generation college students through our program each year. About 30% of MGP students each year will be the first in their family to attend college.
$5,000: The average financial gap of an MGP student. Covering this gap could prevent college dropout.
$1,500: The cost to send one MGP student on the Road Trip for Success College Tour. 45 students were admitted to four different colleges and universities and awarded $129,000 in financial aid as a result of the 2019 trip alone.
$500: Transportation and Lodging Expenses for the Road Trip for Success College Tour
$200: Provide golf clubs for a MGP student
$100: Send a College Care Package to a student
360 Detroit (neighborhood revitalization organization) http://360detroitinc.org/
Kitchenware (microwave, pots, pans, cooking utensils, dishes, bakeware and flatware)
Gas stove, refrigerator, washer and gas dryer
Tablets
Gas grill
Patio gas heaters
Yoga mats
Wire Storage Racks
Storage Bins
Art Supplies
We have a book list of over 200 books featuring and/or written by people of color. Cost is approximately $15 per book or $3000 for all 200.
60 Blue Chip Jr Butterfly Bushes
42 Purple Cranesbils
42 Cranesbil Geraniums
42 Rozanne Geraniums
161 Violet Intrigue Lavenders
161 English Lavenders
161 Giant Hyssops
Youth Are Bigger Than Life (youth education organization) https://www.youtharebiggerthanlife.com/
Monetary donations for Thanksgiving and Christmas food giveaways (both costing $3,000 each)
Clothes
Food
Personal Items
FOG Kids (Grief support for children) http://www.itsfoggy.org/
Books about grief for children 3-12
The Memory Box: A Book About Grief by Joanna Rowland and Thea Bake
Angel Catcher for Kids: A Journal to Help You Remember the Person You Love Who Died by Amy Eldon
Something Very Sad Happened: A Toddler's Guide to Understanding Death Hardcover by Bonnie Zucker
The Invisible String Workbook: Creative Activities to Comfort, Calm, and Connect
by Patrice Karst
Any type of plant seeds. We have the children plant a flower in memory of their loved one.
Markers, Stickers, Cardstock as the children send cards to those who are sick and grieving.
Small Teddy bears
Stress Balls
Volunteers to Read once a month to upload to our Facebook Page; starting in November
Any type of trinket that we can send in our Sunshine Boxes
Detroit Phoenix Center (haven for homeless youth) www.detroitphoenixcenter.org
Gift Cards to major chains, such as Target, Walmart, Meijer, McDonalds, Burger King, etc.
School Supplies – Pencils, Notebooks, Bookbags, Folders
Non-Perishable Food Items (Beef Jerky, Kraft Mac n Cheese, Ramen Noodles, Vienna Sausages, PopTarts, Granola Bars etc.)
The Children's Center (support for at-risk children and families) TheChildrensCenter.com
Immediate need for emergency food pantry
Cereal
Oatmeal
Pancakes
Syrup
Tuna
Chicken in a Can
Rice
Noodles
Spaghetti Sauce
Vegetables in a Can
Fruit in a Can
Applesauce
Macaroni and Cheese
Soup
Crackers
Flour
Sugar
Mayo
Mustard
Salt
Chili
Baby Formula
Baby Rice Cereal
Powder Milk
Raisins
Kids Snacks
Corn Bread Mixes
Peanut Butter
Jelly/Jam
Instant Potatoes
Popcorn
Be A Friend Inc. (mental health advocacy organization) https://beafriendnow.org/
Journals
Planners
Compact Mirrors
Yoga Mats
Water Bottles
Copy Paper
Printer Ink
Self-Laminating Sleeves
Adult Coloring Books
Colored Pencils
Mommies Melodies (mother support group) https://www.mommiesmelodies.org/
Journals for moms to journal
Pens
Planners
Diapers sizes 3
Pull ups 2T and up
Car seats
High chairs
Crayons
Poster boards
Grocery gift cards
Dia's Dolls (toy drive focused on dolls for Black and Brown girls) [email protected]
Dolls of color for the annual Christmas Doll Drive
Detroit Association of Women's Clubs (business and resource organization for African American women) http://www.friendsofdawc.com/
Cleaning Supplies (Clorox wipes, Lysol, Windex, bleach, soap, etc.)
Paper Towel
Bottled Waters
PPE (Masks, gloves, hand sanitizer, etc.)
Monetary Donations towards clubhouse repairs/restoration (windows & floors are 100+ years old, parking lot needs to be paved)
Just Speak (providing trauma-informed programming to children 3-17) www.justspeak.org
New yoga mats (30+)
Yoga mat sanitizer (50+)
Masks for ages 3-17 (100+)
Healthy snacks & art pencils for virtual kits (200+)
Journals (100+)
Laptops/tablets for our loaner closet
Dance leotards for our supply closet (30+)
Hand sanitizer
Water bottles for kits (100+)
Water (200+)
Presentation software (Slidebean)
Laptop stands
Hygiene products-lotion, body wash, deodorant, sanitary napkins (100)
Toothbrushes, toothpaste, floss (100)
Brush and combs (100)
Notebooks & folders (100)
Disinfectant, paper towel, wipes, toilet paper
Project Dream Inc. (mobile youth support organization) [email protected]
(5) Microsoft Tablets
(2) iPhones
iCare Detroit (youth literacy) www.icaredetroit.com
Amazon Wish List https://www.amazon.com/hz/wishlist/ls/32Q3047X0Y9XT?ref_=wl_share
Books for grade levels K – 12
Writing Utensils (Pens, Pencils)
Marketing/Branding Materials/ Student Swag (Shirts, hats, Hoodies, Flash drives)
Thermal Laminating Pouches 8.9 x 11.4, 3Mil Thickness, Crystal Clear Finish, 500 Pack
Product Labels (VistaPrint)
Avery Shipping Labels with Sure Feed, Print-to-the-Edge, 3-3/4" x 4-3/4", 100 White Labels (6878)
White Copy Paper Reams
Colored Copy Paper Reams (Turquoise/Blue/Red/Pink/Green)
Storage Containers/Storage Rack
Postage
Cricket machine
Shipping/Product Boxes
Crinkle Cut Shred Paper
Filing Cabinet
HP 61 Black/ Tri-Color ink cartridges
Shipping Tape
Monetary donations to reach $15,000 fundraising goal