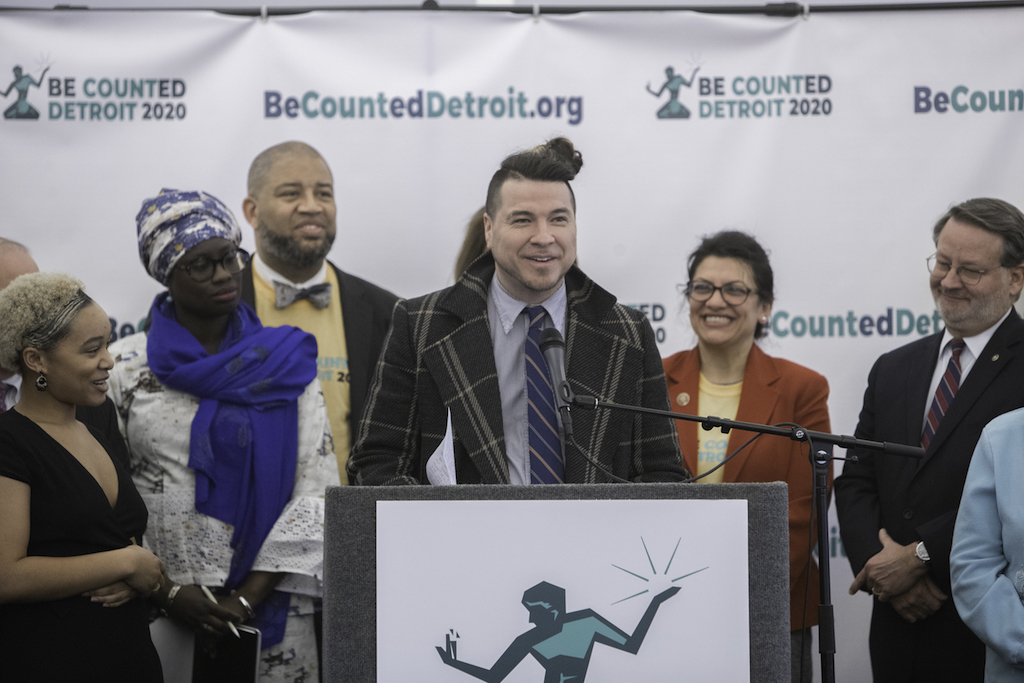 If representation matters to you in Detroit, you should participate in the Census. Here's how.
Be a paid worker, be a volunteer, but everyone needs to fill out the form
If representation truly matters to you, then you'll make sure that you — and your neighbors, your cousins, your kid's teachers, your barber, and your ex that you can't stand — are counted in the U.S. Census next year.
For every Detroiter not counted in the Census, Detroit stands to lose an estimated $1,800 in federal funding each year for the next decade. Beyond the financial impact, consider the cultural impact: We love to discuss just how high the populations of color here are in this city. Having an accurate count of just how diverse this city is will also be crucial to next year's count.
In the last Census, when Detroit's population dropped, there was a 64% participation rate citywide in 2010 compared to a 70% participation rate in 2000. For 2020, it's an all-hands-on-deck effort, boosted by a $3 million investment in Census counting — the first time in more than a decade there's actually a budget for the count.
Here's exactly how Detroiters can participate.
The bare minimum: Get ready to fill out the form
April 1, 2020 is when the Census is taken, so start thinking of that date now so you don't forget. It is a form that you have to turn in to the federal government. But any information gathered in the Census cannot be used for any other purpose or shared with any other government agency, law enforcement, private company, courts or individuals.
You do not have to be a U.S. citizen to be counted. Whether you have to answer a question on the Census about your citizenship status is a matter now pending before the U.S. Supreme Court. The aim is to reassure everyone living in the United States, regardless of their immigration status, that information shared with Census workers is confidential and won't be misused.
People who have no residence, or live at two or more residences during year, or are traveling for a long period of time, are counted at the residence where they live and sleep most of the time. College students living away are counted at the on-campus or off-campus residence where they live and sleep most of the time. Those staying in shelters or living outdoors are counted where they are staying on April 1, 2020.
Help take the count
Building off an ongoing effort, more than 2,000 workers will be hired as recruiting assistants, census enumerators, canvassers and office staff through the U.S. Census Bureau. A City of Detroit-powered effort, Be Counted Detroit, will hire more Detroiters as neighborhood census ambassadors, census canvassers and outreach leaders.
Recruiting assistants will be responsible for promoting Census 2020 field jobs, communicating with the public, conducting presentations and more. Census takers will conduct field work, which includes walking door to door, following up on household surveys and working on address listings.
How to apply? Visit a Detroit at Work Career Center — click here to find a list of locations — and ask to speak with a Census 2020 jobs advocate. Or you can apply online at Census 2020. Questions? Contact 313-962-WORK for more information.
For Be Counted Detroit, Door to door paid canvassing, data collection for 3 weeks in Sept and 10 weeks May-mid July 2020. Groups may apply to do their neighborhood. Click here to apply.
Not looking for a paid position? You can volunteer to be a Outreach Leader to promote the census in your neighborhood, organize sign up events and help identify places for questionnaire assistance. Click here to apply to those volunteer opportunities.
Help bridge the digital divide
Historically, the Census has disproportionately undercounted people of color, immigrants, young children and people living in poverty or homelessness. Additionally, the 2020 Census will be the first census to rely heavily on online responses, leaving those without internet access at risk of being undercounted. The City of Detroit will be establishing more than 100 locations across Detroit where people can go to get help or access computers to fill out their Census form online. Census forms will still be available by paper and can be completed by phone. Once these locations are announced, you can help spread the word among neighbors.