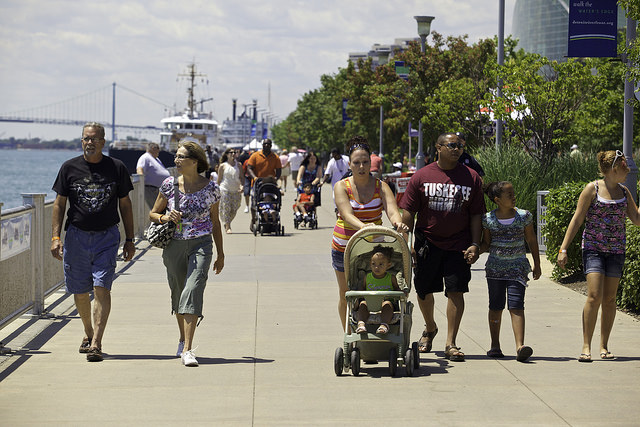 How to make a greener, more sustainable Detroit
Sustainability efforts in the city can help residents save money, and move us all forward
In observance of Earth Day this month, The Neighborhoods will be running a series of posts detailing how Detroiters can practice good measures of sustainability. But what exactly is sustainability?
As the director of the City of Detroit's first office of Sustainability, what excites me the most is being able to help people improve their lives through creating a healthier, greener, more vibrant city for all Detroiters.
Sustainability means meeting the needs of our current generation without compromising the needs of future generations by focusing on the triple bottom line: Equity, environment, and economy. What excites me most about sustainability in Detroit is that we have so many assets that we can build on to become the greenest city in North America. Detroiters are already practiced at making a way out of no way through tough times; they are some of the most resilient people I know.
We have room to grow. We have land that many other cities would die to have, where we can experiment by generating clean energy, growing food for our families, and creating rich compost for our gardens. Detroiters are already engaged in the fight to create a clean, green economy of the future.
We have many houses and structures that are ready to be retrofitted to be greener, healthier, and more comfortable for residents. And Detroiters are a ready and willing workforce, eager to be trained to create the sustainable future that we all know we want to see.
There are simple ways Detroiters at home can practice good sustainability. If all Detroiters improved the energy efficiency of their homes by just 20 percent, they could collectively save over $200 million (over $600 dollars) annually in energy bills. Conserving water could double this amount.
It's true that we are the Motor City. But the annual cost of owning a car can be more than $8,000. By biking, walking, and using public transit, Detroiters can save money and leave less of a carbon footprint in the city — and on the planet.
Detroiters are already practiced at making a way out of no way through tough times; they are some of the most resilient people I know.
By disconnecting our downspouts and letting stormwater infiltrate naturally, we can dramatically reduce the amount of raw sewage that gets discharged into our Great Lakes, the source of our drinking water. And on the subject of consumption, eating more fresh veggies is better for your heart and better for the planet, and you can support your local farmer.
Household recycling and composting reduces the amount of garbage burned and landfilled and can make your soils and plants healthier and happier.
This week, the Office of Sustainability begins its recruitment process for sustainability ambassadors to help shape the City's sustainability action agenda. We're looking to work with engaged and motivated Detroiters to uplift residents' voices and keep the community connected during the planning phase of the agenda, and beyond.
Sustainability Ambassadors will be advocates for Detroiters, first and foremost. Ambassadors will seek ideas and input from people in their neighborhoods and help us shape an agenda that puts all Detroiters first. The plan will inform how we increase access to healthy food, provide more transportation options, connect to affordable housing, lower utility bills and create clean and healthy neighborhoods. And there's a $750 stipend per ambassador.
Interested? First, you can learn even more about the City's Office of Sustainability here, and once you do, you can complete the application to become a Sustainability Ambassador by filling out the application here.