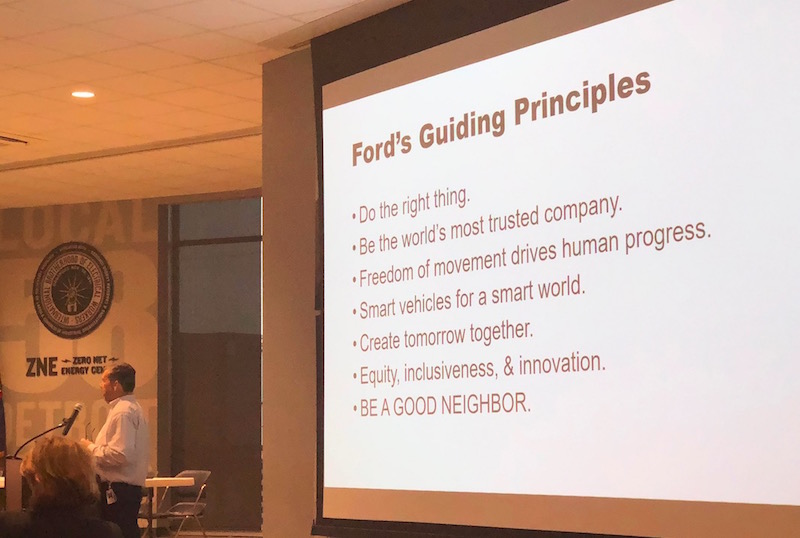 Here's how Ford will spend $10M on workforce development, affordable housing around Corktown
More funding will be used for scholarships, hiring
Per resident requests, Ford Motor Company will invest $10 million into various housing and development funds supporting Corktown and Southwest Detroit, executives announced at a Monday meeting.
The initial $10 million investment will leverage a future $12.5 million in public and private funding to support neighborhood initiatives. A breakdown of the $10 million Ford investment is as follows:
$2.5 million will be put into the Affordable Housing Leveraging Fund to preserve or create approximately 200 new units of affordable housing in the impact area.
$2.5 million will be put into the City of Detroit's Strategic Neighborhood Fund, which will specifically be used for neighborhood park improvements, streetscape and mobility improvements, financial support to help income-eligible homeowners secure 0% home-repair loans and help eligible seniors secure emergency home-repair grants, financial support for a facade improvement program and a set amount for a community-advised fund.
$5 million for workforce training, education and development, which will specifically be broken down as follows: $1 million in funding for Golightly Technical Center to train adults and youth for emerging technology jobs; $1 million to Grow Detroit Young Talent; $1 million to support training programs for skilled-trade jobs through Detroit At Work; and $2 million in funding for workforce development programs, scholarships and programs for youth in Ford's footprint pursuing careers in STEAM fields; entrepreneurship programs; and other programs to be determined with further community input.
The funding comes after weeks of regular meetings between Ford, a Neighborhood Advisory Council elected by area residents per Detroit's community benefits ordinance, and residents themselves. During an earlier September meeting, residents listed each of their wants and needs for the area impacted by Ford's pending revitalization of Michigan Central Station, which it purchased in May.
This story will be updated as the meeting progresses.