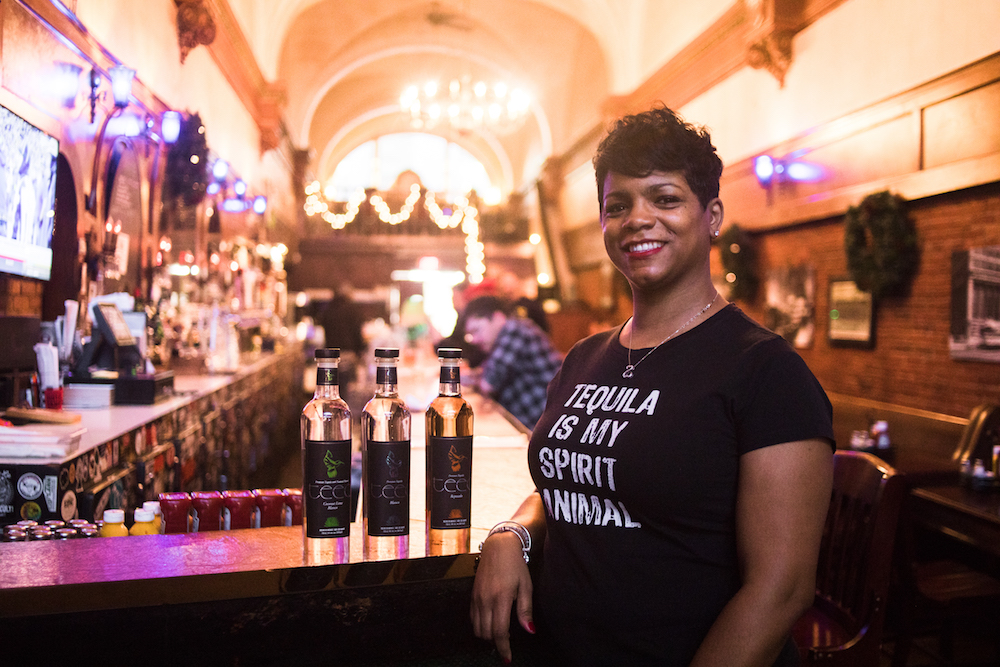 #FoodieInTheD: Teeq Tequila
This Cass Tech grad is the face behind one of the fastest-growing, small tequila brands
photo credit: Cyrus Tetteh
An executive, a wife, a mom and a two-time cancer survivor, there's nothing Nayana Ferguson can't accomplish.
Part owner and chief operating officer of Teeq Tequila, Ferguson and her husband Don have created one of the fastest growing brands in Michigan. The couple began their journey after becoming tequila connoisseurs.
"When he and I started dating, we both were into trying different liquor, but he started really getting into tequila," Ferguson said.
"I started to like it because I am a pancreatic cancer survivor," she said. "If you have cancer, they of course don't want you to drink. But if you're going to drink, I rather try to drink something cleaner." As her love for tequila grew, she began to do more research on the liquor.
In 2017, the couple was ready to make major career changes. Focused on investments and ownership, Ferguson asked her husband what would be his dream. He replied: owning a tequila company. Within two days of the conversation, she found a distillery for the pair to work with.
Jumping in the tequila game isn't an easy feat. It took the Fergusons 11 months to bring their brand to market. Their process included approval of permits, recipes, bottles, labeling and more from both the Mexican and American governments. It also took a lot of sampling and working with chemists to perfect their coconut lime recipe -- the only coconut lime tequila in the world.
"I always joke and say this tequila company was created by FedEx and Google because by email and FedEx they sent back and forth samples," she said. "We tried them and decided which ones we liked. They have chemists who work on your recipes and because we wanted natural extracts, it took a little bit longer."
The Cass Tech graduate attributes her success to the hustle mentality of the city!
"I was born and raised on 7 Mile and Southfield; my neighborhood high school was Henry Ford and I refused to go there," she said. "Back when I was growing up that's when some of the gangs and the whole drug boys and all of that was around; walking home from school, you will see a fight all the time."
Growing up in that environment taught Ferguson to always be observant and focused. That mentality led her to now having her tequila brand in 375 locations across Michigan including stores, bars and restaurants. The Fergusons also recently shipped their first batch of tequila to new markets in California and Florida. Teeq Tequila has also been named one of the best spirits brands in 2019 by the Metro Times. The couple has done extensive research on tequila brand ownership. In fact, Ferguson may be the first Black woman to own a tequila company.
Teeq Tequila comes in three flavors: the exclusive Coconut Lime, Blanco and Reposado. To find out more about Teeq and the locations where the brand is stocked, visit www.teeqspirits.com.