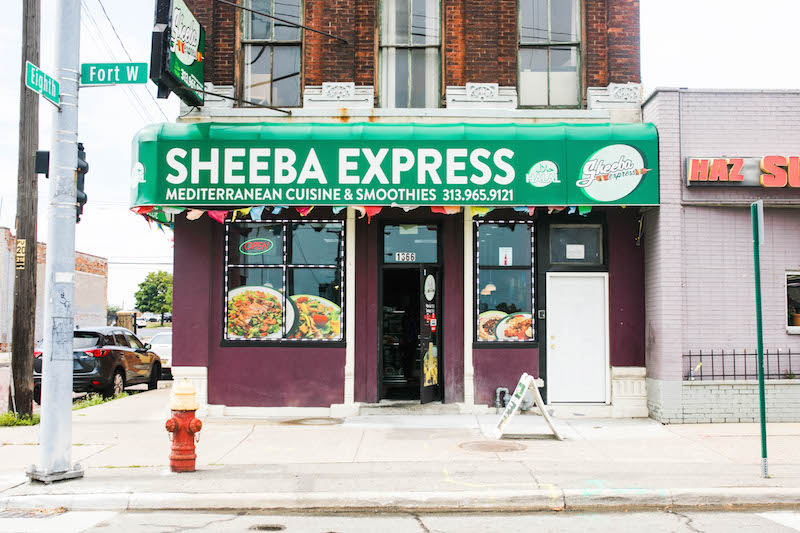 #FoodieInTheD: Sheeba Express is a West Side Industrial treat
Go a little bit further downtown for some Mediterranean bites
For the summer, Grow Detroit Young Talent intern Jade Rodriguez will be presenting #FoodieInTheD Fridays on The Neighborhoods. This week, Rodriguez paid a visit to Sheeba Express, located at 1366 W. Fort St. in Detroit.
As my social media campaign goes on, I try to go to different restaurants in the city that specializes in cuisines I'm not as familiar with. Sheeba Express, I've discovered, is a great place to go to if you're a fan of Mediterranean food. There's no shortage of newer places to go downtown, but this smaller restaurant far on the outskirts of downtown in the West Side Industrial neighborhood is a great place to go to when you're on a lunch run or in need of something comforting. 
I didn't know about Jonathan Gold, the late LA Weekly food critic, until I was advised to practice his approach to discovering restaurants: Go everywhere from the strip malls to the gas-station takeouts, and everywhere from the fast-food places to the white-tablecloth sit-downs.
Sheeba Express is in the ground floor of a turn-of-the-century commercial building on Fort Street, one of the last historic remnants of the city's early industrial age. Today it's reflective of the growing Middle Eastern influence over Metro Detroit, as shawarma spots pop up almost wherever they fit.
This particular spot has a variety of delicious meals to enjoy — among them, their Sheeba Burger (a Middle Eastern twist on an American favorite), Shish Kabobs, and Lamb Ghabala. They also have vegetarian and kids'-menu options as well. 
During my visit, I got to try their chicken shawarma, one of their most popular lunch specials. Served with fries and a drink, Sheeba Express' chicken shawarma was comforting and delightful. Can't make it in person? Sheeba Express is on GrubHub, if you ever can't make it out. Either way, it's worth the trip, or wait.