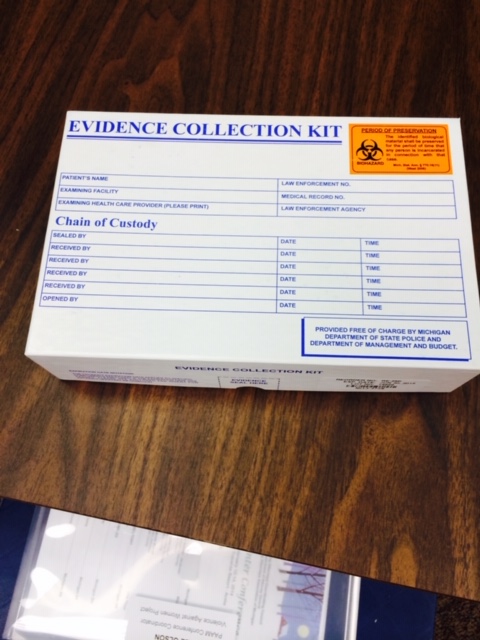 With diligence, patience, Wayne County still moving on hundreds of untested rape kits
Team of investigators working to close years-old cases
It wasn't that long ago that for many Detroit-area women, they only found closure to their rape investigations 30 years after first reporting their assaults.
You know the story: More than 11,000 untested rape kits were found by the Wayne County Prosecutor's Office and the Michigan State Police a decade ago, some of which dated back to the 1980s. Ten years later, through a collaboration (Enough SAID) with the WCPO, the Michigan Women's Foundation and the Detroit Crime Commission, enough funds were raised to test 10,000 kits. In 2015, a coalition of Black female community leaders (Enough SAID African American 490 Challenge) in Detroit joined the effort with the mission to raise the funds to test the remaining 1,341 kits.
Detroit wasn't the only city with this problem; abandoned kits were found in Cleveland, Memphis, Las Vegas. It was such an epidemic that it even became the subject of a Law and Order: SVU episode. But it did become a flashpoint for local discussion here, particularly around finding justice for women of color.|LS|LINK TO SASHA STORY HERE|RS|
In the wake of this epidemic, measures have been taken so something like this will never happen again. In 2014, Governor Snyder signed HB 5445 The Sexual Assault Evidence Submission Act; legislation that mandates a faster and more efficient process for testing rape kits. "After a sexual assault examine is done by a medical professional and a kit is obtained from that examine, the kit must be picked up by law enforcement and taken to a lab within a certain timeframe," said Susan Dillon, a Wayne County assistant prosecuting attorney who is at the helm of the county's Sexual Assault Kit Task Force.
The Wayne County Sexual Assault Kit Task Force is comprised of officials from the county and DPD with the sole purpose of ensuring each kit is tested, the assault is investigated and prosecuted. Dillon's team consists of seven prosecutors, one lead investigator, two supervising detectives, 10 detectives from the Wayne County Sheriff's office and five detectives from the Detroit Police Department.
"Right now, I believe our task force is appropriate for the workload that we have," Dillon said. She said the task force is always receiving new test results.
Enough money has been raised for every single kit to be tested but that's just the very first step on the long road to justice. Assistant Prosecutor Maria Miller says some kits are still in the process of testing and the county is awaiting results.
As of January 2019, 2,781 of the more than 11,000 investigations have been completed and 255 cases are being actively investigated. The county has been able to successfully convict 161 assailants. It's important to note that through the testing of the kits, the county suspects that over 800 of the assailants are serial rapists who can go on to rape 8-11 more people. By putting away just one person can bring justice to so many men and women.
As the team investigates each crime, victims are asked to recount one of the most horrific and traumatic times in their lives. Not only does the task force work to demand justice for the survivors, they provide resources to help them through the investigation. Working with community partners such as Wayne County SAFE, the task force helps provide one on one and group counseling for victims and any type of service referrals they may need. "They also assist us with having them |LS|the survivors|RS| come to court and testify when necessary," Dillon said.
Dillon says in the through the late 80s until the early 2000s, law enforcement lacked the proper training to handle sexual assault survivors. Many went on unbelieved because they didn't exhibit "proper" behavior for what they assumed a victim should show. "A lot of times when someone is sexually assaulted, they may be quiet," she said. "They may not be hysterical, they may process that trauma very differently." Dillon reiterated that not every victim is the same. She said some may be withdrawn and unable to even communicate what happened to them because they are still trying to process it for themselves.
As the task forces investigates the remaining cases, Dillon says they are giving the survivors time. "There isn't one way to react when an investigator knocks on your door and tells you 'We've tested your kit from 1996,'" she said. The investigators have encountered a variety of responses; some survivors are glad to hear from them, others have put the assault behind them.
The task force has a waitlist of 528 investigations and the impact of the kits tested have reached nearly 40 states (victims or assailants moving). But also adding to the county's workload: The number of rape cases reported in the county's largest city. According to Detroit Police, rape cases rose from 2017 to 2018, with officials attributing it to more victims coming forward.
"The whole purpose of our task force is to be victim-centered, meaning that we want to support our victims; letting them guide the process," Dillon said.