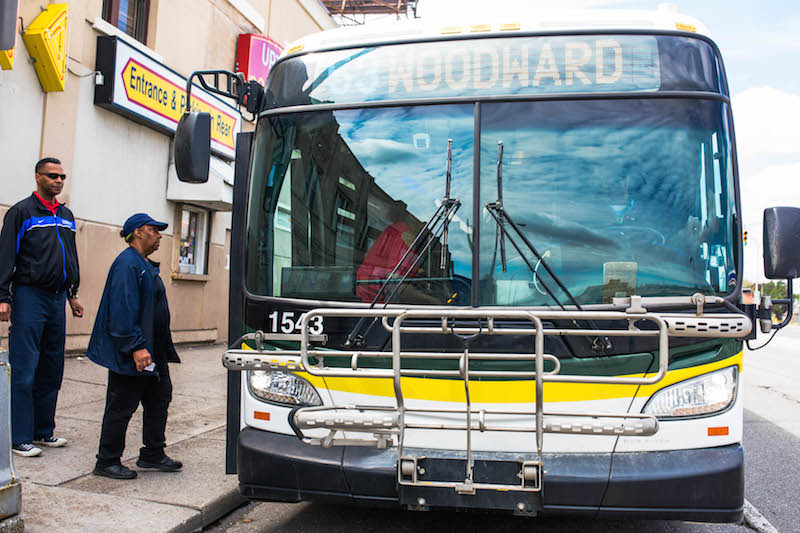 DDOT proposes fare change, new transfer system with SMART
Proposed changes would allow for easier transfers for riders of both systems
The eight-mile-long ice trail between the city and the suburbs thaws a little bit more as Detroit's transportation department proposes a bus fare increase that would allow for seamless transfer for riders on suburban bus routes. Somewhere, L. Brooks Patterson weeps.
If approved by Detroit City Council, riders on Detroit Department of Transportation buses would no longer need to purchase an additional transfer when boarding a SMART bus. Instead, DDOT riders would have an option to purchase a $2 ride pass good for four hours and unlimited transfers between both bus systems.
DDOT is also proposing a $5 24-hour regional pass with unlimited transfers between SMART (reduced to $2 for specific riders); a $17 7-Day DDOT only pass (reduced to $8); a $22 7-day regional pass (reduced to $10); a $60 DDOT-only pass (reduced to $17); and a new $70 31-day regional pass good for unlimited rides on DDOT and SMART (reduced to $29).
All of the proposed changes are good for any DDOT or SMART route. The proposal will go before city council in November and, if approved, go to SMART's board of directors for additional approval.
DDOT is also adding 40 more retail locations citywide, including community centers and convenience stores. The new pass format will be easier for retailers to sell, and DDOT will add self-serve ticket vending machines at select locations. These locations are in addition to current places bus passes are sold. Locations will be added pending approvals in December.
For more information on all proposed changes, click here.