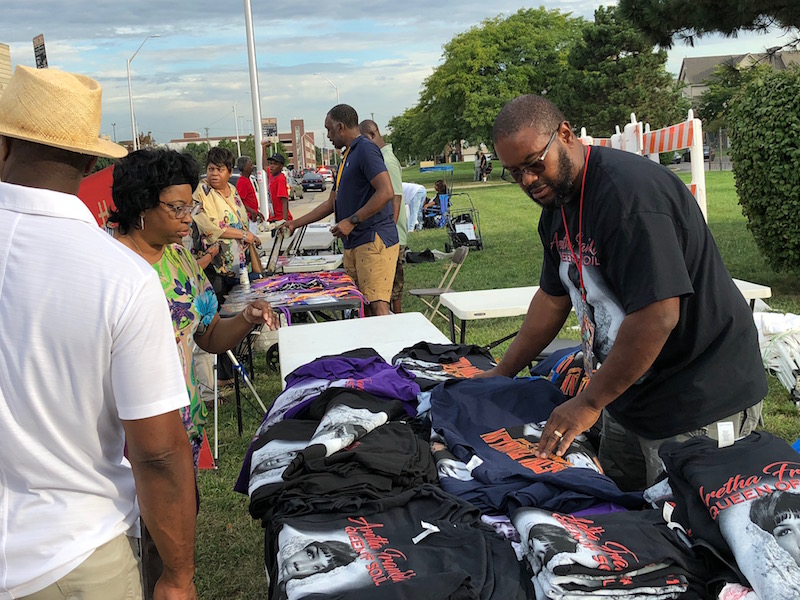 T-shirt makers spring into action for Franklin memorials
Vendors hit the streets of Detroit to offer fans their own tributes to the Queen
Rose Baker, a born-and-raised Detroiter, already has a business making T-shirts and other clothing at a boutique she owns in Southfield. As soon as news of elaborate memorial services and tributes for the late Aretha Franklin started to spread through town, she sprung into action.
"I saw a demand for them," she says outside of the Charles H. Wright Museum of African-American History, "Rock Steady" booming in the background. "A lot of my customers were asking me for them.
Baker is one of several screenprinters — authorized or otherwise — who have treated fans to special T-shirt designs honoring the Queen of Soul. They have popped up with folding tables all over Detroit: In front of the Wright, at New Bethel Baptist Church, at major intersections on the east side and west side, and very likely at Greater Grace Temple on Friday.
"People might need them. I started making them last Friday," Baker says, noting she made 100 shirts for this occasion.
Honoring the deceased via T-shirt design is nothing new in Detroit. It did prove to be a challenge for some, as one T-shirt design misspelling Franklin's surname made the rounds via social media.
Still, like tour merch or family reunion tees, it's a way for us to show how much we love someone. Pink and black were the dominant colors at each of the tables outside the Wright this week, with pink being an obvious homage to the pink Cadillac Franklin famously spoke of in "Freeway of Love."
The shirts show Aretha through the years, some with multiple faces from her beginnings as a jazz-pop singer all the way through the big Mr. Song hat at President Obama's inauguration. For Baker, she added some flair to hers: Some spell out RESPECT in rhinestones.
"There's always competition, but there's enough for everybody," she says about the other entrepreneurs selling Franklin shirts. "I think (the rhinestones) might give me an advantage."
When she first heard of Franklin's passing, Baker said all she could feel was sorrow at first, but realized something that set Franklin apart from her contemporaries.
"She's been around, and she's one that was in Detroit and never left Detroit. That was just an awesome feeling," she says.