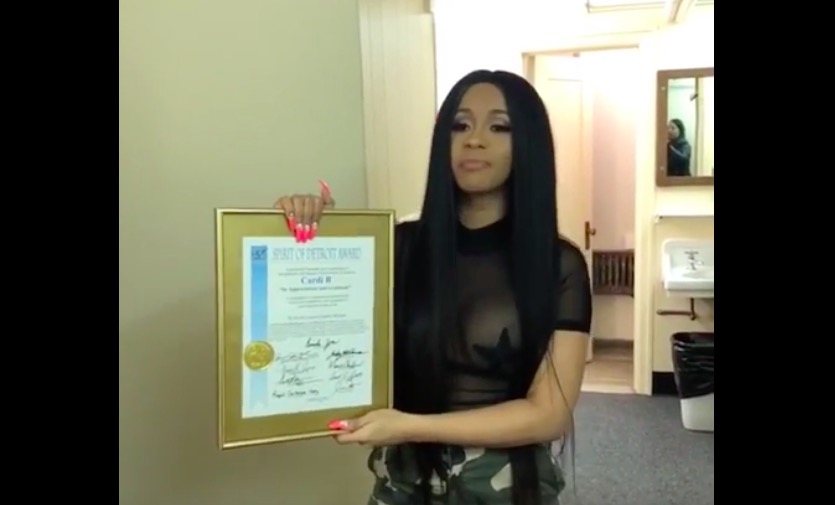 One year ago, Cardi B was given a Spirit of Detroit award. What has changed since then?
A look back at the day that changed Detroit forever
In 1967, the course of Detroit's history was changed forever as thousands of residents took to the streets in rebellion, an uprising that followed years of police brutality in black neighborhoods, unequal access to better-paying jobs and squalid living conditions for the city's most vulnerable residents. Fifty years later, Detroit's history would be changed again when another monumental event would cause outrage in the streets: Stripper-turned-rapper Cardi B receiving a Spirit of Detroit honor from City Council.
Was 2017 really that long ago? It was only a year, but it was a different time. A simpler time, when scooters didn't exist on city streets and weave accounts didn't follow you on Instagram. But it's undeniable that things haven't changed in a year. Looking back, let's examine how things have changed for both Detroit city government and Our Miss Bronx since that fateful October day:
Since October 2017, Cardi B has:
Dropped a banger of an album with "Invasion of Privacy"
Lived out a very public engagement, and subsequent marriage, to Offset of the Migos
Earned multiple No. 1 hits as a female rapper
Perhaps caused another female rapper to have a nervous breakdown after the fact
Threw a shoe
Became the subject of an internet campaign to cast her in a reboot of "The Nanny"
Gave birth to a daughter and proved (as many women have before her, of course) that women can have children and a career
Since October 2017, the City of Detroit Government has:
Awarded $1.6M to study "20-minute neighborhood" planning and design work in four neighborhoods
Been awarded $1M in grants to its health department to further initiatives for children, asthma care and environmental health
Moved forward in a sweeping plan to redevelop the Fitzgerald neighborhood
Approved $125M in funds to revitalize commercial corridors across the city
Moved to reduce poverty — slightly — for a consecutive year
Launched Halloween in the D as a means of moving beyond Angels' Night (and Devil's Night)
Launched iDecide as a means of educating teenagers about sexual health
Moved to rename Chene Park to Aretha Louise Franklin Amphitheatre (please say Louise)
Renovated Kemeny Recreation Center in the 48217 ZIP code
SCOOTERS
BIKE LANES
Launched a rebranding of DDOT, added 500 trips to the regular schedule, added new coaches to the fleet, and put wifi on the buses
Replaced Columbus Day with Indigenous Peoples' Day
Renovated Viola Liuzzo Park, named for the late civil rights activist
Moved to implement child-friendly development in Warrendale
Moved to eradicate Drivers' Responsibility Fees early for residents who enrolled in Detroit At Work training programs
Launched a registry to track landlords in compliance with citywide building safety codes
Allowed for residents to place rent into escrow if they're living with a noncompliant landlord
Added more graduates to the Detroit Land Bank Authority's "buy back" program, which allows residents to keep their homes out of foreclosure
Was awarded $500K in grants to renovate the historic Dr. Ossian Sweet home and surrounding homes
MORE SCOOTERS
MORE BIKE LANES
Held Open Streets Detroit in Rouge Park for the first time
Launched the GOAL Line, which allows for parents to have children ride a school bus route in Northwest Detroit and pick up/drop off at schools, regardless of affiliation, and after-school activities
Along with Wayne County, moved to reduce property tax-related foreclosures down for a consecutive year
Approved new residential units, with percentages set aside for affordable housing, in Brush Park, Midtown and Lafayette Park
Re-launched an animal-control unit in the city's health department
Had employees march for the first time in the annual Motor City Pride Parade
Unveiled plans to beautify 99 city parks
Saw homicide rate drop to lowest level in 50 years (but there's still homicides tho and everybody knows this and nobody is celebrating or patting themselves on the back for it and we all know there's work to be done and et cetera and et cetera)
Something happened with Ford?
Moved forward in the Flex-N-Gate facility on the I-94 corridor
EVEN MORE SCOOTERS
EVEN MORE BIKE LANES