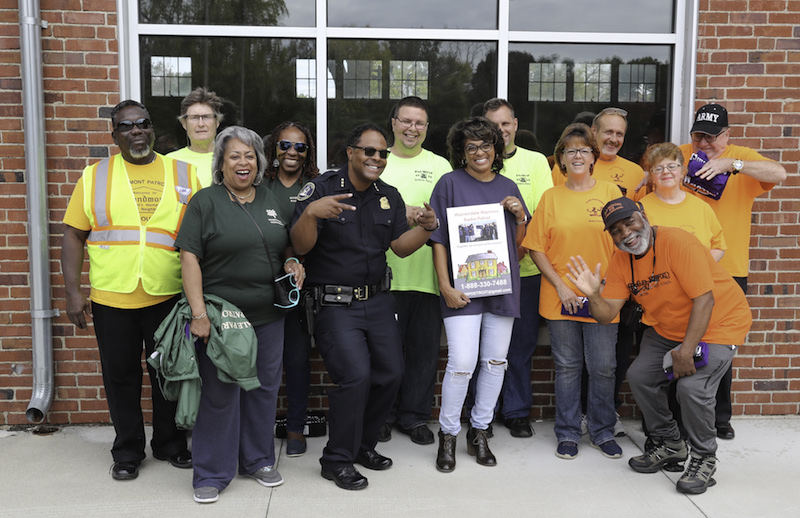 The difference between Angels' Night and Halloween in the D
And finally, moving past Devil's Night
I'm of a certain age where growing up in Detroit, Devil's Night was just a normal occurrence like Thanksgiving and the Fourth of July. It's not a calendar holiday, but it might as well have been printed on local timekeepers anyway. In this city, there's an entire culture around wreaking havoc around Halloween. I was born into it.
Having the Devil's Night talk in a Detroit household is one extra burden families here have. A lot of us were already having extra "talks" that other families elsewhere would have. The "what to do when a cop pulls you over" talk. (Or, for some families in Detroit, the "what to do when a suburban cop pulls you over" talk.) The Devil's Night talk was this: Don't stay out past curfew, don't be seen with a gas can, and don't be seen near an abandoned house.
Abandoned houses, the cancer spreading across Detroit for as long as I've been alive. I didn't know back then, but I certainly know now that the fewer abandoned houses there are, the less of a chance there is for arson. It's one of the reasons why last year, it was time to change the conversation around Halloween activities in the city.
In 1994, Devil's Night became Angels' Night. On paper, at least. This is when I was in elementary school, but well into high school, we still referred to the day as Devil's Night. It took 24 years to reach a point where it was time to bury Devil's Night once and for all, and take a second look at Angels' Night. Abandoned houses have been coming down at a faster rate. And the number of arsons were decreasing year after year. It's time to take the unofficial holiday off the calendar.
Since last year's announcement that some Angels' Night traditions would be wound down, and this year's announcement that the season would now be called Halloween in the D, several Detroit residents have asked what's different now. Safety is still the City of Detroit's priority. But in addition to safety, fun and, as city officials say, returning this holiday back to the children, is also top of mind.
Are patrols ending?
Yes and no. In years past, the City of Detroit would call residents to action and organize patrols on city streets — in other words, the people driving around with the yellow lights on their cars. This year and going forward, residents can still voluntarily patrol streets if they wish, but there will be no organization from the City. That said, public safety — police and fire — will be on alert throughout the entire season.
OK. And what if I still want to patrol?
The City is also encouraging residents — again, voluntarily — to join a radio patrol. Established by a Detroit City Council Resolution in 1967, the Radio Patrol Program has been an essential part of the strength and public safety of Detroit's neighborhoods. Patrols were established to serve as extended "eyes and ears" for the Detroit Police Department. Each of the patrols consists of a number of resident volunteers who commit a small amount of their time each week to serve as a base operator, a driver, or an observer with the driver. The role of the patrollers is to watch over their neighborhoods and report any suspicious activity or sights to the patrol base operator, who in turn contacts the local police precinct.
If you sign up to volunteer with a Citizens' Radio Patrol, you will be contacted by a Detroit Police Officer to fill out a Radio Patrol application and join an existing radio patrol in your community. If there is not an existing radio patrol in your community, a Detroit Police Officer will contact you about the next steps to start a Radio Patrol. Radio patrols can increase neighborhoods safety, assist in reducing crime rates, and build community.
How else can I help?
Well, don't burn down a house, of course. But also, individuals can decorate their car for a trunk-or-treat event at a local police station or simply donate candy at a police precinct or recreation center. A full schedule of events is located at HalloweenInTheD.org.
Photo by Kwabena Shabu/City of Detroit