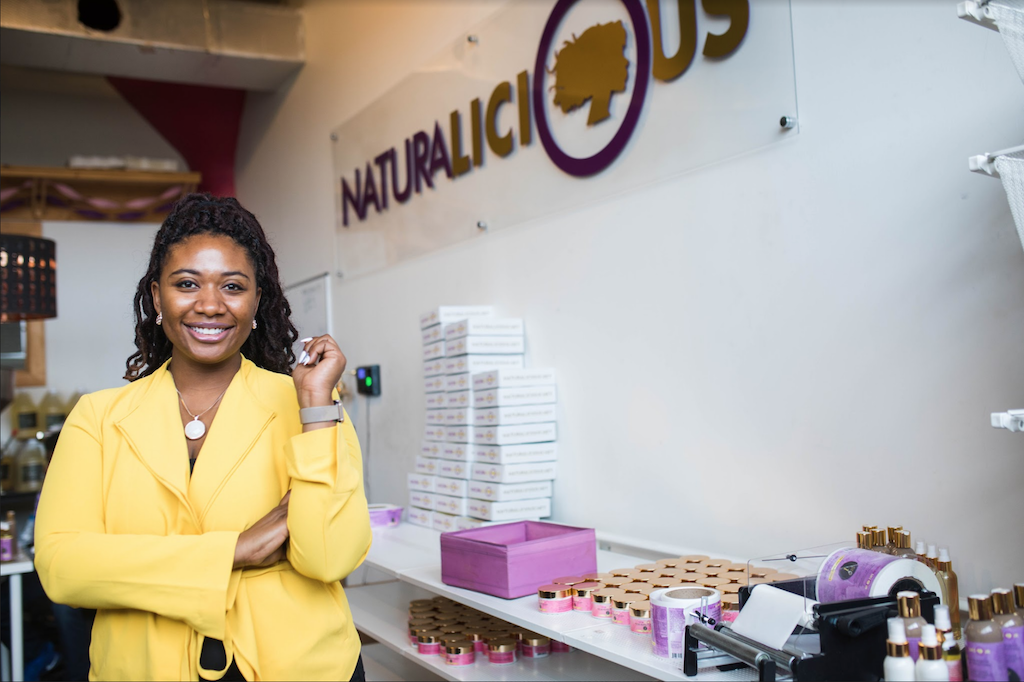 Detroit-based Naturalicious goes national in Sally Beauty stores
Owner Gwen Jimmere is latest in city's growing beauty industry
Five years ago, Gwen Jimmere was staring unemployment and single motherhood in the face. She had been laid off from her corporate job and was taking steps to finalize her divorce. With a two-year-old son to care for, Jimmere took this as a sign to take her hobby of making natural hair products and turn it into a full time job.
Five years later, Naturalicious is now bottling 200-300 products daily inside of Detroit's Ponyride, a coworking space in Corktown. As of this week, Naturalicious is on the shelves of 84 Sally Beauty stores across the country. Most of the stores sold out of Jimmere's products the day of March 30 launch she says.
Jimmere joins a small but growing group of local beauty entrepreneurs who are making products locally and having them picked up by national chains. Earlier this year, Melissa Butler of The Lip Bar in West Village secured a deal with Target to carry her vegan lip products. Jon Koller, owner of Beard Balm and another Ponyride resident just inked a deal with Walmart to stock shelves across the country.
In addition to Sally, Naturalicious is in nearly 2,500 beauty supplies, health food stores and other sellers of beauty products across the country. Yet Jimmere describes her growth as "very gradual" and "organic". "I didn't grow, in terms of employees or partners, until I really needed to," the Cleveland native said.
Sally stocks the "Hello Gorgeous" 3-step system from Naturalicious, which does the work of 12 products. "I'm all about cutting down on time," Jimmere said. The entire line of products is free of parabens, petroleum and is cruelty-free. Jimmere says the system will cut down a naturalista's washday to 30 minutes.
Jimmere went through a lot of trial and error creating the formula for her products. "I started off with ingredients found in my kitchen, then began experimenting with other naturally-based ingredients I'd find at farmer's markets and health food stores,' she said. "My mother is also practically a master herbalist, so I definitely picked her brain for ideas and suggestions. It took me about 6 months to get it right but when I did, boy was it a game changer."
Jimmere's big break came when she decided to pitch her products to Whole Foods as they set their sight on a Detroit store opening. "I thought if I could get my stuff into Whole Foods that would validate it for everybody." Jimmere began her pitch with an unlikely buyer, especially since he had no hair. She said he wasn't able to comprehend the need for products that could cut down on the time spent washing and doing hair.
It wasn't until another buyer, a Latinx woman, dropped in on the pitch. Jimmere said the mother of two girls was wowed by the products and told her "I need your products so we need your products." "When you go to Whole Foods you already have an inkling that the ingredients are going to be really good and healthy," Jimmere said. After stocking the shelves at the Detroit Whole Foods on Mack Ave., Jimmere said her consumers began to see the validity in her products, so her small kitchen operation quickly outgrew her home prompting her to move to a bigger space, leading her to Ponyride.
With her newfound validation, Jimmere knew it was time to also patent her invention. The result? Jimmere became the first Black woman to hold a patent for a natural hair product. She studied patent law for 7 to 8 months. Her inspiration: Sara Blakely, founder of Spanx who wrote her own patent as well. "I really researched her and everything she did," Jimmere said. "Don't reinvent the wheel. If you know someone who's already done this, model what they did," she said.
"|LS|I was|RS| dealing with the loss of a marriage and also trying to make sure my son didn't feel like a big void happened because his father was no longer in the house," she said. With this in mind, Jimmere was determined to make her products work. "I was very adamant about not failing because I had a kid to feed and I didn't want him |LS|her ex-husband|RS| to see me fail," she said. "So I started slanging hair products."
Even with all of her success, Jimmere still find time to help those around her. "I always wanted to make sure my business had a give back component," she said. When it was time to expand her operations, Jimmere partnered with Services to Enhance Potential (STEP), an organization that helps those with mental and physical challenges find fulfilling employment.
As a child, Jimmere would have severe seizures. "That's a lot of stress on the brain," she said. "I could have been the kind of person that needed this kind of help." She currently employs four STEP participants. "It's cool to give money to something but you know what they say 'If you give a man a fish he'll eat for a day. If you teach him how to fish, he'll eat for a lifetime.'"
To find out more on Naturalicious and to get your hands on a product or two, visit www.naturalicious.net.