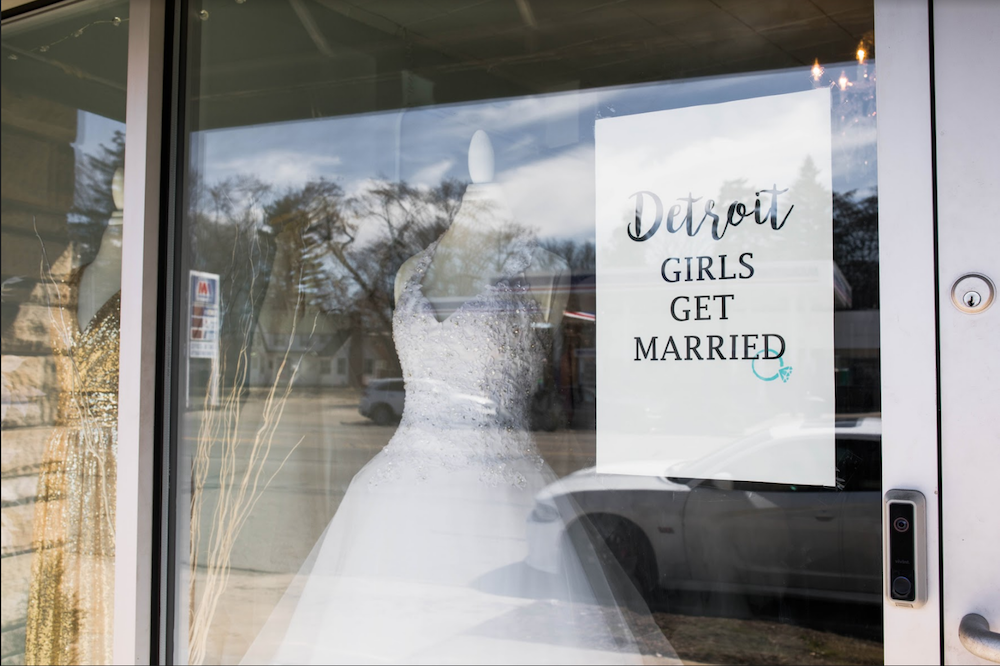 Women entrepreneurs are walking down the aisle of success with Detroit bridal shops
Three bridal-shop owners describe why they opened up in the city
Buying a wedding dress is a monumental moment for any bride. It's usually a moment imagined surrounded by loved ones and uttering that magical sentence coined by a certain TLC show. 
These three women entrepreneurs are making sure Detroit brides have every dream come true. 
Kristin London, owner of Detroit Bridal House (17576 Parkside St.)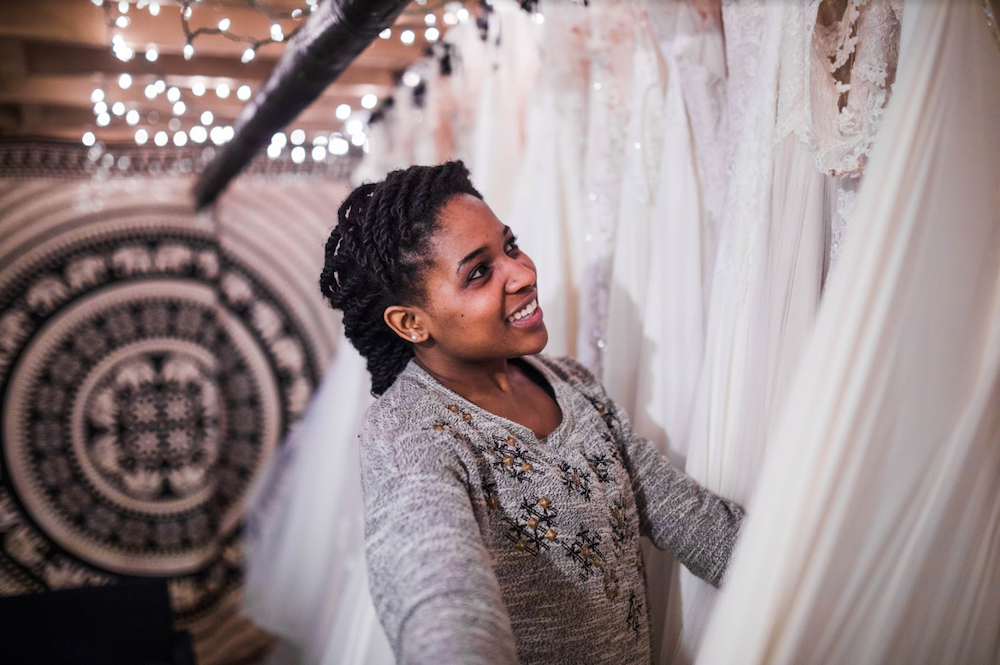 London knew from a young age that she'd own a bridal dress shop. Detroit Bridal House opened its doors in September of 2016 but London had a lot to learn. "It was a huge learning curve. I didn't want to just carry stuff I liked," London said. "It was really important for me to diversify my style." 
Before opening, the native Detroiter worked with a friend, a buyer at Barney's department store in New York City, to curate her stock of wedding dresses. Her search for unique dresses led her to designers on Etsy. 
"I don't want to just have a bridal shop and sell dresses," she said. "I believe that wedding gowns are an art and I believe in promoting art." 
London describes her stock of dresses as "trendy yet minimal." She currently carries Stella York (a designer part of Essence of Australia collective), Sabina Motasem of London (DBH is the only shop in the U.S. carrying her gowns), and Daughters of Simone in San Diego. 
The small shop is run out of London's family home. After a few issues with her initially space for the shop, London's family convinced her to use their basement as a starter shop. She was hesitant at first but later turned the space into a cozy and comfortable atmosphere for any bride to find her perfect dress. London says only two clients have felt uneasy about being seen in a home but most clients feel a lot more relaxed in the home environment. 
Since opening DBH has helped dress brides from Detroit and beyond, with excited women coming as far as Toronto and Chicago. "We break a lot of glasses in here because we're having too much fun," she said. 
Lori Conerly, owner of LeeAnne's Luxury Bridal Boutique (18724 Grand River Avenue)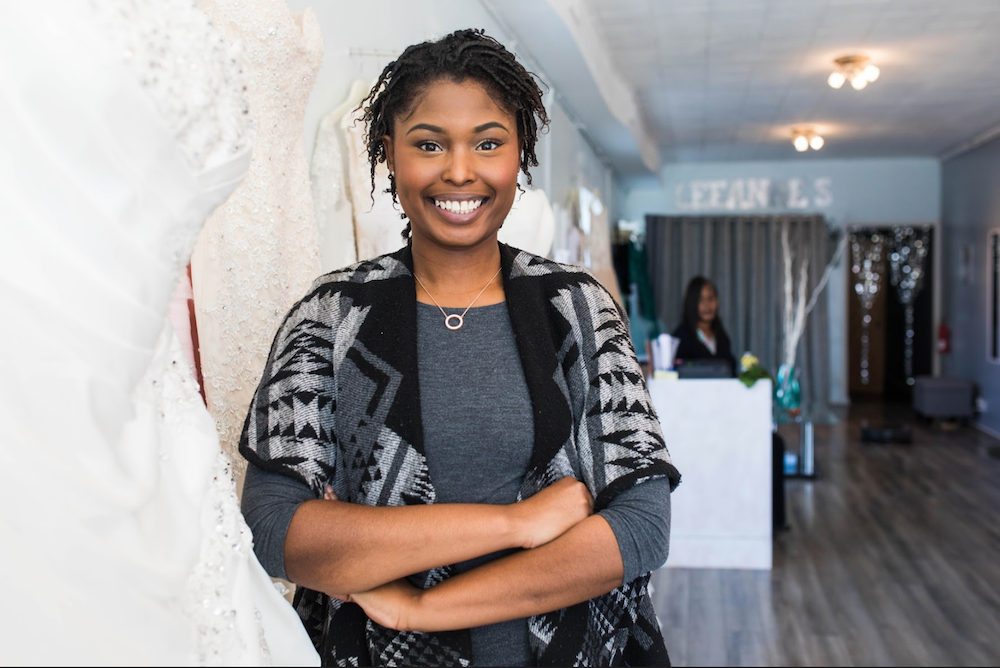 Lori Conerly was in between jobs during her tenure at Grand Valley State University when she stumbled upon the bridal industry. Conerly reached out to one of her Alpha Kappa Alpha sorors, an assistant manager at a bridal boutique, and fell in love with the work. 
After getting her feet wet in the industry, at both small and large boutiques, Conerly decided to open her own shop in September 2017. "I always knew I wanted to work for myself," the 24-year-old said.
The native Detroiter knew she wanted to start LeeAnne's Luxury Bridal Boutique as a brick-and-mortar space. Here in the Grandmont-Rosedale neighborhoods, the shop carries customizable dresses with a little touch of Conerly in every design. "All of the designs have a bit of Lori in them because I get to tell them things like 'take the sleeves off or add more beads,'" she said. "It's really a hands on process." 
"I try to make it as affordable as possible," Conerly said. Dress prices usually range from $300-1,000 with a 50% deposit required to start production. LeeAnne's also has payment plans available for brides. "I want to make it so every Detroit girl can have her dream wedding."
Since opening, Conerly has seen over 20 brides and has even provided styling for a few bridal parties. She's currently expanding the business by including special occasion dress for homecoming, prom and more. 
Keasha Rigsby, co-founder of Beautiful Bridal with Keasha Rigsby (2921 E. Jefferson Ave.)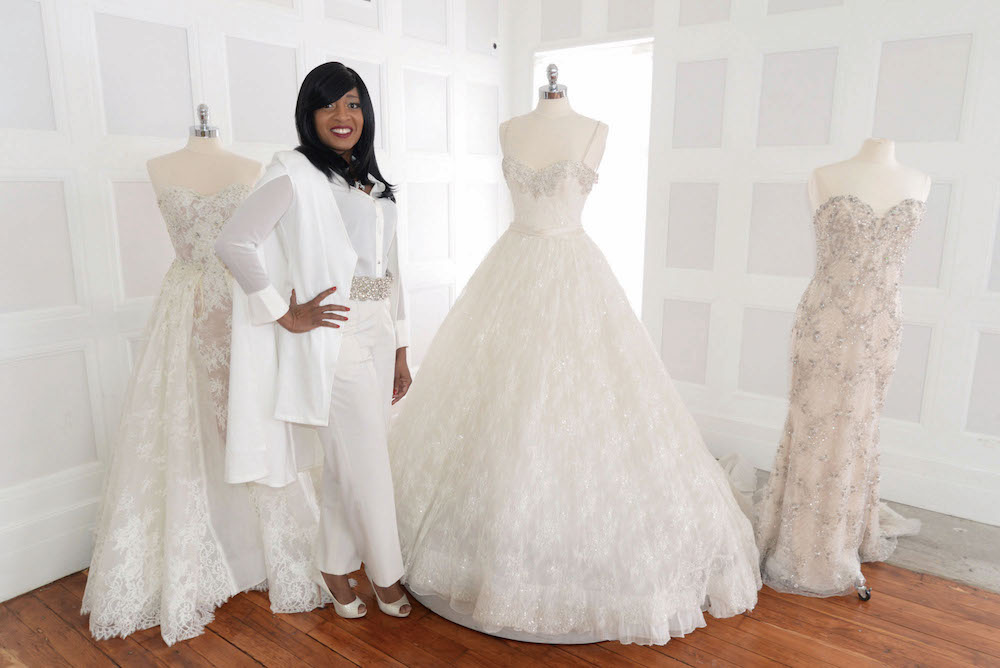 Photo Credit: Viviana Pernot/SEEN Magazine
After making her name with TV audiences on the TLC hit show, Say Yes to the Dress, Keasha Rigsby is an internationally known bridal consultant. Working in the fashion industry for over 13 years, Rigsby decided to put stakes in Detroit after a family visit. 
Beautiful Bridal with Keasha Rigsby opened its doors in 2016 on Jefferson near Jos Campau. Risgby runs the shop with her co-founder and co-owner Vallery Hayduck. 
Since opening, the Beautiful Bridal team has bought the building they are housed in and rent out space to other bridal industry tenants. "It helps create a synergy," Hayduck said. "We opened strong and we've had a nice, organic growth ever since." Hayduck says the business has seen at least a 30% growth since 2016. 
Rigsby, a Native New Yorker, is the buyer and stylist for shop. Hayduck says Rigsby really has a knack for picking unique samples for the shop. "Keasha really has an eye for picking unique styles which makes for unique brides." Dresses start around $2,000 and can reach up to $10,000. 
Beautiful Bridal also carries veil designs from a local Michigan company, but according to Hayduck "the door is open for conversations" with local designers to feature more of them in store. Hayduck says the shop is a member of the Detroit Garment Group.  "We'd love to see more people from Detroit groomed in fashion," she said.