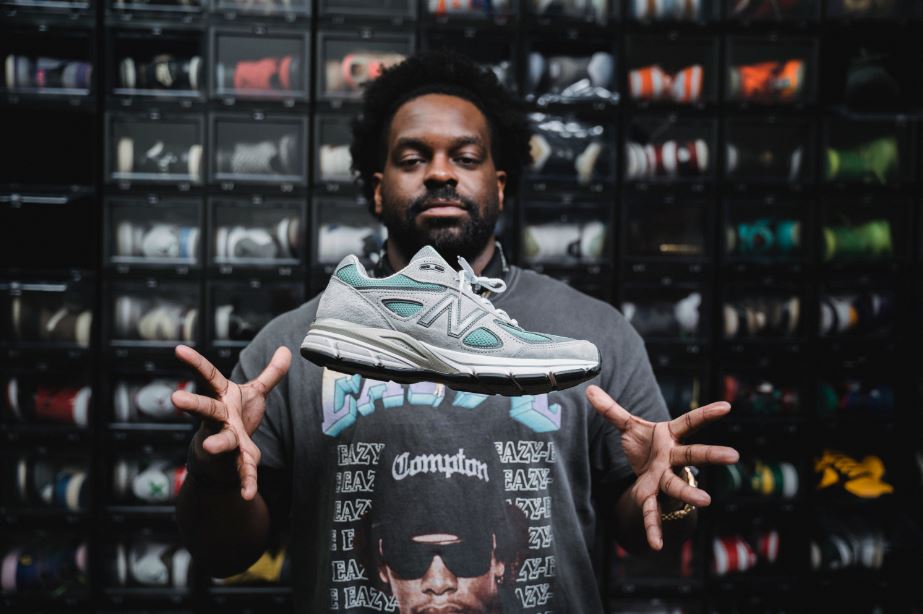 Sadelle Moore hustles harder making sneaker dreams a reality
It's gotta be d'shoes!!! Right?!
Every real one needs a shoe plug and there's no plug quite like Sadelle Moore.
"Opening my first pair of Jordans, gettin' that whiff – I became totally infatuated with the smell. Automatically."
A Brand-new pair of Jordan Playoff 8s.
"That was the first shoe that I was able to go out and play in. I wanted to BE Michael Jordan. I wanted a bald head. That was '93 – I was in kindergarten."
Like any REAL love affair - his infatuation turned to obsession.
So it starts when he was five. It does for many. But for most, a pure childhood love like that eventually fades. Not Sadelle.
"There was this hustlers' mentality I had, early on. It stemmed from middle school, high school – sellin' DVDs, sellin' candy – just to make money to buy shoes."
While the secondary sneaker market grew, his collection and knowledge grew. A very specific combination of networking and understanding the pulse has created a man who is both a product of the culture and someone who knows how to move the products the culture produces. 
Soon he began to develop an A-list clientele. This is how the plug got plugged in.
And so it makes sense that Dan Gilbert came calling.
There was no @StockX yet - just Gilbert and two other guys who needed an expert to better explore the possibilities. These early meetings gave birth to @StockX - and Delle started gettin' paid as a professional sneaker authenticator.
"It's CRAZY how fast things took off. We grew to 300 authenticators and about 1000 jobs. And it all just started with four of us re-selling shoes from an office."
He followed his dreams straight into the creation of a new global corporate competitor - HQ'd in the center-of-all-things Downtown - Campus Martius.
"Having one of the fastest-growing unicorn startups right here Downtown Detroit - it changed the whole landscape. People come in from outta town and see StockX HQ on a building - it's like a breath of fresh air."
He says he's been eyeballin' a wide range of new endeavors: real estate and other investments, community work right here in Detroit - and naturally, some big type of block party or sumn.
"Eventually I'd like to bring some type of weekend to Downtown Detroit, bring all my celebrity friends to Detroit, do somethin' big and give back to the community. Like a celebrity game, or maybe a bike round around Downtown.
"StockX set the tone, inspiring me to create and do more for my CIty and for others. I've met so many mindful people along my journey."
Sadelle has the kind of connects and relationships that could land somebody in a rap lyric. A behind the scenes culture creator. If you know Sadelle, you know. If not, it's not yet