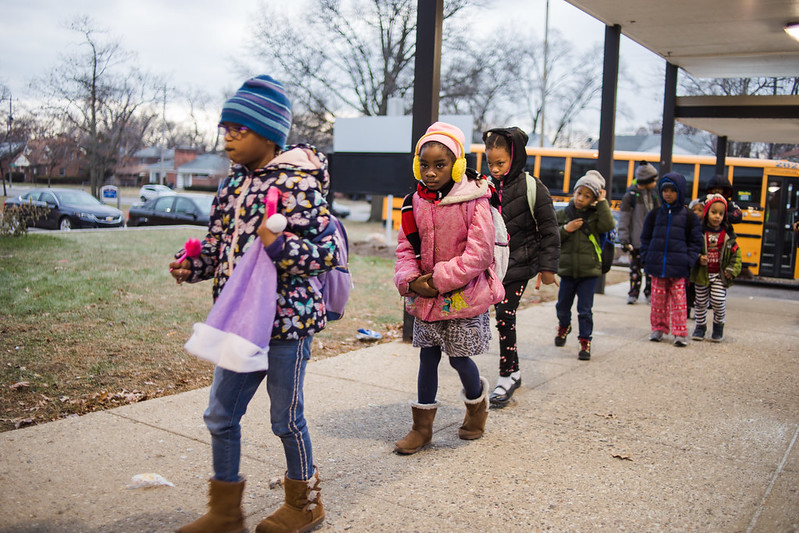 Keeping your child engaged
One teacher's thoughts on how to keep peace in the home during closure
Michigan Governor Gretchen Whitmer announced a statewide school closure in response to the COVID-19 outbreak. Michigan students were asked to stay home from March 16 to April 5 with hopes of reopening school buildings on April 6. 
This means parents are now becoming teachers. This can be a huge strain on those both working from home and providing instruction to their child(ren). Most parents don't have to worry about a learning slide until the summer but the closures could also create a learning gap. 
"Be flexible and try to keep your schedule as much to your child's norm as possible," said Artina Tyus, a teacher at University Prep Schools with six years of educational experience. 
"School at home does not have to be from 8 a.m. to 3 p.m.," said Tyus, the mother of a toddler. "It can be 20-30 minute increments throughout the day. You can break it up with different types of activities."
Tyus suggests that all students, regardless of grade level, should read EVERY DAY for at least 30 minutes. For younger students, this can be broken up into increments as well. 
Tyus says preschool children will enjoy sensory activities. She says parents could fill baggies with rice or beans and hide letters or colorful shapes in them for the kids to find. "They're using multiple senses to learn and explore and it's fun for them." She also suggests explorative play for the younger kids. Let them dress up in old Halloween costumes or even your old clothes. 
For primary school students, Tyus recommends flashcards and puzzles to improve your child's memory retention. She also suggested checking out the Cincinnati Zoo's Facebook Live feed where they have the animals on display. The Detroit Zoo is also bringing you a dose of #VirtualVitaminZ with frequent Facebook Live updates. 
For grade and high school students, Tyus says lots of schools are offering high-tech options to help connect students to teachers. At her school, the administration is mandating that students use Google Classrooms and Google Voice to ensure they have the instruction and help necessary. "Parents who are in need of different resources should definitely check Teachers Pay Teachers," Tyus said. "They have a free section on there."
With this gap in educational instruction, Tyus is concerned for special needs students. "Just make sure you're in contact with your child's special education teacher and care provider to see what you could be working on at home to make sure they are still growing," she said. Her school has provided students with particular learning needs specialized packets during the shutdown. 
Standardized testing is also a concern many teachers have during the shutdown. The MSTEP and PSAT standard tests are scheduled for Spring 2020, but students are missing almost a month of instruction that would have been used to prepare them for the tests. "We can't even mandate that what we send home is done," Tyus said. She is aware of certain advocacy groups and their interest in pushing the testing dates back to allow students ample time to adjust once they are back in school. 
All in all, Tyus urges parents to be patient with themselves and their children. This is a huge adjustment for all. 
Here are a few more resources Tyus has shared to make this time easier for parents and kids. 
Resources for Daily Life while working from home with kids
Educational Packets for grades Pre-k through 8th
Additional Websites 
Description/Location, Age/Academic Level, Advantages
Spelling City - This website has a free and paid subscription option. 
Good for any grade level 
● This site offers 42,000 spelling words, which teachers can customize sentences and definitions.
● There are 25 games to play online or to print.
● The program says the words to the student in a human voice.
CommonLit - This website is free. 
Good for 3rd-12th grade
● This site is great for Instructional Design and differentiation
● It features a text-to-speech option.
● The site has leveled texts and adaptive tools available for use. 
● This site is great for tracking progress.
Raz-Kids - On this website, one can start a free trial and/or get free samples. However, the site costs. 
When signing up as a classroom or institution, you have to pay $109.95 a year for one classroom. You can add other subsidiaries of Raz-Kids such as ELL Edition, Reading A-Z, Headsprout, Science A-Z, Writing A-Z, Vocabulary A-Z for additional costs. 
Good for K-5th grade
● The program offers leveled reading 
● Progress tracking is available 
● Teachers can assign different readings to students.
● Running records feature is beneficial as a pre-assessment, ongoing, and benchmark assessments. 
● Books can be read to students. 
ReadWorks - This website is free for content, curriculum, tools, and learning. 
Good for K-12th grade
● ReadWorks is great for differentiated reading instruction.
● The site offers high quality texts and lessons.
● Standards-aligned content across multiple subject areas is available. 
● Thorough comprehension activities are also available. 
● Includes graphic organizers and worksheets
● Includes StepReads which aids struggling readers 
● The passages include vocabulary lists, definitions, examples, etc. 
● It is more accessible than other apps/websites for Spanish-speaking ELLs
Newsela - This is a website. A standard teacher account, which includes access to current event articles at five reading levels, is free. There are options for paid subscriptions for Newsela Pro (Teacher) and Newsela Pro (School/District) to get additional features. The prices are not posted on the website. However, an article on Fordham Institute stated that the Pro version costs about $6000 per a school, $2000 per grade level, and $18 per student. 
Good for 2nd-12th grade
● The library contains high-interest, cross-curricular nonfiction
● Teachers can assign readings to individuals and/or whole groups. 
● You can use quizzes to track the progress. 
● Teachers can select articles for targeted instruction on certain standards 
● There are annotation tools available.