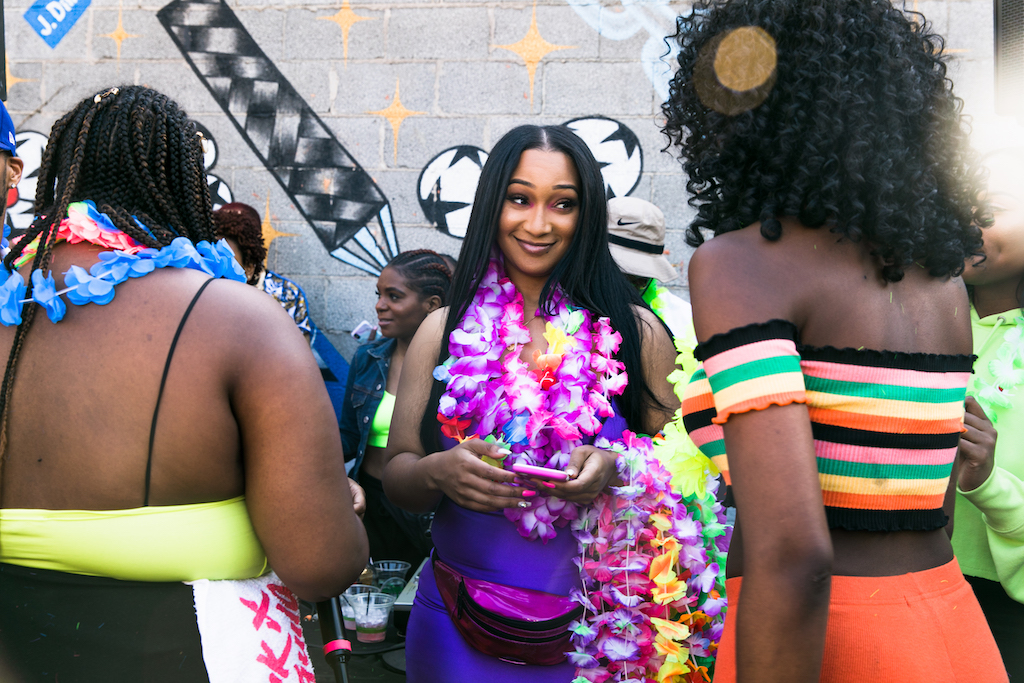 From the eastside to Essence Fest: How a Detroit planner is turning TwerkXTequila into a national brand
For Lauren McGrier, it's all about creating lasting memories
If you're of a certain demographic in Detroit and active on Twitter and Instagram, you either follow — or have definitely seen in your timeline — periodic photographs of young women twerking to their hearts' content at El Club in Southwest Detroit. Many of these women are definitely People You Know: You went to college with them, you work at the same job but in different departments, or, like literally everyone in Detroit, you went to high school with them.
You see the men at these parties, sometimes buffed up, posing in front of colorful backdrops — an update on the airbrushed sheets their parents used to mug in front of back in the day. There are smiles all around, everyone's having a good time, the comments under the photos are uplifting and you start to wonder: "When's the next party?"
That's a question Lauren McGrier — @ConnectWithLo on the aforementioned platforms — gets a lot. McGrier, an eastsider who finished at Michigan State University in 2014 and came right back to her neighborhood off Davison and Conant, is the mistress of ceremonies for these events. She's the architect of TwerkXTequila, which is exactly what it sounds like: A chance for let it all hang loose, aided by copious (but safe) amounts of the agave liquor.
In less than two years, TwerkXTequila has become mandatory attendance for Detroit's 20-something residents, which draws hundreds of patrons each outing. Now McGrier is hitting the road for a bigger stage, as TwerkXTequila lands smack dab in the middle of New Orleans during the Essence Festival this month — something McGrier manifested when she threw her first event after quitting her job to pursue event and artist management.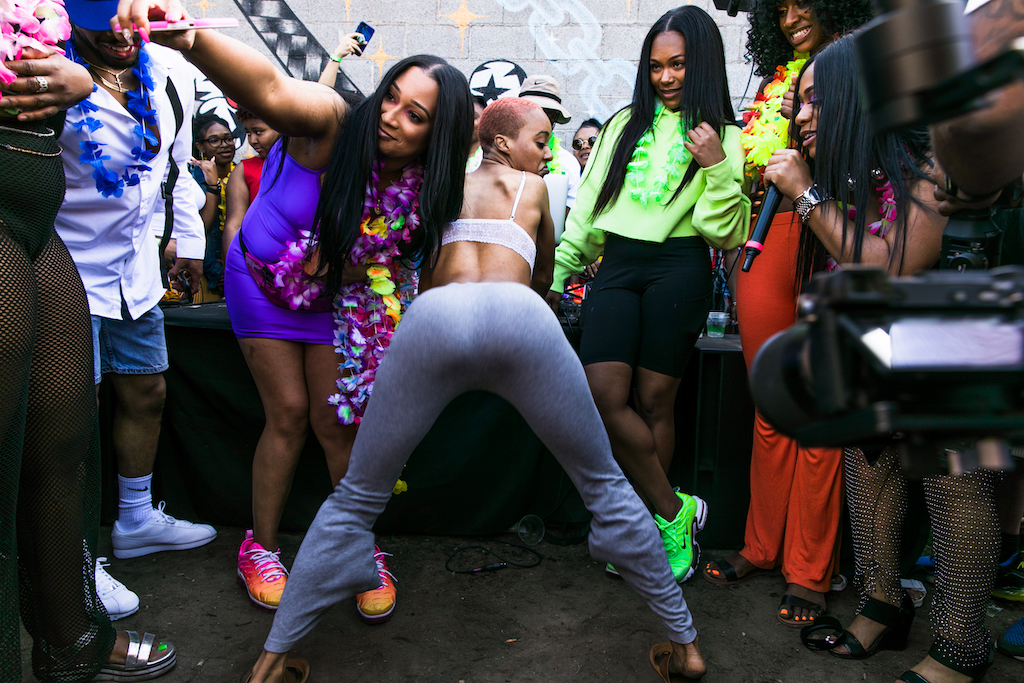 McGrier has put on more than a dozen events in a short time, making for quick and nimble thinking while trying to establish a fast-growing brand. She joins a growing millennial (and black, and female) cohort in the city putting modern spins on traditional business models — sometimes having to make it up as they go along, but always succeeding in the end.
But right now during an interview over breakfast at The Clique, McGrier is dressed down in a dad cap and Nike hoodie, fighting a cold and lamenting the fact that her hair, pulled back in a ponytail, hasn't been done in forever. A few hours later, she'll be glammed up for another Tequila outing at El Club and her voice will have returned to moderate a twerk contest. It could have gone differently; a few years ago, she was on a pre-med track in East Lansing. But the sight of blood was too much, she says, and after a switch to advertising, she found her lane.
The Neighborhoods: How did you get started in throwing parties?
McGrier: I attempted to find a job, wasn't having any luck. Corporate jobs — I've got the experience, I can tell you your kids' names, I could tell you…Nobody wanted to give me a job. So, like, OK what am I about to do? Because I gotta pay bills, and I don't want to live with my mama forever. So I ended up pitching to a few companies and ended up doing personal assisting. So I pitched two companies and ended up working for one, and I went from assisting to pretty much running the business. I did that for two years, but I felt like I wasn't growing.
At that time when I was ready to quit, the thought of TwerkXTequila popped up in my head. That year that was 2017, I called the venue and I said I'm ready to throw this party on this day. And they said, 'OK," and I was like how much is it to reserve? They told me the price, and I was like, 'cool, let's do it,' and they never called me back. (Laughs.)
So a year went by, and I ended up working with JerkXJollof, managing them. I ended up curating their VIP experience and managing their events when they run. Once I started working with JerkXJollof, they had a connect with El Club. So they put me in contact with them; they said 'this is Lauren, she wants to do TwerkXTequila, what do you need from us?' and they said 'let's run it.' It was that easy. Why was the first time I called, I was trying to give y'all the money to hold the venue and you wouldn't let me? But, neither here nor there.
They agreed to run it, and they asked me if I could run it the whole day, and I was like 'whoa, hold on, I can only afford so many hours." So I ended up running it from 11 a.m. to 7 p.m. And that was pretty much the start of my life in events.
TN: Do you feel like you have a brand?
LM: I feel like it's a work in progress, because I don't just want to be known as a girl who throws parties, I want to be known as the girl who gets the job done. So people call me for a lot of things. Right now it's content creation and social media management — I don't know where that came from, but here it is. Last year, I started documenting my journey on YouTube and social media. I was shooting my own shots with my own camera, and now I've gotten good enough to go out and document other people.
If people call me to handle something, they know it's going to get handled. I'm going to do the job with integrity, I'm not going to take your money, I'm going to do it.
TN: So how do you introduce yourself?
LM: I say I'm Lauren and I get things done. Usually I say I get shit done. I don't know if you can say that…
TN: We can say that.
LM: But it's fun. I didn't think I would be here. I knew I wanted to work in events, but I didn't know that would be me bringing the people together. I thought I would be working with artists, and they would be bringing the people out. It's been challenging, but it's been fun all in the same.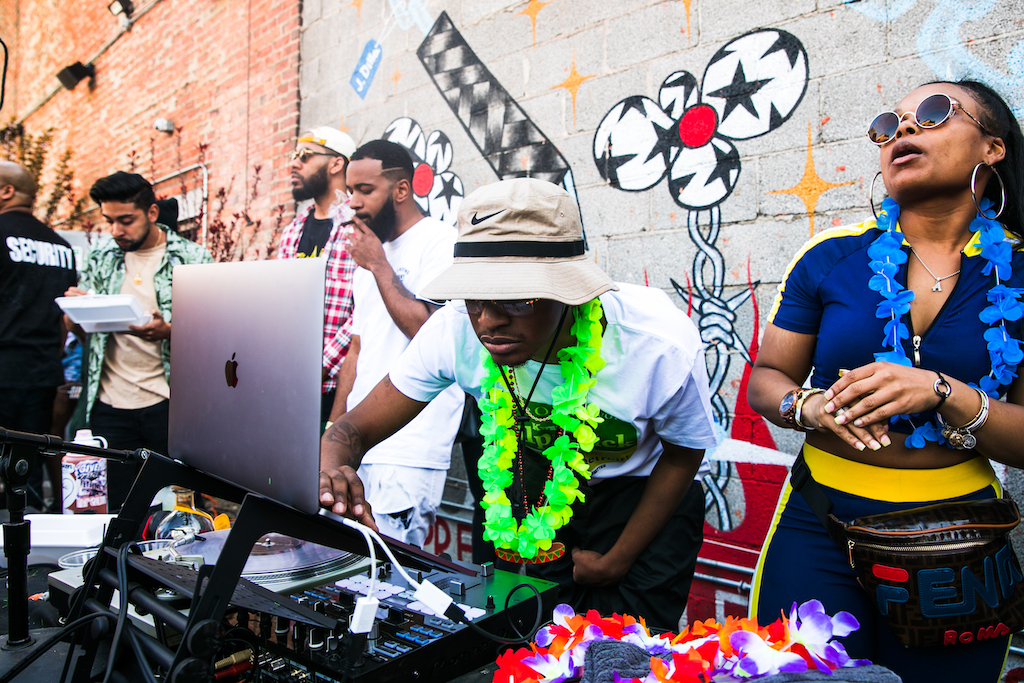 TN: In Detroit, the image of a party or event promoter is usually a man. Being a woman in this industry, have you had any challenges breaking through?
LM: There have been women promoting events in Detroit, but most of those are strip-club events. So it's a different lane, because strip clubs are rather small — it's easy for them to get 50 people out and make it look like a good time. I'm challenged. I've got to try to bring out 500 or more, depending on the venue.
The men in the industry have been welcoming. I haven't had any hate or any ill feelings for the most part. The ones that I do know share their resources with me, In regards to venues, other avenues, and potential sponsorships. But I have had hard a time getting funding. Men in this realm, I know they have these (events) weekly — it's easy for them to get money from X, Y and Z to put together an event. For me, no. I fund it all myself. Every single event. All 13 events I did last year, my pockets. Some did good, some didn't. But OK, if I meant to do this, then let's do it. But that's been the one hard challenge for me is getting those sponsor dollars.
"I want to be involved in memories. I want to be involved in good memories."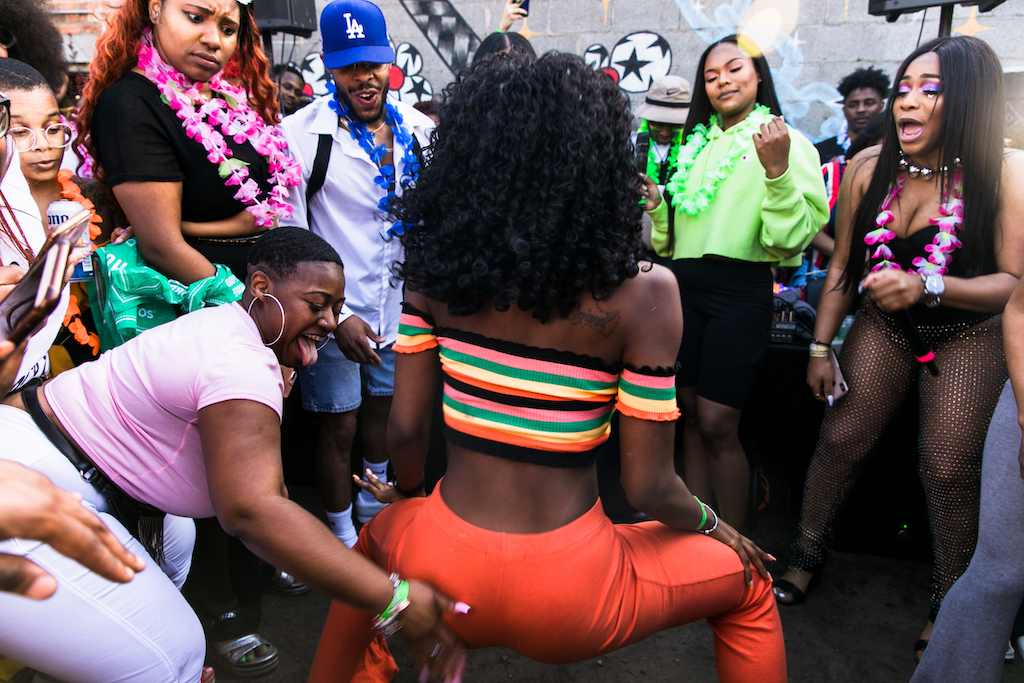 TN: The one thing everyone notices about millennial entrepreneurs in Detroit is the amount of support from fellow millennials, entrepreneurs or otherwise. My demographic leans closer to Gen X, where sometimes you don't always feel that love.
LM: I understand what you're saying, because when I'm trying to do bigger events, mentorship has been a very hard thing to receive. I have not had a mentor. I know other people in other industries who have tried to get a mentor, and it be some hate.
TN: From older people?
LM: Right. It's like, I'm just trying to be like you and get to the level where you're at. Like, why are we receiving this, I don't know, this lack of love? But when it comes to people in that 20-25 range, we definitely support each other as much as we can. I know for me, I try not to throw anything on a day when my homeboy is throwing a party because I don't want to take away from (him). Our crowds are the same. I don't want to throw something on the same day and he loses out. But I see what you're saying with the 30-somethings.
TN: We messed it up, but I'll leave it to y'all to fix it.
LM: That's weird though! Is it because maybe — somebody did point out that when it comes to the older crowd, they had to work harder, they had to get a full-time job and also hustle to do their business. And we didn't do that. We quit our jobs, we doing this full-time. But it's like…it wasn't that easy to get a job!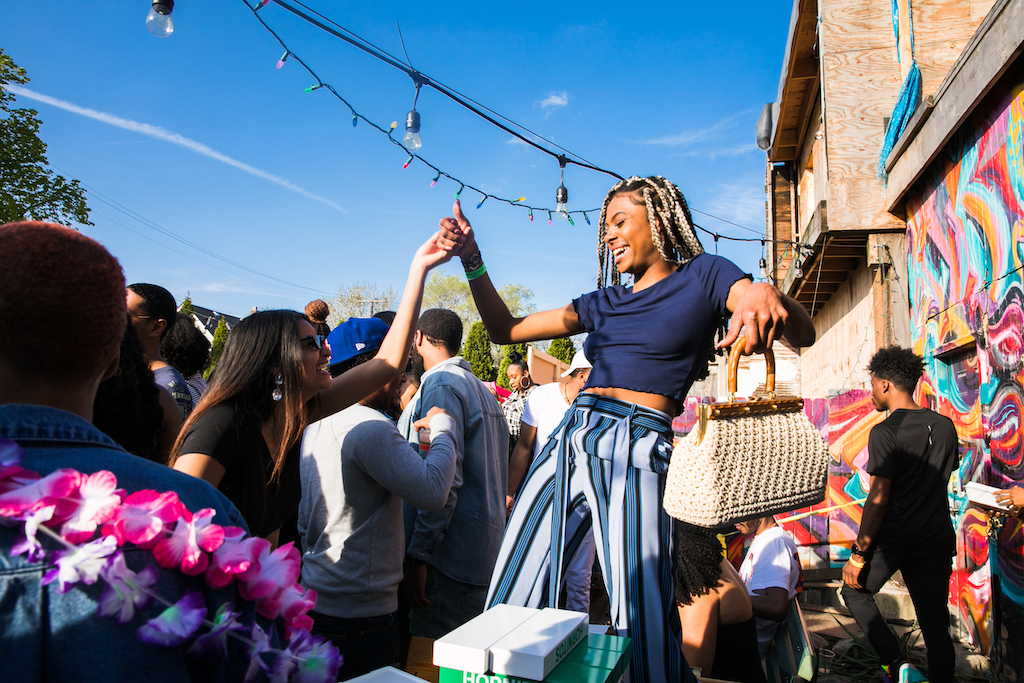 TN: There are definitely more Detroiters in their 20s taking more risks, going out on their own and not doing a traditional nine-to-five. Why is that?
LM: We all had a job, but we weren't satisfied with that job. We're giving our all, but at the end of the day, we could get let go from something that's not ours. I guess for the people in our age group — a thing that wasn't pressed upon the older crowd is self-care and happiness and mental health. If you're stressed out, leave that stress. That's what a lot of us doing. We're not dealing with stress, we're getting rid of it.
Any time you look up an interview with somebody black, for the most part, it's 'I have a therapist, I'm overworked, boom, boom, boom.' We don't want to be overworked. We want to make our own hours, get up when we feel like getting up, and get the job done.
Entrepreneurship is also being pressed more in our day age. My grandmother — I had to explain to her recently what I'm doing. She didn't understand how I was making my own money, how I'm not relying on a big corporation to give me insurance, she don't get none of that. It's something new that we're doing, but I think that we're killing it. Especially in Detroit — we're like one of the highest demographics of people right now growing businesses, and people need to pay attention.
TN: For the uninformed, what exactly is TwerkXTequila?
LM: TwerkXTequila is a good-ass time. Pretty much, it is a celebration of femininity, it's a celebration of being yourself freely. A lot of events in Detroit, there's a dress code, there's all these stipulations — I didn't want that. Because I was tired of going to all these parties where you had to dress a certain way. And when you dress all uppity, you can't dance! I was like, I want to throw something where it makes you feel like you're hanging out at your auntie's house.
I noticed that when I was coming up with names, there wasn't a lot of stuff for (women)…you had your whiskeys and your cognacs, and a lot of women don't want to drink that. We like vodkas and tequilas. I was like, let's do something that women want, because a lot of the other parties, you can be cute and that's it. I just wanted to do something for women. This is my spin at women's empowerment and freedom, and just something for Detroit.
We have a twerk contest every year, and I partner with women-owned brands to give out prizes for the contest winners. Last year were from Brooklyn Body Butter, EyeWearGlam, KaySada Cosmetics, Detroit Vs. Everybody — which isn't a woman-owned brand, but still, it's for Detroit. It's also trying to partner with women entertainers, letting them know we can do this too. It's not just the men, we can get shit done. We can have fun, we can sell out in 24 hours.
It's a good time, and it's a vibe.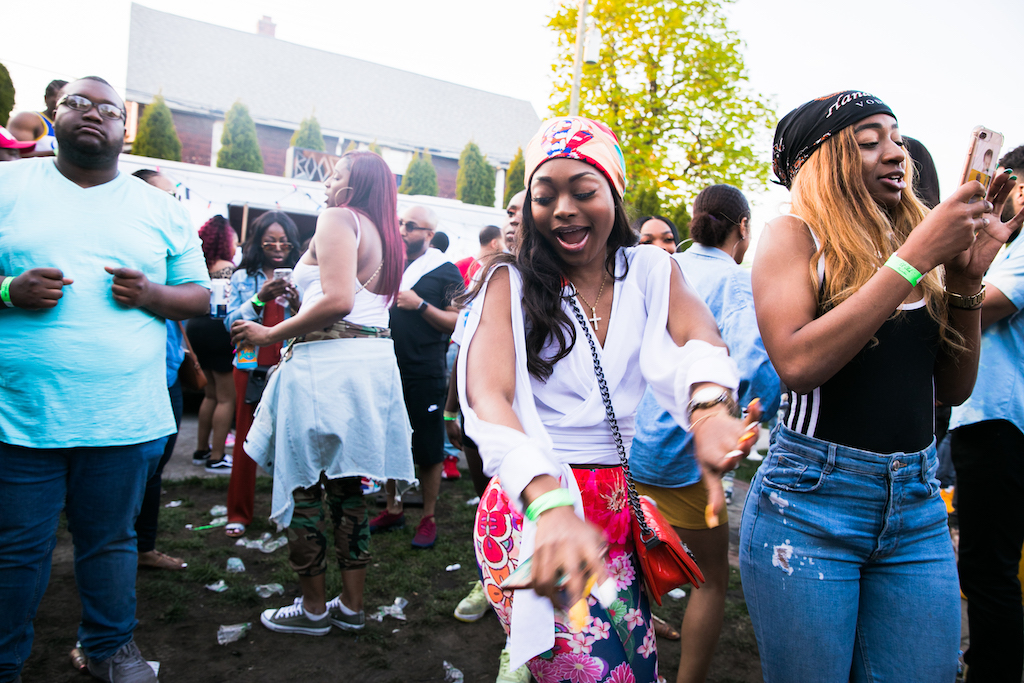 TN: Walk me through the event-planning process. How do you get hundreds of people to an event?
LM: Strategy, and my network. With this promotion I did for this last event, I was like 'it's going to take two tiers for this amount of tickets to sell.' So I posted the flyer on Tuesday at 12, which normally I would post at 9, but I was like 'something tells me, drop this flyer right now.' So I followed my gut. Six hours later, my first tier of tickets sold out. Once I dropped that flyer, I guess…the talk from people from my last events, people just enjoyed themselves. People have been begging me, 'when's the next party, when's the next party?' I went to sleep, and I woke up the next day — this was something I had predicted to run for two weeks.
It's creating the content that people want to see, and excited to see. My background in advertising gave me this juice to be able to understand people and how to target people. It's just been easy to me to sell. My network helps — I have people who are influencers and can share things, without me even asking. People are always looking for something to do in Detroit, because there's not a whole lot. In urban nightlife in Detroit, there's nothing to do on Saturdays. We gotta go to Novi. Who wants to go to Novi? Granted, they do have good weekends, but that's far! What about the people who can't afford to get all the way out there?
TN: That said, is there room for people to move into the event planning space?
LM: It is. They've got to keep it fresh and new, and we're all working to do that. I think that there's a crowd for everybody. I threw a party the same day as one of my peers, and we both sold out. I don't think it's a competition thing, we just had two different crowds. So we served them as we should.
TN: Your crowd is clearly women. What makes it different from other women's events?
LM: (At other events) you still gotta have on dress shoes. I went to a club in Chicago, and you had to put on heels — and no! I don't wear heels. My feet hurt. I got flat feet. It won't even work. You have to wear heels, you can't wear hoodies. My birthday, I couldn't even get into a club. I had this hoodie on — I couldn't get into the club. They had asked me to do an event there, and they wouldn't let me in! I'm like OK, cool, I won't be messing with you. I won't let my crowd come there if there's a dress code. I just want it to be a function where you can come as you are, and you don't have to worry about stipulations at the door.
A lot of people do that because they're trying to weed out a certain kind of people, which is understandable, but it's not fair to people who want to have a good time without going to buy a $50 dress — not everybody got time for that.
TN: So what's it like trying to build a relationship with venues?
LM: Hard. For the most part, I only have a good relationship with one: El Club. El Club has been holding me down for events. But trying to contact other venues has been hard for me, and that's one of my challenges now. But like I said how the male promoters in Detroit have been a resource for me, they'll vouch for me at these venues. I've learned to package up what I do to make it easier to sell. Documenting my numbers, so that people will know that my bar does this, my door does this. I can pre-sell 400 or more tickets. so off-rip you can guarantee 400 or more people will come in here and spend money. But it's been a challenge for me because I don't have a big promoter rep, but that's fine because I know I have people behind me that will vouch for me.
TN: When the party's over, what are you doing?
LM: I'm checking my numbers. One time I did TwerkXTequila for eight hours. Now I'm going to run it for 12, so I'm going to be there from 10 am to maybe 10 pm. After that, I want to celebrate a little bit because I've been working nonstop on this. But I told the venue, 'as soon as this is over, I want to run the numbers for the bar, I want to run the numbers for the amount of people who came out.' I'm packaging up something that I want to take worldwide. But afterwards, I want to celebrate an accomplishment. For me, being a woman in entertainment, it's for all the women who are doing this. And I want to show appreciation for the people who are involved. And then I'm thinking about what's next. I gotta keep going.
TN: This has blown up in Detroit, so where do you go from here?
LM: I'm working to give TwerkXTequila a tour. Another Detroit, Chicago, Atlanta, D.C. and New Orleans. It's something new for women. I'll be partnering with a lot of men in those cities, but also trying to add my feminine touches to it. But I want it to be big as Trap Karaoke, or Grits and Biscuits, because I feel like after my first one, i felt like 'this is something, and I have to help people across America create new memories.' Protecting the brand, making sure I have the rights to my brand, trademarking, LLCs, all that good stuff. Making sure I have the right people involved. But yeah, touring is next.
TN: You said something earlier about creating memories. Why is that significant?
LM: My biggest goal is to touch 20,000 people at one event. My focus is to help multiple people create memories. I don't know why that number. (Laughs.)
But (memories) are what you tell your children. One event that I've done has birthed a baby. I know that that baby was conceived after a party I had my hands on. Life was created! You might have gone to a Trap Karaoke, and you made so many friends, you're going to talk about that for the rest of your life. That's just something that's near and dear to my heart. I want to be involved in memories. I want to be involved in good memories.