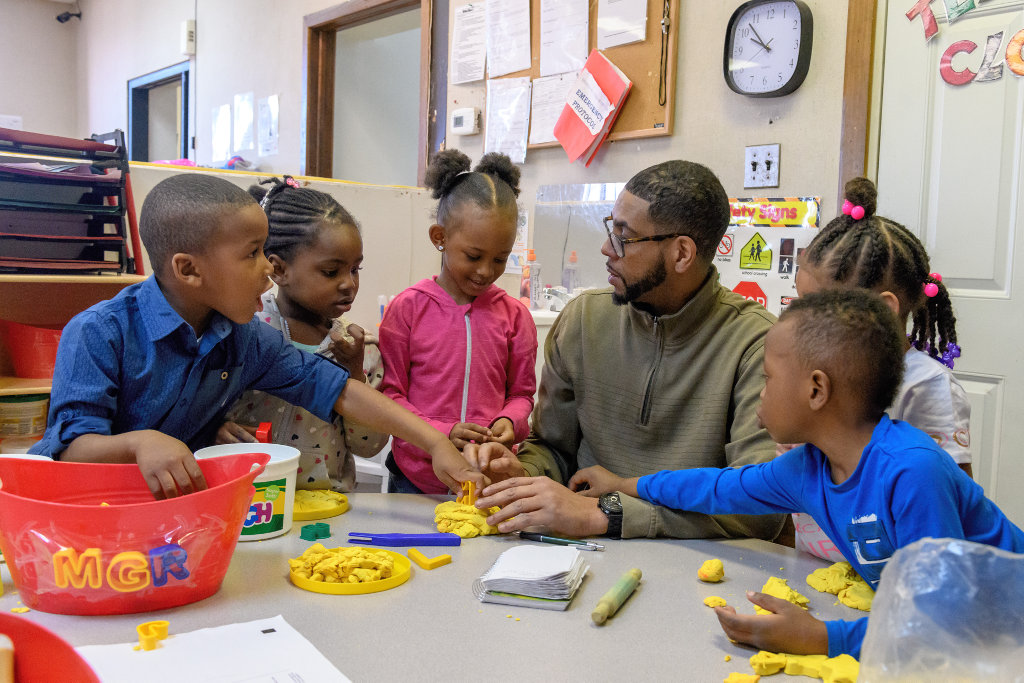 Early childhood programs in Detroit get $2.5 million boost from foundations
Announcement made at Mackinac Policy Conference
Early childhood educational facilities in Detroit neighborhoods are getting a $2.5 million boost from the region's foundation community.
The Kresge Foundation, the W.K. Kellogg Foundation and the PNC Foundation awarded a joint grant to support improvement to early childhood education in the city. The funds will go toward Learning Spaces, a three-year-old local effort that is part of Hope Starts Here, a citywide engagement process that has created a framework for coordinated, high-quality early childhood systems for Detroit children focusing on priorities like facilities quality and maternal and child health, among others.
The announcement came at the annual Mackinac Policy Conference of the Detroit Chamber of Commerce as part of a panel on aligning early childhood and K-12 educational systems. The panel featured Kresge President Rip Rapson, PNC Regional President for Detroit and Southeast Michigan Ric DeVore, W.K. Kellogg Foundation President La June Montgomery Tabron and Detroit Public Schools Community District Superintendent Nikolai Vitti.
"We are all united in the belief that we can give Detroit children the education that meets their needs and provides the foundation for a more equitable city," said Rapson. "That means both adequate resources for every level and working together to ensure that the early childhood sector understands the needs of K-12 and vice versa. Learning Spaces fills an enormous need for early childhood providers who want to upgrade their facilities to better serve children."
"Extensive research indicates that the returns on investment in high-quality early education and school readiness initiatives are significant and long lasting – impacting our children, our society and the health of our economy," said DeVore. "Today's grants recognize that early childcare providers, who establish a foundation for learning, need support to become stronger businesses with improved facilities that provide safe, nurturing and intellectually stimulating environments for the earliest years."
"Partnerships drive transformative change," said Tabron. "This is the type of partnership we all envisioned, together, when we launched Hope Starts Here in 2017. With our collective support, we are putting Detroit's young children and families first with improved access to safe and inspiring early learning environments. Quality early childhood education is critical to our children's success."
The new Learning Spaces grants support the nonprofit organization IFF. In 2015, Kresge backed an IFF pilot effort to help early childcare providers by covering the cost of real estate consulting assistance, minor repairs and other facility-related needs. Learning Spaces has since expanded through support from other foundations, including WKKF, which granted the organization $1.5 million last year for improvements to facilities to support brain development among attending children, decrease environmental hazards and stabilize enrollment.
WKKF's additional $500,000 investment in Learning Spaces, announced Wednesday, continues its citywide efforts to target 10 to 12 high-quality, home-based and center-based licensed early childhood education providers operating across Detroit. In 2015, WKKF provided funding to IFF to create a facilities assessment and renovation program to address and increase quality in the near term for providers.
PNC's $1 million grant will support IFF's work in Detroit neighborhoods by improving the quality of early childhood education facilities, providing targeted technical assistance and addressing specific needs of providers who would like to offer extended or after-hours care. Funding will also help support strategic investments in the Brightmoor area, including home-based providers. PNC made the grant in support of PNC Grow Up Great, its bilingual $500 million, multi-year initiative to help prepare children from birth to age 5 for success in school and life.
Kresge's $1 million will help fund work citywide, as well as specifically in the Livernois-McNichols area, where the foundation supports the comprehensive neighborhood developments efforts alongside the Live6 Alliance, an economic development organization.