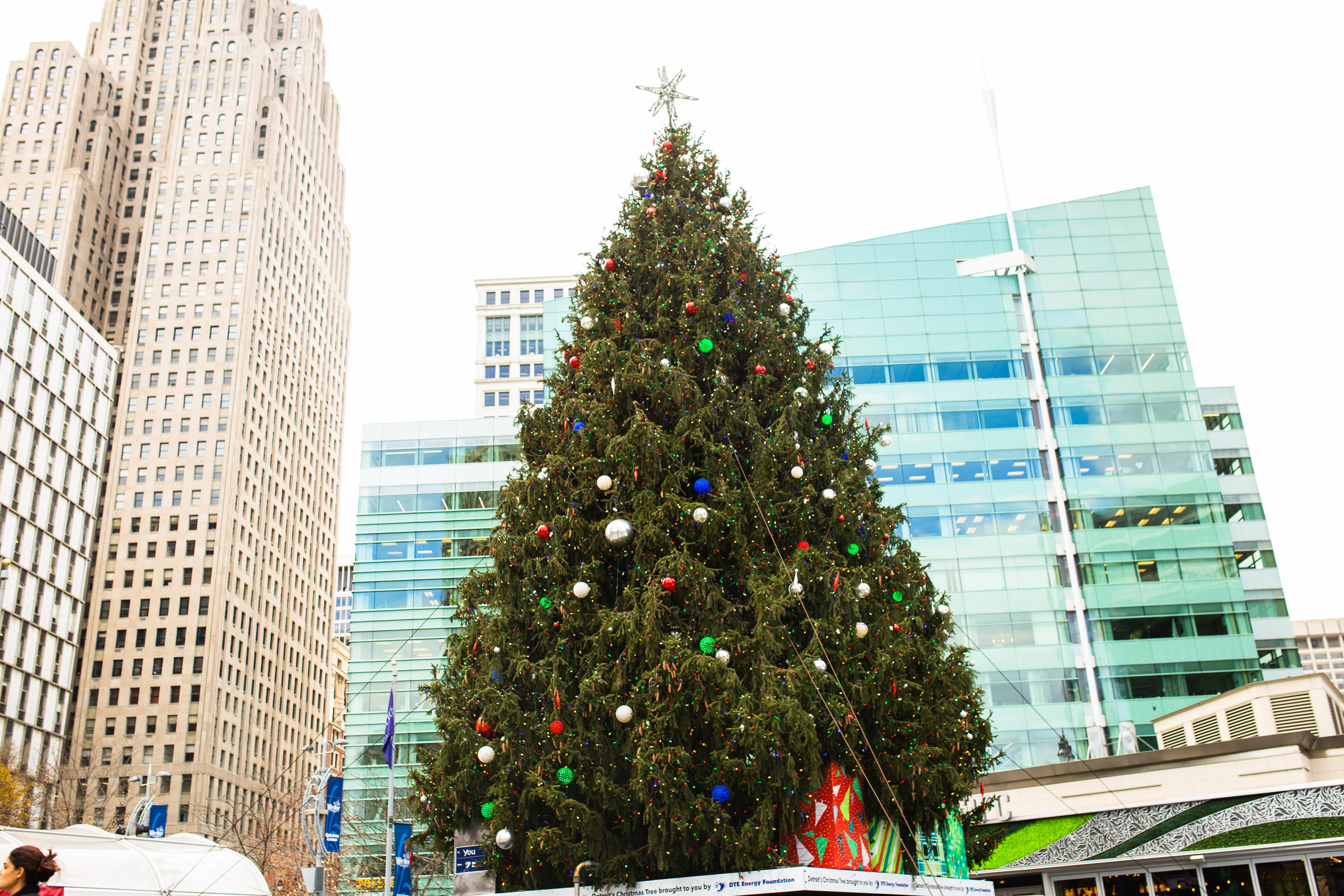 Detroit Fire Department shares tips on how to safely decorate your home!
Keep your home safe this holiday season
The holidays are underway in Detroit and everyone's getting their house in a festive mood. But before you deck those halls, be sure you are taking every safety precaution to avoid a fire this holiday season.
The Neighborhoods team caught up with Senior Fire Prevention Inspector, Captain Chris Dixon, to talk about how we can keep our homes safe while we trim the tree and light the menorah or kinara!
Jamilah Jackson:
Christmas is right around the corner and people have already started putting their decorations up. What are some big mistakes that people should avoid as they decorate this season?
Captain Dixon:
Well, as it pertains to the type of Christmas tree, right now there's a big uptick in purchasing live Christmas trees. Now they're beautiful, but you want to remember that they're flammable. So, if you are going to purchase a live Christmas tree, you just want to make sure that you water it every day and check it for dryness.
The way you check it for dryness is you want to take one of the little branches off and bend it. If it bends, that means that it has an adequate amount of water in it. But if it breaks in half, that means it's dry, and it could possibly catch on fire if you have some sort of ignition source next to that Christmas tree.
It's a good idea to just check the water level every day; if it needs water, pour it in. It just absorbs the water every day. Especially during December, it's cold. You're going to have your heat up high and it's going to be sucking up that water.
Video Credit: The Detroit News
Jamilah Jackson:
Do you have any suggestions on where people should keep their temperature on the thermostat if they have a live tree in the home?
Captain Dixon:
Well, I usually have my house at 72 to 74 degrees. But I know seniors, just because they're older and get cold really fast |LS|they'll have it higher|RS|. Again, the hotter it is the faster that tree is going to dry out and possibly be able to catch on fire.
Captain Dixon also urges residents to watch the lights you have on your tree; artificial or live. He says you should check each string of lights to make sure none of the wires are frayed before putting them on the tree. Dixon also says you should check to see if the lights you are using are UL (Underwriters Laboratories) approved. You can find that on the silver tag that's usually close to the plug. He recommends no more than three light strings per extension cord as well.
"Those extension cords are not manufactured to be a permanent wiring, because over time it heats up and can cause a fire," he said. "If we go into a business and we see an extension cord, and they're using it for everyday use, we're going to write a violation and have them to remove it."
Jamilah Jackson:
Candles! We'll have the Menorah candles being lighted. Toward the end of the month after Christmas, we'll have the Kwanzaa candles. What would you say to people celebrating those two holidays to make sure that they're being safe with their candle displays?
Christopher Dixon:
Well, with our candle displays, we'll make sure that we're keeping the burning candles, matches, and lighters out of reach of children first. It's the season for children, Christmas time, so you've got to keep them out of reach.
They want to mimic you, but they don't realize that's going to set something on fire. They're just trying to mimic their grandparents or their mothers. So, you want to keep all those matches that you light the candles with, lighters, out of reach of children. Teach the children not to touch those things but keep them out of their reach.
And don't place candles near draperies or combustibles like furniture, paper, clothing. Never leave the room without extinguishing the flame. And make sure that your candle holders are sturdy and non-combustible.
Jamilah Jackson:
And what are some of those materials that are best for candle displays, the non-combustible ones?
Christopher Dixon:
Yeah. They're metal candle holders or glass candle holders. You wouldn't want to have a wooden candle holder because that definitely will burn. I would not use plastic. Glass or metal candle holders (are best.)
And again, make sure you have smoke detectors on every level of your home and a fire evacuation plan. Practice it every month because if you have that fire, even if we follow all these fire safety protocols, we could still have a fire. We want to make sure that smoke detector is going to be the early warning device. It's going to wake you up, get you out of the house, and you're going to have a meeting place outside where you're going to meet and do a headcount.
Here is a list of more tips from the Detroit Fire Department to ensure you have a safe and fire-free holiday season.
Christmas Trees
If you choose to buy a natural tree, look for a fresh tree. Fresh trees are less likely to catch fire than older trees. When purchasing a fresh tree, please do the following:
Make a 1" cut at base of tree.
Check tree for dryness. Needles of a fresh tree will bend as opposed to breaking in half.
Place tree firmly in a stand with plenty of room for water.
Check water level daily and add if needed.
Keep tree at least three feet away from any space heaters or other heat sources.
Check electrical cords for wear and outlets for overloading.
Never leave a lighted tree unattended.
Don't let tree block exits or stairs.
Never use lights or electrical products to decorate a metal or aluminum tree.
Keep live and artificial trees away from open flames (e.g. fireplaces, candles).
Decorative Lights
When using lights on a tree, be sure to:
Inspect for exposed or frayed wires, loose connections or broken sockets.
Don't use more than three strings of lights on one extension cord.
Never run cords under carpet.
Turn off the tree lights when you go to bed or leave the house.
Only use UL-approved (Underwriter's Laboratory) lights and cords.
Candles
If you are using candles, remember to:
Keep burning candles, matches and lighters out of the reach of children.
Teach children not to touch burning candles.
Don't place candles near draperies or combustible items (furniture, paper, and clothing, etc.).
If you leave the room or the home, extinguish all flames.
Place candles in sturdy, non-combustible holders.
For more information about Christmas fire safety, contact the Detroit Fire Marshal Division at (313) 596-2968.