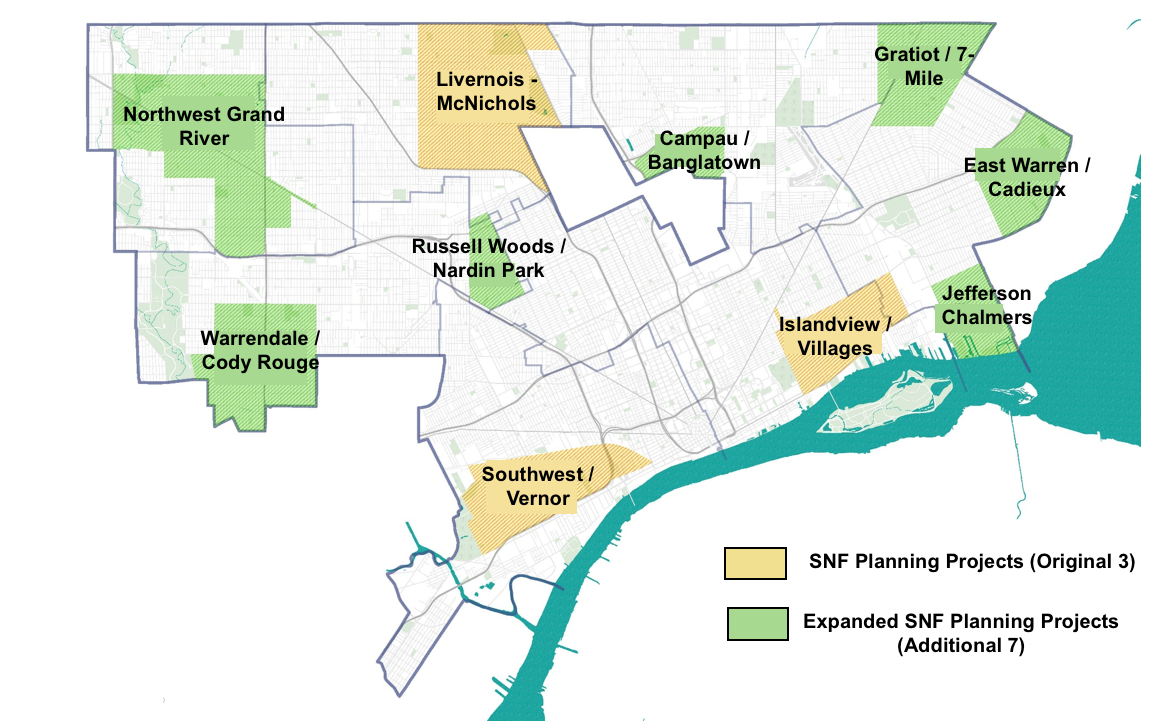 $130M in investments coming to seven Detroit neighborhoods
Strategic Neighborhood Fund planning expands from three neighborhoods to ten with funding boost
The Strategic Neighborhood Fund, a funding source drawing from philanthropic contributions and public subsidies designed to improve Detroit neighborhoods, is adding an additional $130 million investment in seven neighborhoods to an already announced $42 million initiative in three neighborhoods, all with the goal of improving streetscapes and walkability, kickstarting local business and adding or preserving affordable housing.
Last year, the City of Detroit announced a first round of funding for investment in the Livernois-6 Mile neighborhoods, the Islandview-Greater Villages area and Southwest Detroit neighborhoods along the West Vernor Highway corridor. This month, investments will begin rolling out in the following neighborhoods:
• Northwest Detroit neighborhoods along the Grand River Avenue commercial corridor
• The Warrendale/Cody-Rouge area
• The Russell Woods/Nardin Park area and surrounding neighborhoods
• The Campau/Banglatown neighborhood
• The Gratiot-7 Mile corridor and surrounding neighborhoods
• The Jefferson-Chalmers neighborhood
• The East Warren/Cadieux corridor and surrounding neighborhoods

SNF takes on a multi-faceted strategy of improving neighborhoods – all outside of greater downtown -- based on community input. In 2015, the City identified the 10 areas centered on commercial corridors with planning discussions beginning in the first three this year. The remaining seven neighborhoods will begin community-centric planning discussions this year and next; dates are to come.
The major philanthropic contributors to SNF include J.P. Morgan Chase, Reimagining the Civic Commons (a coalition of funding from the Kresge Foundation, the Knight Foundation, JPB and the Rockefeller Foundation), the Ford Foundation, the Hudson-Webber Foundation, the CDFI Fund, the Ralph C. Wilson Jr. Foundation and solo contributions from the Kresge Foundaiton and the Knight Foundation.
Invest Detroit, a community development financial institution, will manage the fund for the city and take the lead on fundraising activities.
So far, funding for the three neighborhoods has been used for tax credits toward affordable housing in the Islandview-Greater Villages area and kickstarting the Fitzgerald neighborhood project, which includes renovating several homes owned by the Detroit Land Bank Authority, and crafting a new greenway throughout the neighborhood.
Proposed measures for the next round of funding include improvements to Clark Park in Southwest Detroit, streetscape improvement in the Livernois-6 Mile area and single-family home stabilization across all neighborhoods.
Over the next few weeks, The Neighborhoods will be profiling various aspects of the Strategic Neighborhood Fund and what it means for Detroiters. Along the way, we'll keep you posted on meeting dates and times, and ways you can get involved. Got any thoughts? Drop us a line at [email protected]