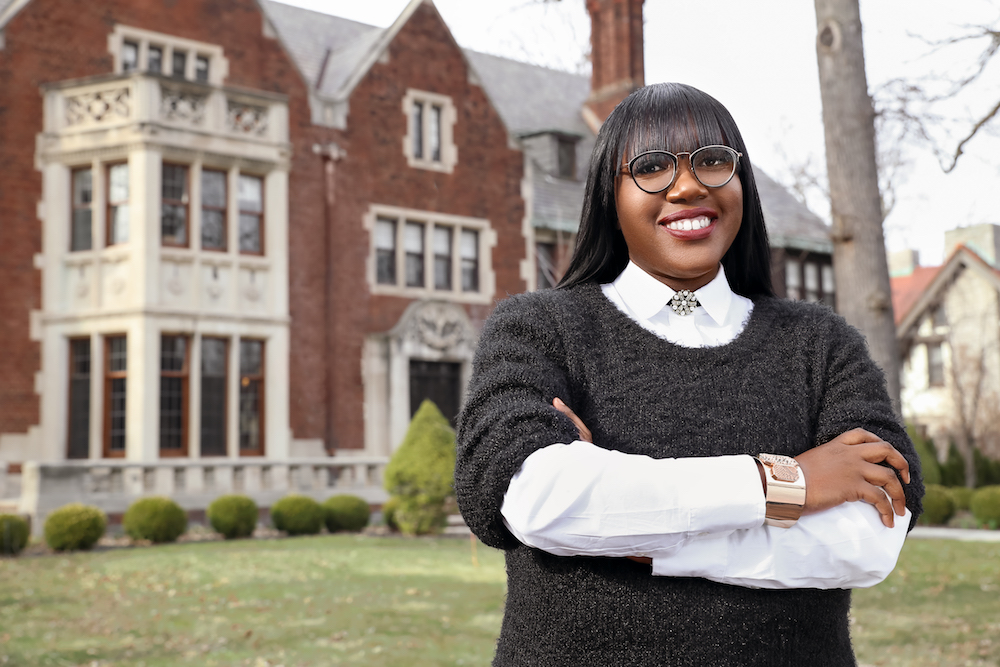 Meet the woman leading the renovations of Hill Harper's Detroit mansion
Chandra Moore is redesigning Detroit one project at a time
According to the National Council of Architectural Registration Boards, there are over 113,000 licensed architects across the country but only 433 of them are black women. Chandra Moore is working to increase those numbers.
"Being a black woman in architecture is painful," the San Francisco native said. "A lot of the men, especially onsite, treat you very differently. I'm used to being the spicy girl. But I didn't get here by being sweet."
Moore's career began in 2000 when she received her Bachelors and Masters degree of Architecture from University of Detroit Mercy. Moore said it takes a lot for one to become an architect. "You have to spend anywhere between 5-8 years in school and that will be for your bachelors and masters. When you're done with school you have around 3 years of working in the field," she said. "Then you can get your license but your license can take anywhere between a year and two years to get because you have 7 exams. "
The amount of work needed to become an architect never deterred Moore from her dream. The mother of two knew she would become an architect as early as six-years-old. "My father practiced architecture, I knew then, when he would take me around to different sites and I was just excited to see how things happened from the ground up," Moore said.
With that same passion, Moore was able to travel the world and study architecture in China, Italy, London, Tennessee, Los Angeles and much more. In architecture there's no time where you stop studying," Moore said. "The more and more you work, you have to get different licenses and certificates. It's an ongoing process." Licensed by the state of California, Moore is expanding her footprint and is currently working on gaining her license in Atlanta.
Her design resume includes the Detroit Riverwalk Pavilions, the interior and exterior design of the North End Collective, the renovation of the Social Grooming Club and the child-parent rooms at St. Jude's Children's Hospital.
"When I was doing St. Jude's Children's Hospital, a lot of the children there didn't understand how they got there, when they got there and that whole process," Moore said. "The idea of that really took to me. So in architecture I've taken upon myself, coG and as a root to where we focus very much on research and focus very much on the person."
As the founder of coG Studios in Midtown, Moore uses that thinking of space to also give back to the community. She and her team of seven employees (all women), usually do two service projects a year. Some of their community design work includes Michigan Urban Farming Initiative Children's Sensory Garden. "Everybody can't afford an architect so what do you for those that still want to have a great space," Moore said.
Moore's latest project is the renovation of the Charles T. Fisher mansion. She is working as the Lead Architect and Design alongside Architect of Record, Dr. Craig Wilkins. The home was sold to actor Hill Harper for $1.25 million.
"The design idea is to mend the history of Fisher mansion and the era in which it was built with where we are today," Moore said. "We've really turned this house on its head in certain spaces but in a way where it becomes a dialogue and it becomes a discussion."
The home is undergoing three phases of design. Phase one focuses on updating infrastructure, improving the first floor and basement, and updating the house for livability. Phase two will update a 4,000-square-foot suite for Harper's family. The backyard will receive a makeover in the third phase.
He (Harper) really wants something different and passionate," Moore said. "I had to really come out of myself to realize what is this house about and what it wants to be; still honoring the home and the historic value of it all."