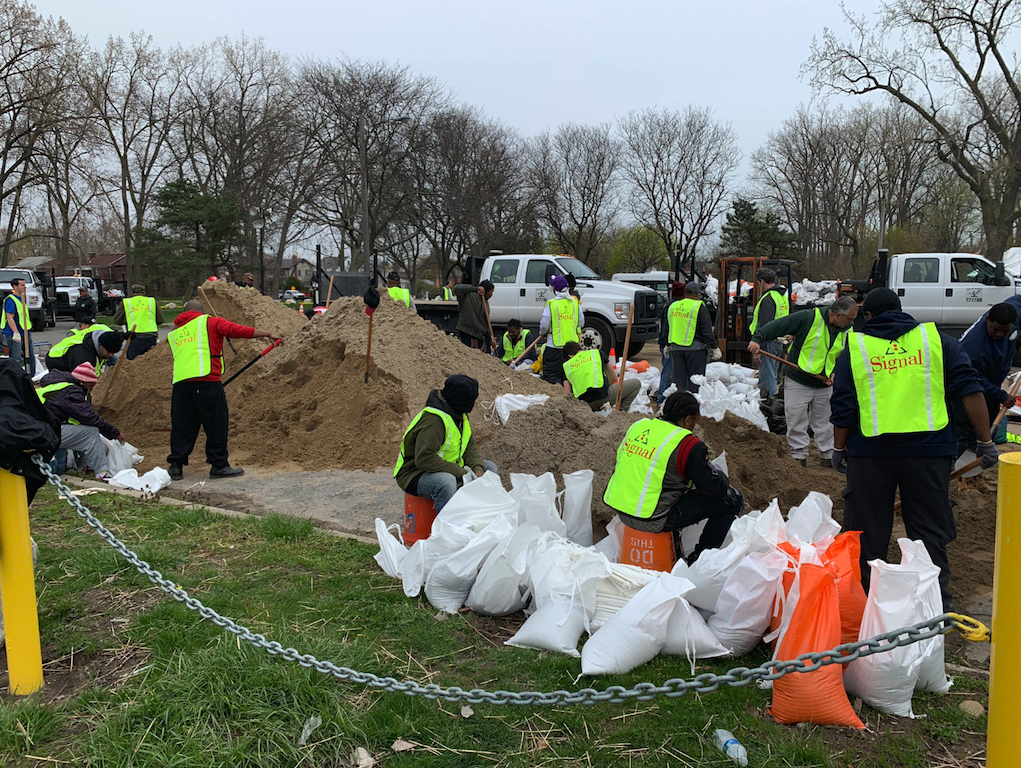 Residents near the Detroit River need your help to prevent flooding. Here's how to volunteer.
Sign up through the weekend to help in Jefferson Chalmers
Thousands of volunteers are needed through the weekend of May 5 to help residents in the Jefferson-Chalmers area keep from being flooded out of their homes.
Since Monday, higher than normal water levels in the Great Lakes, exacerbated by recent rains, have contributed to 30-year-high levels on Lake St. Clair and the Detroit River, pushing water over areas of the canal seawalls that are insufficiently high. Maintenance and upkeep of the seawall is the responsibility of individual homeowners and several areas of the walls are lower than needed, providing opportunities for water to breach the wall and flood entire sections of the neighborhood.
While the city's storm sewers have so far been able to handle the large volume of water, some homes have started to flood as water travels from the canals across the private property toward the streets and sewers.
To bring relief, the Mayor is asking for volunteers to sign up to help fill and place thousands of bags of sand along key sections of the seawall to effectively raise their height.
"We know that the river usually crests in early June and we already are seeing levels much higher than what is normal for that time," said Mayor Duggan. "We expect the levels to continue to rise over the next several weeks and we are asking for volunteers to join with city employees and myself to come to the aid of these residents."
Here's how you can help:
1. You can knock on doors to identify neighbors who need help. You will be contacted by a city official, who will provide you with addresses of neighbors to contact. If you are interested in that, click that option on this Google form.
2. You can fill sandbags. If you are physically able, you can fill sandbags which will be used as barriers between rising water and homes. If you are interested in that, click that option on this Google form.
3. You can deliver sandbags and build sandbar walls for neighbors in need. If you are physically up to this task, click that option on the Google Form.
Residents who volunteer also have the option of bringing food, or helping out in any other kind of way. If you are looking for opportunities there or have a suggestion you think could help, fill out this Google form.