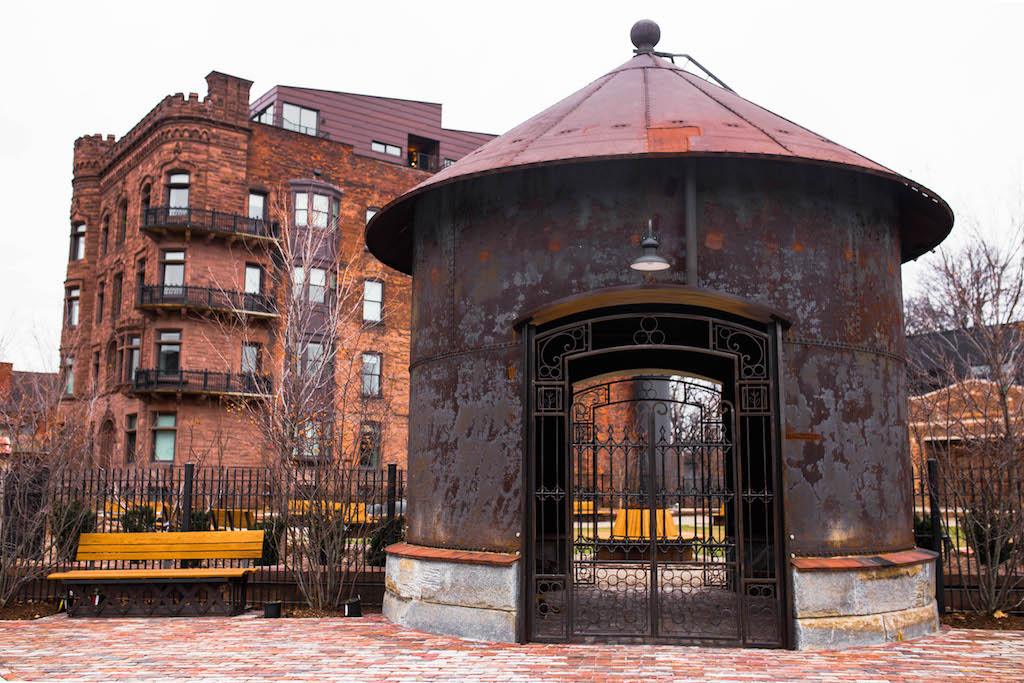 Preserving a piece of Detroit history at the El Moore Lodge
How a 95-year-old water tower was saved from the scrap heap
Rooftop water towers — the skyline party hats of the oldest American cities — inspire affection and creativity. They've been reimagined as canvasses for public art and even outfitted as luxury residences.
In Midtown, a nearly century-old water tower was saved from the scrap heap by bringing it down to ground level. The tank, which once stood atop Dalgleish Cadillac, now serves as a rusted, street-corner sentinel. Like a giant recycled tin can, it exemplifies the environmentally mindful project it embellishes.
The relic has been reinvented as an entry gate to the yard of an 1898 building that's now a modern model of eco living.
When the former car dealership was being converted to Wayne State University's Biomedical Research Building on Woodward Avenue, the tower was lowered from its 120-foot-high perch, cleaned of the half-ton of bird droppings it contained, hoisted atop a flatbed truck and paraded — like the severed head of the Tin Man from "Oz" — along city streets. En route, it passed through the WSU campus, where students leaned out windows craning for cell-phone snapshots.
The water tower's new owners — both sustainable-building advocates — had openings cut into the tank and then fitted the outer door with a hand-forged decorative gate. The result is an echoey entry tunnel leading to a green space. Even the ornate gate, designed by Eastern Market-based master craftsman Carl Nielbock, incorporates scrap metal. Its filigree pattern includes a section of rolled-iron fence from the former Port Huron, Mich., train station, now the Thomas Edison Depot Museum. Nielbock also used underground pipe from the El Moore property, which he sliced into metal rings.
The concept, Nielbock says, was to use materials so good they've already survived 100 to 200 years.
"I tried to incorporate as much historical relevance as possible," he says.
The entryway is the finishing touch on a landmark sustainable rehab. The castle-like El Moore building, which now has 12 apartments and 11 guest lodges, uses about 80-percent less energy than a comparable city structure.
"The tower is a part of Detroit's history, and it's materials we didn't need to buy."
The 95-year-old water tank is the cornerstone of that project that blends state-of-the art green construction — including rooftop solar panels and geothermal heating — with such salvaged materials as clay roofing tiles, sandstone street curbing and reclaimed bricks. A rainwater cistern collects water for the grounds, and an on-site greenhouse is a 100-percent recycled structure.
The water tower's metal legs were reused as supports for an outdoor deck for El Moore residents.
"The tower is a part of Detroit's history," says El Moore co-owner Peggy Brennan. "And it's materials we didn't need to buy."
Brennan and her husband, Tom, own the nearby Green Garage, a former Model-T showroom that's now an eco-minded co-working space. Friday brown-bag lunches at the Garage host speakers and conversations on urban and sustainability issues.
It's hoped that the El Moore Gardens, as the green space is called, also will invite social interaction. Beginning in May, the gardens will be open to the public and for special events. (Plantings there also are designed to encourage wildlife visitors.)
Jason Peet, El Moore manager, says the hope is that the tank will serve as a meeting place, much as the Kern's Clock did beginning in 1933 at the corner of Woodward and Gratiot downtown.
"People ask, 'What color are you going to paint it'," Peet says. "It has had 95 years of exposure and rust that's almost iridescent when the sun hits it. There are purples, oranges, browns."
And, of course, because it's reclaimed, it's also green.