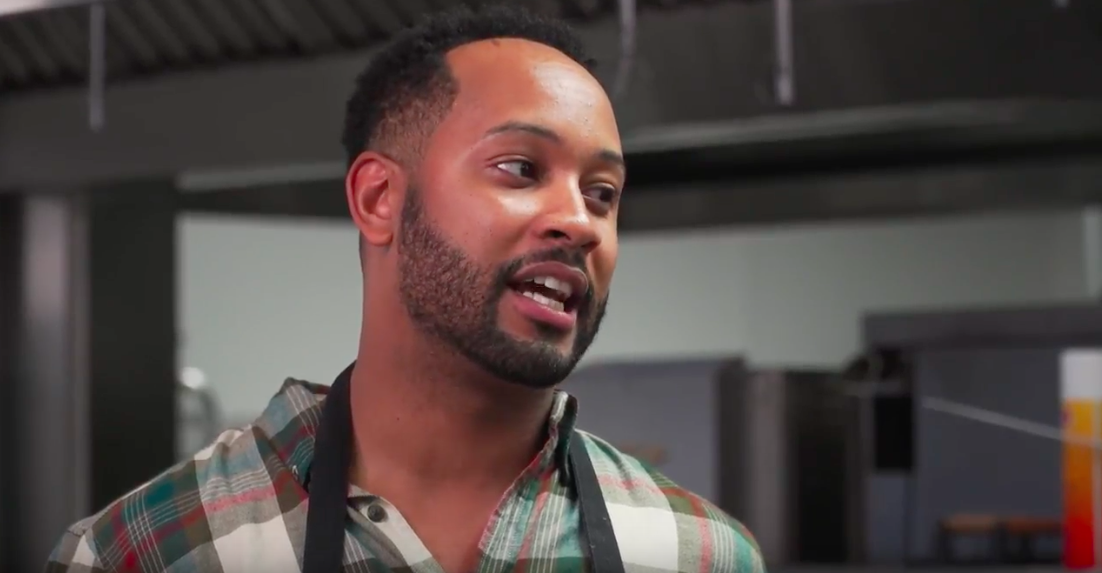 NW Goldberg native follows his heart and passion
Self-taught cook and 'cake artist' aims to open a brick-and-mortar in the next year
The Neighborhoods and Eastern Market teamed up this year for Detroit's Best Home Cook, a cooking contest where amateur chefs had to use local ingredients to craft their favorite dish for a panel of judges. See a video of the contest here, also airing on Comcast Channel 21.
For the science fair, most kids will do a traditional experiment like making a volcano explode.
Theodore Washington took that volcano concept a step further: He made a red velvet cake, which "allows you to see the chemistry up close. It's a buttermilk cake with a just a little bit of cocoa in it and, of course, red food coloring. But for the leavening unlike traditional cakes, which just have baking powder and baking soda, you are also adding vinegar so it gives you chemical reaction and also tenderizes the cake as well. 
"I entered that into the science fair and just fell in love with (baking). It was just something I couldn't get bored with it at an early age."
While he didn't get first place, that put him on a path — which had a few bumps — to becoming a "cake artist" who hopes to open a brick-and-mortar within the next year. The 29-year-old was also one of The Neighborhoods' contestants in the inaugural Detroit's Best Home Cook contest, which was filmed in November and can be seen in the video player below. The self-taught cook felt right at home in front of the camera, even if he had (spoiler alert!) a few mishaps. 
"I've always been odd and fun and quirky," he says. "I was picked on when I was younger and I just had to toughen up and develop this outer skin and be grateful for what I have and who I am and be my biggest cheerleader."
Growing up in the NW Goldberg neighborhood, Washington was homeschooled between a transitional period of going to Academy of the Americas in Southwest and then moving out to Walled Lake when his father wanted better schools for Washington and his brother and sister. His siblings are active in their NW Goldberg neighborhood, and Victoria is a co-founder of Detroit Dough. The matriarch of the family was a stay-at-home mom, raising Washington and his siblings and making sure there was always a cooked meal made from scratch on the table. Watching his mom cook sparked an early appreciation for food.
"I would wake up in the middle of the night and open the refrigerator and pull a few things out and they'd wake up to 12 eggs and bacon or whatever.
"We didn't do a lot of fast food. When we did go out to the restaurant, it was after church on Sundays or special occasions," he adds.
She was also quite strict on what he could watch, so he would watch the lifestyle icon Martha Stewart, where he immediately embraced her philosophy and high-quality standards. After he saw a wedding show that featured cakes, he was hooked.
"You get to see people really enjoy your work and that is really phenomenal."
Despite an early love of baking, he didn't see it as a career. Still, he continued to learn on his own, reading books and watching culinary idols such as Stewart, Food Network personality Ina Garten and cake designer Sylvia Weinstock.
He always wanted to be a baker, but didn't see himself stuck in the back of a kitchen. 
He moved around a lot after high school, including a stint in West Palm Beach, Fla. He took business administration classes at Wayne County Community College and Oakland Community College, and worked "traditional jobs" such as customer service (most recently he was with the Detroit Land Bank Authority). He was also in a relationship that didn't "allow me to create as much" and baking took a back seat for a while.
Just recently he rekindled that passion for baking.
"Wedding cakes in particular I really fell in love with because it was beautiful. It was something you could create. You work with a client, you get to interview them and see what their needs are and what they like. Then you get to create the cake and put it together and be an artist, be the knight in shining armor that delivers the cake … and present it. You get to see people really enjoy your work and that is really phenomenal." 
For the past year, Washington has been traveling back and forth to Nashville, where he recently moved to on a more permanent basis to be with his boyfriend as well as to pursue his culinary dreams. They met on Facebook — his eventual partner was looking for a different Theodore and found Washington's profile instead. Washington accepted his friend request and they started talking around Christmas last year. Even though they live in Nashville for now, the plan is to move to Detroit eventually. In 2018 he hopes to save up enough money to put on a down payment while establishing his reputation in the food industry in Nashville, where the food scene is booming. He's also considering going to culinary school.
Things are now falling into place for Washington after those rough patches when he felt he couldn't create and growing up.
"I'm from Motown and he's from Music City so it's really cool and interesting that we crossed paths. … we're looking forward to the day we pick a house (in Detroit)."
[/html]