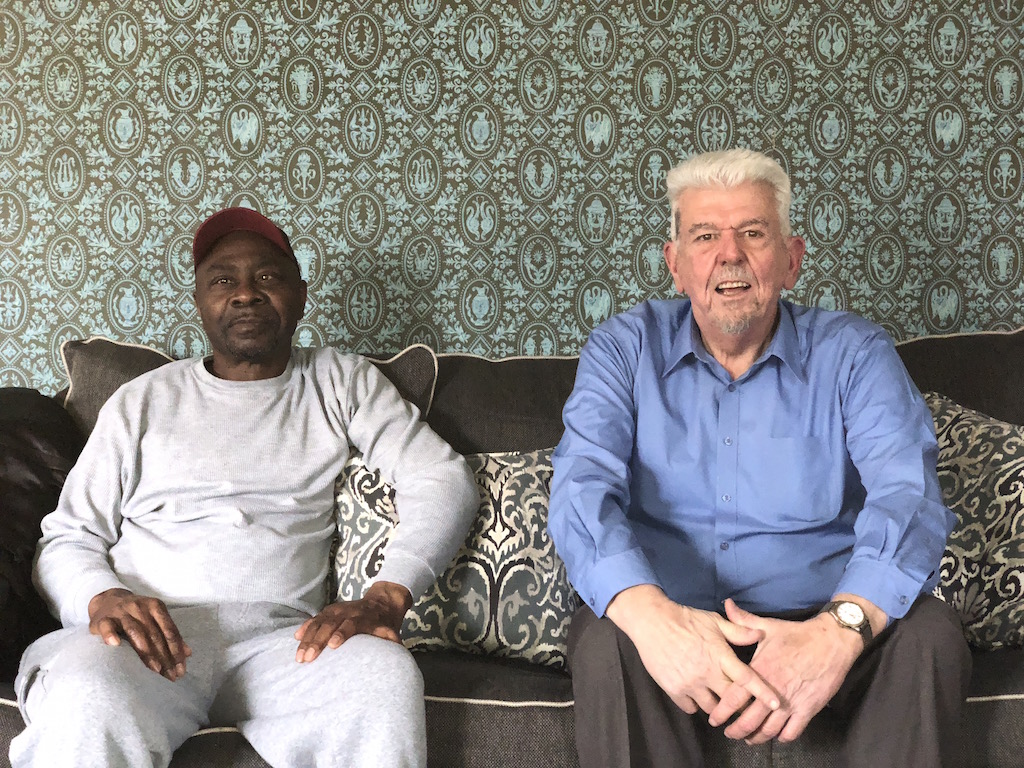 New recovery home in 48205 looks to empower addicts through 'mind, body and spirit'
Warriors for the Homeless uses an empowerment model to steer individuals to sobriety
There is no other house in the 48205 ZIP code, or even the entire city, like this house on Coram Street. On the outside, it is a typical midcentury colonial, the kind you'd find all over the east side. What makes it unique is that the architect of the 1940-built home, who also had a hand in plotting other homes in this subdivision, designed the home for himself and his family, meaning there are flourishes throughout that suggest a custom-built home.
Nearly every room of the house, decked in pecan-wood flooring, has ample storage space in the form of shelving, generous closet space, cubbies or built-in chests. There are three stories to this home on a block full of one-story bungalows or two-story colonials. There's a cedar closet on the third floor, a spread-out basement designed for handyman work, canning and preserving, recreation, and, of course, even more storage, and sun porches on the main floor and a top floor. The home sits on a wooded, rare triple lot in the neighborhood; squint while looking out the master bedroom window, and you'd think you're in the 'burbs.
The house is in remarkably good shape (and still has a few of the original 1940s appliances), having been passed down from the architect to a former Detroit police officer to the Berrien County-based organization Warriors for the Homeless, which has owned the home since last year. 
Warriors for the Homeless' mission is in its name. It was founded by Walter Doan in 2014, after, he says, a series of personal highs and lows. A Detroit native, the 74-year-old said he was called by God to pursue a degree in mental health services after years of working as a lumber salesman. Along the way, he suffered a bout with cancer and is now in remission.
"I know God blessed me through that because I'm not supposed to be alive," Doan says.
The mission of the 501(c)3 organization is to aid homeless individuals struggling with drug addiction though what Doan and one of his specialists, Joshua Copenhaver, call an "empowerment model." It renews a person, they say, in mind, body and spirit without coddling them. ("A hand up, not a handout" is the motto.) There is a religious bent, and the program primarily deals with men, but the organization believes in quality of recovery over quickly rushing individuals through a program where they can easily relapse after completion.
"We have the lowest recidivist rate in Berrien County," Copenhaver says, "But any program that says 'we have no failures' is absolute poppycock."
The organization started with a house in Benton Harbor, where a handful of men entered recovery. The biggest demons Doan was seeing was cocaine and heroin. Putting recovering addicts in a house rather than a facility is one of the organization's primary objectives.
"If you give someone a nice place to live, it builds self-esteem. It's part of that renewal model."
"Our men and women, they need to have a nice place to live. If you give someone a nice place to live, it builds self-esteem. It's part of that renewal model. As long as they do it with God as the forefront, and do it with that focus that they are able to maintain and go forward," Doan says. "They're going to have these stumbling blocks, but anything is possible."
The organization eventually purchased another recovery home in Cass County before making its way to Detroit, where Copenhaver is also from. They purchased the home on Coram after it had lingered on the real estate market. "God let us to this house. This particular area needs more help than other parts of the city," Copenhaver says.
For the Coram house, the organization has contacted area churches to help not only with supporting future residents in recovery — they're looking to house no more than six at a time — but also modernizing the house and assisting with renovations. A wish-list includes new appliances, new mattresses and a new van. They want to take advantage of the acre the home sits on and plant a community garden. 
And yes, the neighbors on Coram know about their new arrival. Doan and Copenhaver have spoken to folks on the block, letting them know of their plans, which have been welcomed by the neighborhood. "The way we maintain these facilities will bring this neighborhood up," Doan says.
By 2019, Warriors for the Homeless hopes to have had at least 100 individuals come through their program across multiple counties. It is eyeing expansion in Washtenaw, Livingston and Oakland counties while it progresses in Benton Harbor and Detroit.
"It's kind of amazing to watch guys progress as they renew themselves back to the Lord and put their focus on serving others — not going back to the cocaine or heroin," Doan says.
For more information about Warriors for the Homeless, visit their website here.