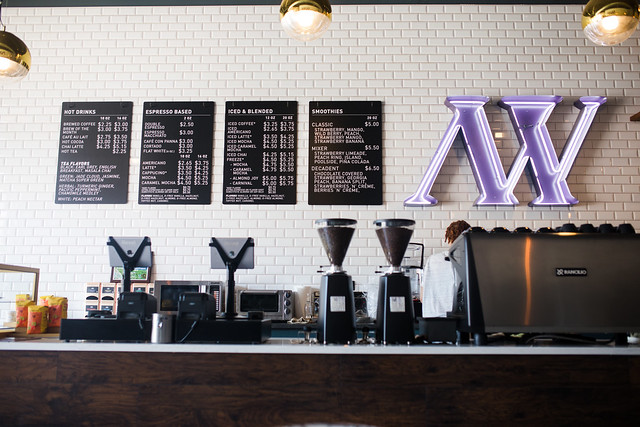 New loyalty program Mainstreet Mob gives rewards to Livernois shoppers while promoting small biz
The startup will boost Friday cash mobs on Avenue of Fashion
Amidst the construction that stretches across the Avenue of Fashion, there is one startup that aims to help promote the small businesses located there by encouraging Detroiters to shop local.
The newly established Mainstreet Mob, founded by entrepreneur Margarita Barry, takes inspiration from some of the Detroit resident's previous ventures. Barry, who has been working in media, tech, and design for years, created the websites I Am Young Detroit and I am Young America, both of which put a spotlight on young entrepreneurs making a mark on Detroit while I am Young America focused on a larger scale than just Detroit. Additionally, she used to run a pop up consulting agency that started some of Detroit's first pop up spaces such as 71 POP and D Pop.  
"It's always been a passion of mine to combine my background in design, technology, art, and news to help support our small business community here in Detroit," says Barry, who says she has wanted to support and promote local businesses ever since she was young.
Mainstreet Mob is essentially a loyalty program that encourages people to shop locally in Detroit. The startup collaborates with other partners on cash mob events, which are similar to dance mobs but with shopping. Cash mobs gather people together at a certain place and time to encourage people to shop locally. Mainstreet Mob promotes these local shops with the events.
What's unique about this startup is that they offer rewards and prizes directly to the shoppers. As a web-based platform, they also have a mobile app in development. This app will allow people to upload receipts from cash mob events to Mainstreet's website, and then earn points. Additionally, they can earn entries for different giveaways. Referring to a cash mob at Fusion Flair Kitchen and Cocktails, Barry says "usually at each establishment, we have a giveaway. So let's say (someone) participated at an event, not only are they going to earn points when they upload their receipt to the website, but they're also going to earn an entry to win a gift card for Fusion Flare Kitchen and Cocktails just for participating."
Besides hosting cash mob events, Barry and her team take over clients' social media presence to help promote and market more effectively for those businesses. 
"Small businesses are the backbone of this country."
"Mainstream Mob is a social venture. We offer super affordable marketing services to small businesses," Barry says. "Many small businesses aren't able to afford to hire these big marketing firms to help them, so my goal is to provide that service to small businesses at a price they can afford."
It's important to Barry that she and her team help as many small businesses as they can. Despite the task ahead, she says that although she can't guarantee that all the businesses will be impacted by this initiative, "hopefully it'll get more people in the door with having the added incentive of being able to earn more points, rewards, and prizes." Her goal is to get the ball rolling even if there is no massive impact. 
Even though Mainstreet Mob is a business, Barry emphasizes that its mission is for social good. Sometimes they will help with events even if it's not profitable. "The First Friday initiative that we're partnering on is just something we're doing for social good. Most of our cash mob events that we're doing are with potential clients, and we're using the cash mob as a catalyst to bring more business to them.
"Small businesses are the backbone of this country," she adds. "Small businesses help create vibrant neighborhoods, they bring communities together, and they also create jobs. They make the neighborhood feel like home. These small businesses are a part of our neighborhoods, they're part of our family." To Barry, she hopes people consider shopping locally just as much as they would support a big-box retailer like Amazon. "You're helping to create jobs, you're helping to keep that business alive at a time where online businesses and these big stores and their big giant eCommerce stores are eliminating |LS|smaller|RS| businesses."
Incentivizing neighborhoods to shop local is important, but how does one do that? Mainstreet Mob offers perks and prizes to shoppers who earn a certain amount of points. These prizes include gift cards to the local stores. Other prizes include smaller items such as Mainstreet Mob T-shirts and mugs. Barry notes the importance of incentives because Mainstreet Mob is "creating an ecosystem, online and offline. We already know that you love shopping, shopping local at these particular places. Here's some more money to continue doing that"
Mainstreet Mob often partners with other startups and companies to offer the best service possible. Currently, Mainstreet Mob is partnering with Canvas Livernois, a pop-up space on Livernois run by Zoser Ahmad. Barry says her startup will have its headquarters there. Adding on she says her startup will be "continuing to offer pop-up services to small businesses who don't necessarily have retail spaces but want to test out their idea. We're also going to be expanding our services and offering additional marketing support and pop up design." Canvas Livernois will offer Mainstreet Mob a space to have an offline connection to the community.
All First Fridays supporting the Avenue of Fashion beginning in September will be powered by Mainstreet Mob. Participants can sign up free and upload their receipts to their dashboards to start earning points towards rewards and prizes.
Mainstreet Mob: www.mainstreetmob.com
Canvas Livernois: www.canvaslivernois.com