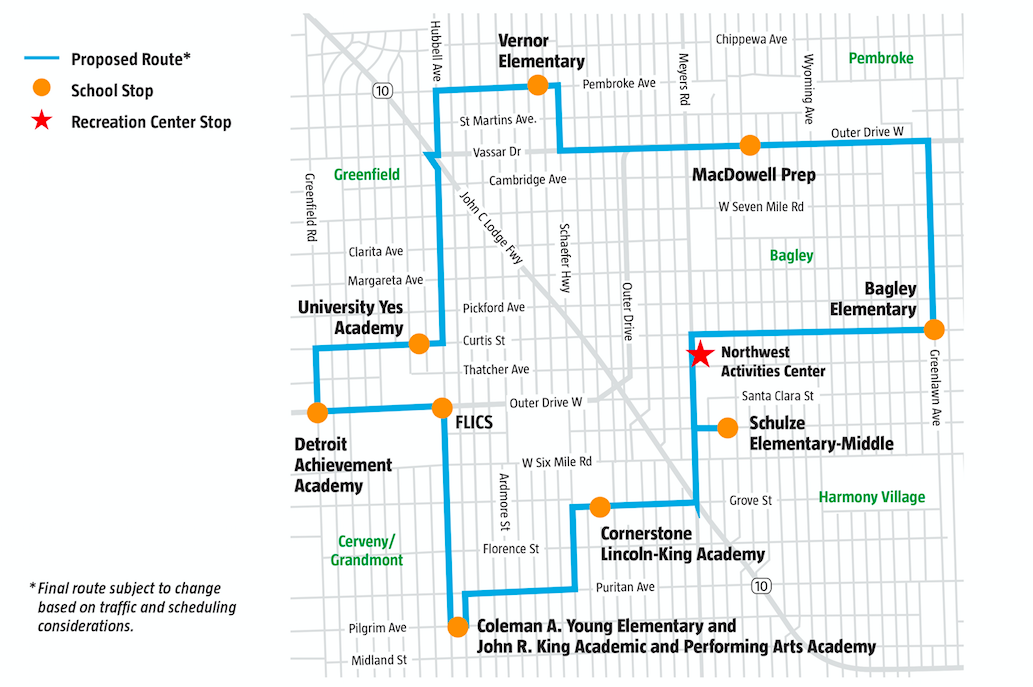 New GOAL Line bus loop to have first enrollment fair this month
Parents can meet with schools during event at Northwest Activities Center
The GOAL Line will be having its first enrollment fair for Detroit parents interested in getting their kids on a new bus loop serving 10 schools this fall.
Announced earlier this month, the GOAL Line gives parents in several west side neighborhoods the option to allow their children to be picked up at a school nearest to their house and be dropped off at the school they attend and an after-school program on the loop if they choose.
The loop is targeting parents who currently enroll their children in schools outside Detroit and parents who have transportation challenges getting their children to and from school. The loop moves along a route that includes the Pembroke, Schaefer 7/8 Lodge, Bagley, Blackstone Park, Greenwich, Schulze and McDowell neighborhoods.
During the enrollment fair, there will be a bounce house and other inflatables, a photo booth, and a raffle for tickets to the Detroit Zoo, a new bike and a summer camp sponsorship.
Each of the 10 GOAL Line  schools — Vernor Elementary, Coleman A. Young Elementary, John R. King Academic and Performing Arts Academy, Foreign Language Immersion and Cultural Studies School, Bagley Elementary, Schulze Academy for Technology and Arts, MacDowell Preparatory Academy, Cornerstone Lincoln-King Academy, Detroit Achievement Academy, and University Yes Academy — will have table set-ups with information.
The fair is on Sunday, June 24, 2018, from 2 p.m. to 5 p.m. at the Northwest Activities Center at 18100 Meyers Road. For more information, visit goaldetroit.org.