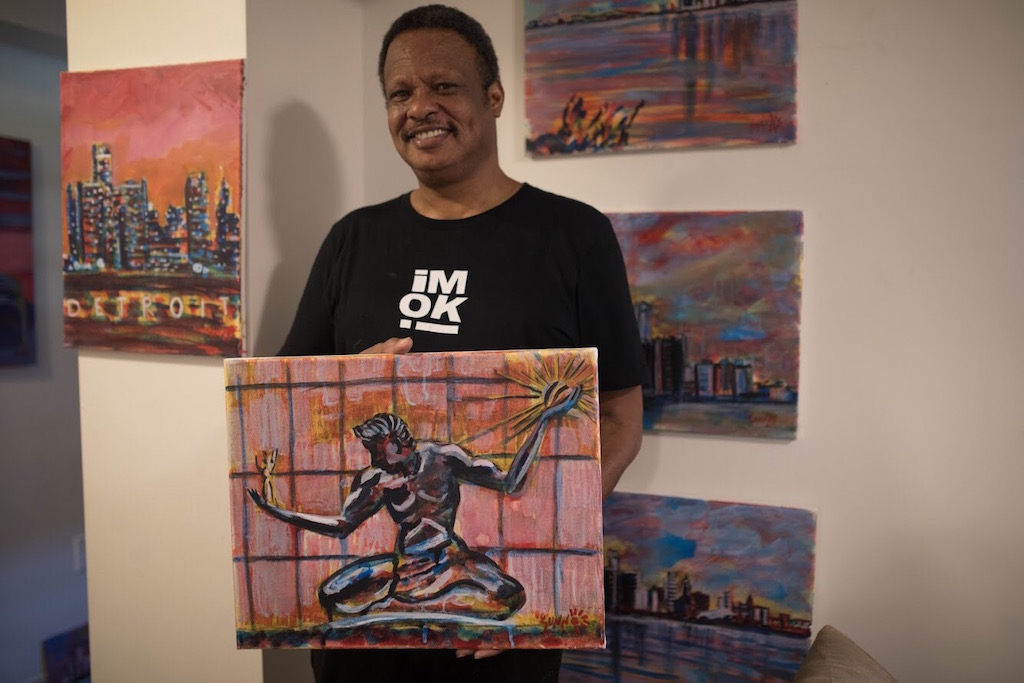 How a Greektown street artist beat homelessness and raised his profile
After years of teaching art, Donald 'Sunn' Anderson looks forward to bigger projects
Some Detroiters know Donald Anderson as an art teacher. Some know him as Sunn, a Greektown street artist. They're both two sides of the same coin – a bit worn from wear, but now more valuable than ever.
"The art part has been the most consistent thing," Donald "Sunn" Anderson says from his new home in Midtown. He's been an artist his entire life; ever since he can remember, he says, he was always drawing for his classmates and winning art competitions in school.
In an effort to further his art career, Anderson enlisted in the U.S. Army. That led to deployment to Vietnam. "I joined the army to get a GI Bill to help pay for art school," he says.
And he did. Anderson took his talents to Wayne State University after his tour of duty. His career continued to thrive while he worked as an artist in residence and teacher at with Detroit Public Schools as well as other non-profit organizations in the city. And he sold his art on the side as a street vendor in Greektown. Things were going well.
But even the most talented people can fall on hard times. Like many veterans, Anderson found himself homeless after the director of a vets' program he worked for suddenly passed away and there were no plans to continue after his death. Around the same time, the City of Detroit began requiring street vendors to obtain licenses to continue their businesses, putting a dent in his street-art income.
Lost and without the proper resources, Anderson fell behind in his rent. He had been enrolled in a separate veterans' program that had been assisting him with his living costs. A paperwork error led to his eviction.
Leaning on intermittent stays with relatives, Anderson somehow remained focused on art.
"Art is empowering. Even through my worse scenarios, art has been able to bring me through," he said.
There were times, he said, when he would walk into restaurants and sketch until someone decided to pay for a meal. "I was able to pay for my hotels, sometimes a week at a time, by selling my art on the street." As his only stream of income, Anderson continued to sell his artwork in Greektown despite the licensing crackdown from the City. "I had no choice. They made us feel like criminal artists; gangsta artists," he chuckled.
After two years of homelessness, Anderson's daughter found out about the Central City Integrated Health's affordable housing program for veterans. CCIH placed him in an affordable housing unit in The Charlotte, a newly renovated building just north of Cass Technical High School. But the staff there also took notice of his art and worked their connections even further.
Last November, Anderson's art was featured in an auction to benefit veterans just like him. He now has a vendor's license and continue to sells his art in Greektown. His current projects include mural paintings at Detroit Medical Center's Sinai Grace Hospital and a wall ong Kelly Road, between 8 and 9 Mile. He's also working with his collective to produce home décor with his artwork. His mission: to bring more ethnic artwork into the homes of Detroiters.
"My art is international," he said. Anderson sells the most art during convention season in the city, or during sports games; Detroit Tiger Miguel Cabrera once commissioned several sketches from him after a game. "My art is all the way in Germany," he said. "Detroit always has a negative image so I counter that with beautiful images."
Now that he's back on his feet, Anderson is hoping to get back into teaching. He's currently putting together a collective of artists that can help him bring art back into schools. Through the collective, Anderson also hopes to share his knowledge of the art world to mentor up-and-coming artists in the city, giving them a platform to expand.
"I have all this experience and it's just laying there," he said.
You can find out more about Sunn Anderson on his Facebook page here.