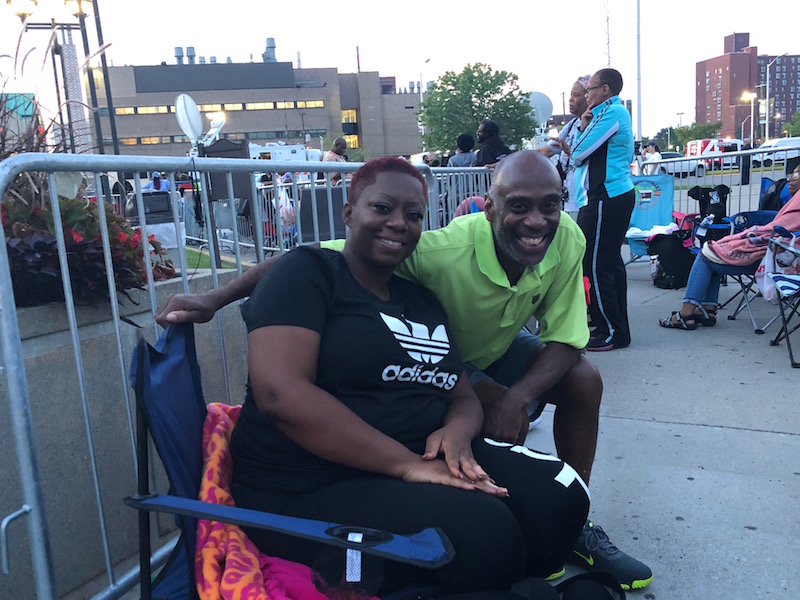 The first people in line to see the Queen of Soul
Four-day memorial kicks off with crowds at Wright Museum
LaTonya McIntyre had never seen Aretha Franklin in concert, never met her, nor had she even visited the Queen of Soul's hometown. But on Tuesday morning, she was first in line to pay respects at the Wright Museum of during a four-day long memorial service for Franklin kicking off this morning.
Neither had Camille Howard, who flew in from Austin. Howard was the second in line; both arrived at 4 a.m. on Monday, and made fast friends over their love of the Queen.
Or wait…which day?
"Is today Monday?" McIntyre asked.
"Today's Tuesday!" Howard said.
Both women laughed. It had been such a whirlwind past few days for both — from the news of Franklin's passing, to arranging flights and accommodations — that they lost track of time. But yes, both arrived in line early Tuesday morning.
"To pay my respects," McIntyre said. That's all she wanted to do.
The Wright Museum is expecting upward of 20,000 visitors during a two-day viewing of Franklin as she lies in state here. Other events planned for the week include a Wednesday afternoon visitation at New Bethel Baptist Church and a sold-out Thursday night tribute concert at Chene Park, all leading to Friday's all-day memorial service at Greater Grace Temple.
When she first heard of Franklin's passing, "It really bothered me. I was heartbroken, because I thought she would come through, and just do another concert. I'd never seen her in concert before."
She can't pick a favorite song. "So many, but one of them is 'Don't Play That Song.' So many, 'I Never Loved a Man (The Way That I Love You,' I play them all."
Howard preferred Franklin's gospel music, but also what she meant to women — black women — in her time. "She was so much. She was an activist, she was an entertainer, she was a mother."
And when asked how a black woman from Detroit became an icon of soul music? "It was destined," McIntyre said.
The Neighborhoods will be providing regular updates from the four-day memorial for Aretha Franklin this week. Follow along at @StoriesFromDet on Twitter and Instagram.