A Detroit school's prom was scheduled during Ramadan. One Muslim student stood up to change that.
Read how a Cass Tech student lobbied Detroit Public Schools Community District to alter its scheduling policy
When I was younger, I remember watching lots of movies, and like most young girls, my favorite movies were and still are chick-flicks. For me, chick-flicks have always been an escape to a parallel universe where unrealistic expectations of love, happiness, and innocence exist. Most of the chick-flicks that I watched had taken place in a high school setting and would eventually lead to the most important event in the movie: The prom. 
For example, Prom was one of the first of these movies that I watched, where the main character, Nova, is on the prom committee at her school. The shed with all the prom decorations is set on fire, and with only three weeks until prom, Nova has multiple props to create with very little help. Another student, Jesse, is left with no choice but to help Nova with the decorations, or he will be unable to graduate. This results in the two falling in love (but not without complication, of course – there has to be plot twists) and sharing a romantic kiss at the prom. As a little girl, these movies left indelible notions in my head about my own senior prom. Just like in the movies, I envisioned myself in the most beautiful gown and silk corsage with a handsome date. And ever since, I have been awaiting my senior year so that I can finally experience what I had hoped would be my ultimate fairytale prom.
I'm a high school senior at Cass Technical High School now, but I was devastated at the beginning of the school year that I wouldn't be able to attend my only senior prom. In the school's Grand Theatre for our first senior meeting, we received handouts with important dates for senior activities and events. Prom was booked for June 2, 2018. All at once, I felt anger, sadness, and my foolish and inane dreams of a perfect prom were crushing right in front of me. 
See, I am one of the many Muslim students at my school who celebrate Ramadan, a holy month in the Islamic religion symbolized by a period of required fasting from dawn to dusk. During this time, Muslims are engaged in abundant prayers, charity, and fast to strengthen their relations with God. Every culture celebrates Ramadan slightly different; since majority of the Muslims at Cass Tech are members of the Bangladeshi community, our Ramadan practices are very similar. My family and I believe that during Ramadan, we must refrain from engaging in worldly practices and activities such as listening to music, attending parties, and singing/dancing. Additionally, the start date of Ramadan changes each year because Islam is associated with a lunar calendar. According to the Gregorian calendar, Ramadan starts 11 days earlier each year. In 2018, Ramadan will begin in mid-May and end in mid-June, and Cass' prom was falling dead in the middle.
At the end of the 2017 school year, many upcoming Muslim seniors talked to 2018 executive board members about booking prom before Ramadan so that all students could be accommodated. Otherwise, the large population of Muslim students – the school does not track specific numbers – would not be able to attend because we believed it would put a strain on our faith. The initial request to change the date was rejected.
"Although I will not be attending this year's prom, I am very proud of my actions in making it more inclusive for all students in DPSCD."
When this request wasn't met, I contacted my assistant principal and class sponsors to address my concerns about changing the prom date. An alternative was offered: The start time of prom was pushed back to allow Muslim students an opportunity to attend prom without missing all activities, but the date wouldn't be changed. I was genuinely upset because I felt that the Muslim students were not being truly accommodated. I responded with an email stating the reasons why changing the start time of prom does not meet our needs, and unfortunately, I did not receive a response. As an activist, my mind began to contemplate other ways that I can advocate change, and that's when it occurred to me that I should organize an alternative prom. 
At first, the alternative prom seemed like a great idea. I contacted a local fundraising organization and gathered a team of students within the school who wanted to help me. I created a video which entailed our story and hoped that people would help fund our alternative prom. I was aware of other Muslims who were facing the same issue in their schools, and wanted to encourage these students to attend my alternative prom, as well as anyone who was interested in showing support. The goal for the alternative prom was to shed light to this issue so that the public will be aware of the inequity that exists within our school systems. Ultimately, I wanted this exposure to encourage the Detroit Public Schools Community District and other districts to better accommodate students' religious holidays.
But I'm stubborn. Before finalizing plans for the alternative prom, I decided to try once more to get Cass' prom date changed. Instead of going through principals, I reached out directly to DPSCD Superintendent Nikolai Vitti with my concerns. As a result, I was included in many meetings with administrators where we discussed ways that we could manage the issue. A few weeks later, Vitti's office notified me that the prom date at Cass could not be changed due to the large amount of funds that would be required, but because of my advocacy, the district has altered their systems and processes so that moving forward, prom will not be scheduled during Ramadan at DPSCD schools. In conclusion, I realized that the alternative prom would no longer be necessary because my most significant goal had been achieved. Although I will not be attending this year's prom, I am very proud of my actions in making it more inclusive for all students in DPSCD.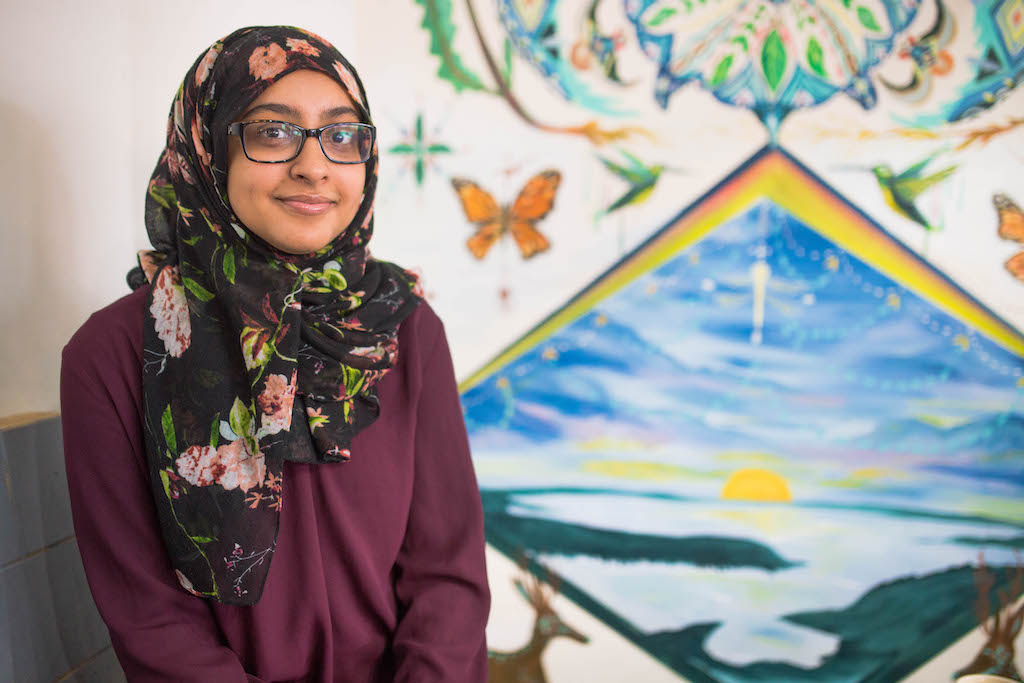 Throughout this experience, I was told by many students that there was nothing that can be done about the prom situation, and that we'd simply have to accept it. For me, "acceptance" isn't easy and I have never been one to simply "settle." I learned that if I wanted something to change, I needed to become that change by speaking out and ensuring that my voice is heard. Oftentimes, young people tend to believe that their voices don't matter, but I'm here to tell you that our voices do and will always matter. Young people are the future and that gives us the power to start creating change now. 
Amina Khalique is a senior at Cass Technical High School and lives in Banglatown. She is still undecided on which university she would like to attend in the fall, but she will be studying public policy or social work in Michigan. Amina is a passionate, goal-oriented individual who takes interest in advocating and community organizing. She enjoys reading, writing, and learning about the ways that she can impact the needs of her community.