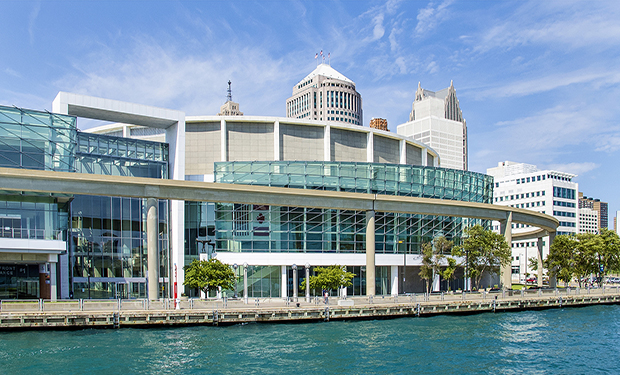 Cobo Center, named after racist Detroit mayor, to be renamed at end of year
Naming rights acquired by Chemical Bank
A long-overdue name change is in store for Cobo Center following a growing Michigan bank's acquisition of the 60-year-old convention hall's naming rights, announced Wednesday morning by the authority which maintains the center.
The Midland-based Chemical Bank, which is growing its presence in Detroit, says it will decide on a new name for Cobo at the end of 2019. It will remain Cobo Center until that time, officials say.
The Detroit Regional Convention Facility Authority, which maintains operations of the 720,000-square-foot Cobo, embarked on a search for a new name for the hall as part of an ongoing effort to modernize the aging center, which opened in 1960. The authority, formed in 2009, completed a $279 million renovation of Cobo in 2015.
Cobo Center is named for Albert Cobo, a seven-term Detroit city treasurer who was elected mayor in 1949 and died during his third term in office in 1957, three years prior to the hall's grand opening. While Cobo presided over Detroit's population at its peak and spearheaded much of the modern development of downtown Detroit — including the construction of the Coleman A. Young Municipal Center, erecting the Spirit of Detroit statue, and other 1950s-era development — he is, in recent years, remembered most as a segregationist who prevented black Detroiters from moving into then-white neighborhoods and demolished slums where they were already living.
Per Jon C. Teaford's "The Metropolitan Revolution: The Rise of Post-Urban America":
In 1949, one of the major issues in Detroit's mayoral election was the prospect of outlying public-housing projects. Conservative Alber Cobo swept to victory, and the new mayor lived up to the expectations of many white homeowners when he announced "I WILL NOT APPROVE Federal Housing Projects in the outlying single homes areas." According to Cobo, "When people move and invest in a single-family area, they are entitled to consideration and protection."
And per Scott Martelle's "Detroit: A Biography":
"When Albert Cobo took over Detroit's city hall on January 3, 1950, one of his first acts was to drive a spike through the city's existing public housing plans. He vetoed a series of proposals already in the works, and when the head of the Detroit Housing Commission resigned in protest, Cobo appointed a real estate developer, Harry J. Durbin, to replace him. The new mayor then stacked the commission with people who were part of the private development industry — contractors and developers as well as leader of building-trades unions who supported private development over public housing (mostly likely because of the racial overtones; by then public housing had become shorthand for black housing).
Under Cobo's leadership, the city of Detroit also embraced more freeways, and as a result, white flight kicked into overdrive and more businesses began to leave the city. Freeways under Cobo's leadership also destroyed the city's Black Bottom and Paradise Valley neighborhoods.
Cobo Center's renaming would follow an announcement last year that Chene Park would be renamed for the late Aretha Franklin, and also falls in conversation about renaming public structures for congressman John Dingell, who died earlier this month.
Chemical Bank is currently awaiting an approval of a merger with the Minnesota-based TCF Bank which, if greenlit, would make the new institution — which would operate under the TCF name — one of the largest financial institutions in the Midwest and among the largest 30 banks in the country. The merger was announced in January with plans to move the institution's headquarters to downtown Detroit.
Chemical Bank currently operates 212 banking offices located primarily in Michigan, northeast Ohio and northern Indiana. As of December 31, 2018, Chemical had total consolidated assets of $21.5 billion.
The DRCFA says more than 1.5 million visitors to the Convention Center annually, which, until this year, included the annual North American International Auto Show, which was held at the Center each January since 1965. Cobo celebrates its 60th anniversary in August 2020.