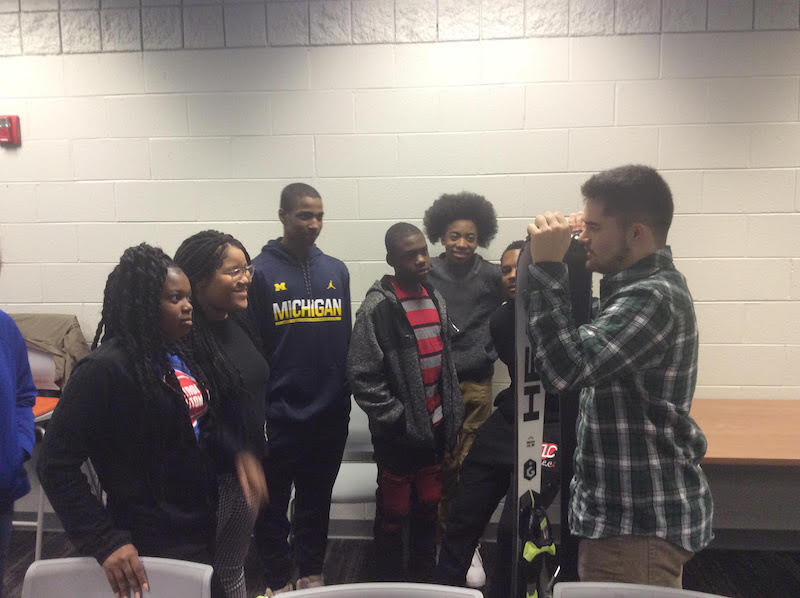 City to Slopes hopes to get more Detroit kids in ski boots, diversify winter sports
A trip to the slopes is planned for eastside middle schoolers interested in the sport
Those of us who attended Detroit Public Schools and were student-athletes might have felt a twinge of envy sometimes when we competed in sports against our suburban peers. Sure, both sides of Eight Mile have kids playing football, basketball and baseball. But — well, let's say track, for example. When competing in track and field, did all schools have pole vaulting on both sides of the border? Swimming and diving, too — did all schools have active pools on both sides? And then there are the sports that are unavailable altogether on the south side of Eight Mile.
Skiing is one of those activities. There are places in the city where light skiing can be done, but by and large, it is not a popular sport here and not an option for student-athletes. That's not to say that residents can't pursue the sport on their own. But if it's not ingrained in the culture to some degree (see also: lacrosse), then it's not likely to spark much interest.
Two high school students from outside Detroit noticed this and are hoping to get more city kids on the slopes this season and in the future.
With a newly launched program, City to Slopes, at Fisher Magnet Upper Academy on the city's east side, Cranbook senior Lillian Wege and West Bloomfield High School senior Calum Schulz have gathered seventh- and eighth-graders at the academy who are interested in skiing, and plan to take them on a ski trip in January — contingent on a successful fundraising campaign.
The two seniors met at an SAT prep program where they were taking after-school classes to get ready for the rigorous exam. Vege is a recreational skier; her family has taken her to the slopes almost as soon as she learned to walk. Schulz competes on West Bloomfield's ski-racing team; he's been varsity for all four years (including a state championship in 2017) and is a team captain.
"In ski across the country, no matter where you go, it's simply not diverse," Schulz says. He's right. An online query for "black skiers" pulls up one of two results: Efforts to get more black people to ski, or questions about why there aren't black skiers at all. (Searching "Latino skiers" brings up similar results, by the way, and "Asian skiers" points to the popularity of the sport on the continent.) "I think it's important that such a great sport should be available to everyone," he adds.
For the past few weeks, Wege and Schulz have been showing a group of Fisher kids the techniques and physics ("it's obviously all physics," Schulz says) of skiing, with actual ski equipment. Indoors, because snowfall has been scarce in Detroit so far — but they're hoping there will be enough at where they decide to take the ski trip.
"The goal, really, is to raise awareness about skiing in the city," Wege says. "That's a great asset to bring into any community."
"In ski across the country, no matter where you go, it's simply not diverse."
The kids are excited. Many of the kids are hoping to pursue science, technology, engineering and mathematics careers; the "physics" part of skiing is an added bonus.
"People around this neighborhood don't know how to ski — well, maybe a  few people," says 13-year-old Hassan McQueen, a Fisher eighth-grader. "(City to Slopes) is even more of a chance to not get in trouble."
McQueen at 13 is frank about where he's growing up. Though the school's location at Seven Mile and Gratiot is due for investment through the Strategic Neighborhood Fund, it is in the 48205 ZIP code, frequently characterized as one of the most dangerous in the country.
"Most kids from Detroit, their minds are not right. So when you introduce them to new things…once we teach them, they'll know how to do things so they'll do better in life."
His classmate, Andrea Griggs, is right there with him.
"I feel like Detroit has a bad rep. So if we get these opportunities, we can prove them wrong," Griggs, 13, says. "I just hear 'Detroit is bad,' but it's bad everywhere. Like it's not just bad in this area."
Griggs' friend, 13-year-old Fisher eighth grader Alicia Hosea, cuts her off, but in that excited eighth-grade-girl way. "Detroit is a great city. If you go to some of the businesses in downtown Detroit, it's actually a great city."
It's not just downtown though, it's all of the city. And here on the east side, there's a new opportunity arising.
For more information about Vege and Schulz' fundraising campaign for City to Slopes, click here.