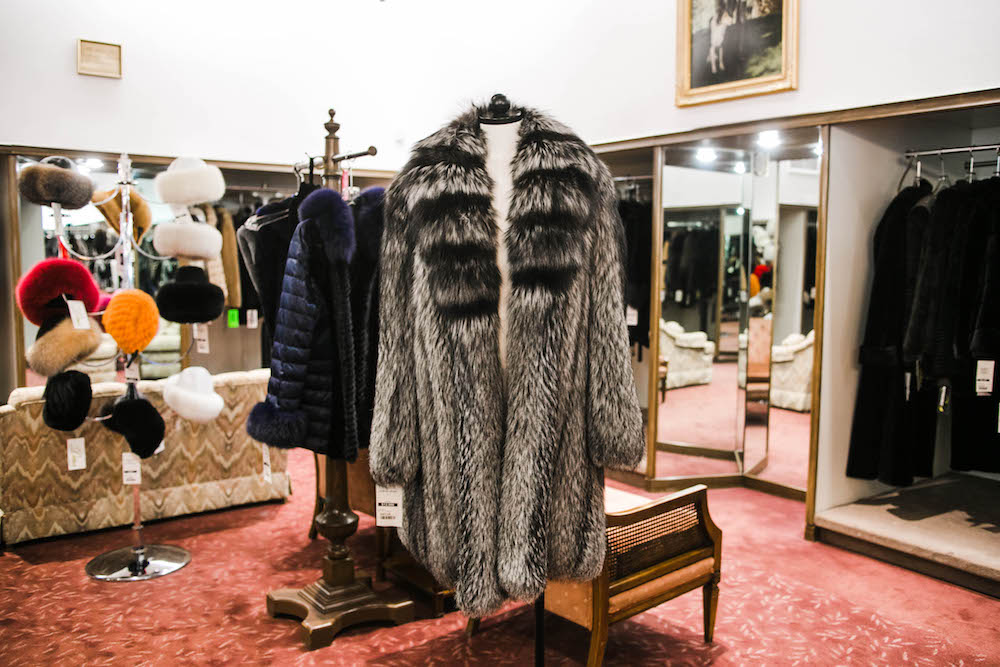 Aretha and her furs: Detroit furriers remember their most loyal customer
Dittrich, Silver Fox Furs were among the Queen's favorite stores
Clarence Albert, a general manager at Dittrich Furs, first met Franklin when he was employed at a department store. He received a phone call from a woman inquiring about a private fur showing at her home. 
"I asked her who it was. She said, 'the Queen,'" Albert said. "I said 'Aretha Franklin?', and she said 'yes.'"
Franklin's well-documented – and much-GIF'd – love of fur coats, wraps and accessories would suggest the demeanor of a snobbish diva too good for the world around her. But as local furriers here in Detroit tell it, she's nothing of the sort, instead offering stories of a down-to-earth, loyal customer who loved to dress in style. Humility is the word most often used by two Detroit men responsible for some of Aretha Franklin's most notable fur coats. 
Albert says he took a few samples to Franklin's Bloomfield home shortly after the call. He recalls walking into a welcoming atmosphere and being mesmerized by her platinum records hanging on walls and her baby grand piano. 
"She was cordial and just a real humble person," he said. "She said 'Clarence, I'm a Detroiter. This is my home. I'm a collard green, cornbread, pork chop-eating woman and I love to cook.'" 
Fur has been big business in Detroit, dating back to the city's infancy when animal hunters supplied the burgeoning fur trade. Dittrich is clearly reflective of that; founded in 1893, it's one of the city's oldest businesses.
Richard Welch, owner and manager of Silver Fox Furs, also in New Center, was ecstatic to have the Queen as his customer. "I was excited to meet her, but I couldn't act like it," he said. "She's the Queen and she didn't let you forget it." 
Welch said upon meeting Franklin, he let her know he grew up right around the corner from her former road manager and lover Ken Cunningham. Both men grew up in Grand Rapids. 
After their first meeting, Franklin brought in Welch and the Silver Fox Fur team to put on a fashion show during one of her birthday parties. "She always tried to help out minority-owned businesses," Welch said.
Two of Franklin's final performances, which have come back into the public consciousness after her passing this month, had furs from either Dittrich or Silver Fox Furs. In 2015, while singing "(You Make Me Feel Like) A Natural Woman" during a Kennedy Center Honors tribute to Carole King, Franklin donned a brown Russian sable coat purchased from Dittrich – and famously dropped it to the ground mid-performance. 
And remember her black and white chinchilla coat while singing the National Anthem in Detroit? That one was from Silver Fox. Welch said the soul singer came into the store to pick up a custom order when she spotted the waist length coat. "She took it off the rack and wore it out of the store," he said. 
But with fur comes conflict. After the announcement of Franklin's death, PETA sent a letter to the late singer's estate requesting that her furs be donated to their fur donation program. 
"They're not interested in getting donations, they probably want to destroy it," Albert said. "As far as I'm concerned, they're just free advertising for the fur industry. Come on with your protest." 
Welch says the animal rights group is just trying to "jump on the bandwagon. In the state of Michigan, PETA isn't that big," he said. "Michigan is an outdoor state; you have a lot of hunters here, lots of money is made from hunting licenses here."
Welch and Albert both note the significance of a good fur coat to Detroit culture. "Furs in Detroit are very popular," Albert said, pointing out that Dittrich is entering in its fifth generation of family ownership. "We have a very large generational clientele." 
"Furs are fashionable," Welch says. "In Detroit, you'll find very fashion-conscious people. Detroit sets the trend. You go out to L.A. and some of the sharpest people are from here. People from Detroit aren't coming out unless they right."