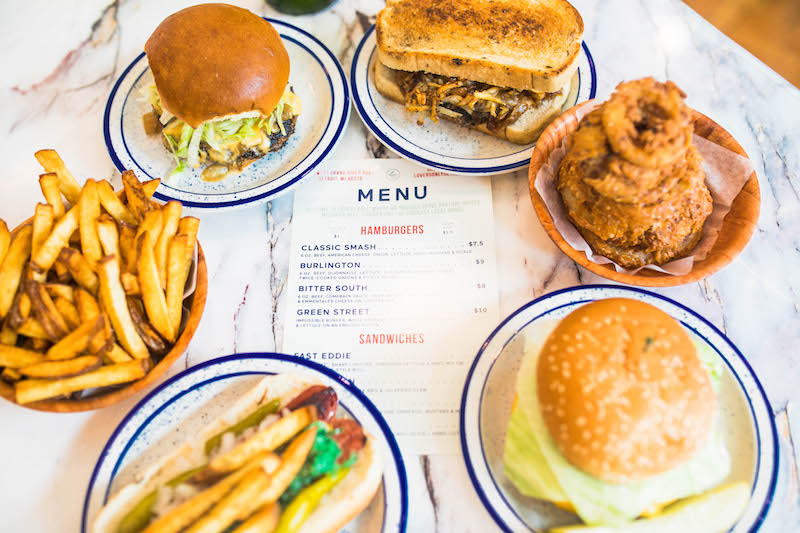 #FoodieInTheD: Lovers Only targets the burger aficionado
Don't be fooled by the name of downtown's newest eatery
For the summer, Grow Detroit Young Talent intern Jade Rodriguez will be presenting #FoodieInTheD Fridays on The Neighborhoods. This week, Rodriguez paid a visit to Lovers Only, located at 34 Grand River Avenue in Detroit.
I'm a big burger lover. As soon as I began ordering food on my own, I'd go straight to the burger section on a menu before looking at anything else.

So when we visited Lovers Only, a newly opened burger joint downtown, I knew it would immediately rank high on my favorite list of local burger places. With their unique menu options, playful decor and friendly staff, there wasn't a thing to dislike about this newly opened burger restaurant. They have burgers and other menu items you won't find anywhere else either.
I got to visit Lovers Only last Friday for an ongoing social media campaign I'm doing for the City. Coming in, the decor automatically caught my eye. There are booths and stools common in any diner, but also a rural Southern, down-home vibe: Farm-themed wallpaper with cows or horses on a ranch. Lovers Only is so playful to all, and makes it a fun place to dine.
There was the Classic Smash, a standard burger with lettuce, onion, mayo, mustard, American cheese and a pickle. The Bitter South was my favorite — not a burger, more like a sandwich, but boy was it tasty. The Recession Dog was another menu item they served that was really different to me. A beef hotdog split in half served like a Chicago-style hotdog with fries on top. Regular fries and onion rings were other menu items I tried as well.
And don't let the name fool you. Lovers Only may mislead you to think that it's specifically for couples or date nights, but it's really all about burger lovers.
The staff also makes dining great. Everyone at Lovers Only are so helpful and friendly, including the owners. I got to speak with the owner Eli and his employee Kyra. Both told me how amazing it is to work at Lovers Only and to share their love for burgers with everyone else in Detroit.
So if you're ever downtown, visit Lovers Only and share the love!