Where the hell has Eric Been?
COVID-19, Opportunity, and finding my footing.
It's been a long time since I last checked in, and you might be asking yourself, "Hey, where has Eric been?"
Well, I'm glad you asked.
In December 2019, I was offered the position of Chief Storyteller for the City of Detroit. I spoke to many mentors, friends, colleagues, peers, and community leaders before taking the position. It was vital for me not to waste time or occupy a seat that someone else would be better suited for. I speak more to why I eventually took this position here (http://theneighborhoods.org/story/new-chief-storyteller). Of all the advice I got, one bit remains the loudest. "Don't take this job if you can't bring value to the people."
For me, this job has to be more than just finding stories. It's creating them in partnership with residents. It's bringing value and connecting Detroiters to what they need to continue being inspiring.
Mid-January 2020, I started working at the City of Detroit. My first job in over a decade. I spent about a month speaking to over 100 people face-to-face to understand the job, the needs, and what services the city provides. I worked hard on understanding the lay of the land and how things work here. I wrote a plan for storytelling. And then, March happened.
The passing of my friend, mentor, and big brother Marlowe Stoudamire to COVID-19 marked a seismic shift in how I applied my energy going forward. From that point, we as a community began to lose family and friends consistently to COVID-19. In addition, the city had a few internal shifts, and communication about the virus became a professional and personal pursuit. Misinformation was running rampant and the news available was ever-shifting. It hit me that being the Chief Storyteller wasn't going to look like how I had imagined. With COVID disrupting daily life, there would be no typical community engagements and certainly no writing light-hearted stories about block clubs and bake sales.
Pretty soon, I found myself working across tons of the City of Detroit departments to help streamline messaging, consult on campaigns, and providing graphic design support. Most involved and unexpected was managing and posting to various City of Detroit social media channels. 
In the midst of working on social media, consulting with departments, marching in the streets, and trying to dispel the scourge of COVID-19 misinformation, I was handed a small task that would soon become one of the most important things I've done in my career.
One day, the Mayor asked a small team to help organize all of the city's resources so that they would be easily accessible to residents. The core question. "What are the opportunities a Detroiter has just by virtue of being a Detroiter?" While working on this project, that advice began to rattle again.
I debuted the initial idea for the design, message, and delivery mechanism one of my city colleagues that I respect greatly called me and expressed succinctly what was nagging me. "This isn't great. It's OK, but it doesn't mean anything. It's just...fine." Fulfilling the brief exactly created something that could only be described as "aggressively mediocre." She insisted that I reexamined the approach. What is the "Detroiter-Centric" version of this idea? So I went back to the drawing board
That task would eventually become what is now known as Opportunity Rising.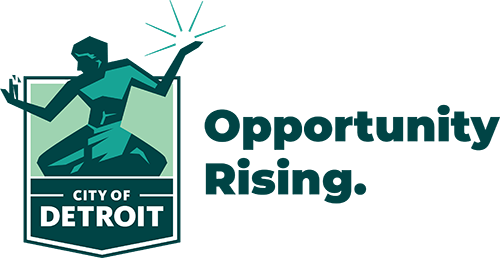 Opportunity Rising is a multi-channel campaign, a brand refresh, and a re-contextualization of our city government. What if we think about our communication channels as delivery vehicles for opportunity?
We set about creating a narrative and expression of that vision that aligned to what we, as a government, believe to be true. It culminated in a refreshed look, an updated use and simplification of the color palette, reorganizing some of our platforms and this mission statement that I'm incredibly proud of.
In America, talent has been evenly distributed, opportunity has not.

As your City of Detroit government, we believe it's our responsibility to fight that inequality.

We believe Detroit government can be a springboard for opportunity, helping Detroiters, no matter their neighborhood, achieve their dreams.

In Detroit, opportunity is rising.
In Detroit, it's our job to fight inequality. In my first posting to the Neighborhoods over a year ago, I spoke about the systemic inequality perpetuated by racism and disenfranchisement. In the summer, we marched and protested against it. Now, that fight has been enshrined into our mission statement.
Visually, when you see this spirit green, you should know that there is good news coming. And so we've worked to make the brand consistent and put processes in place to allow internal departments and external departments to get more consistent. Above all, we're one city government, and we have one mission. We should present that way.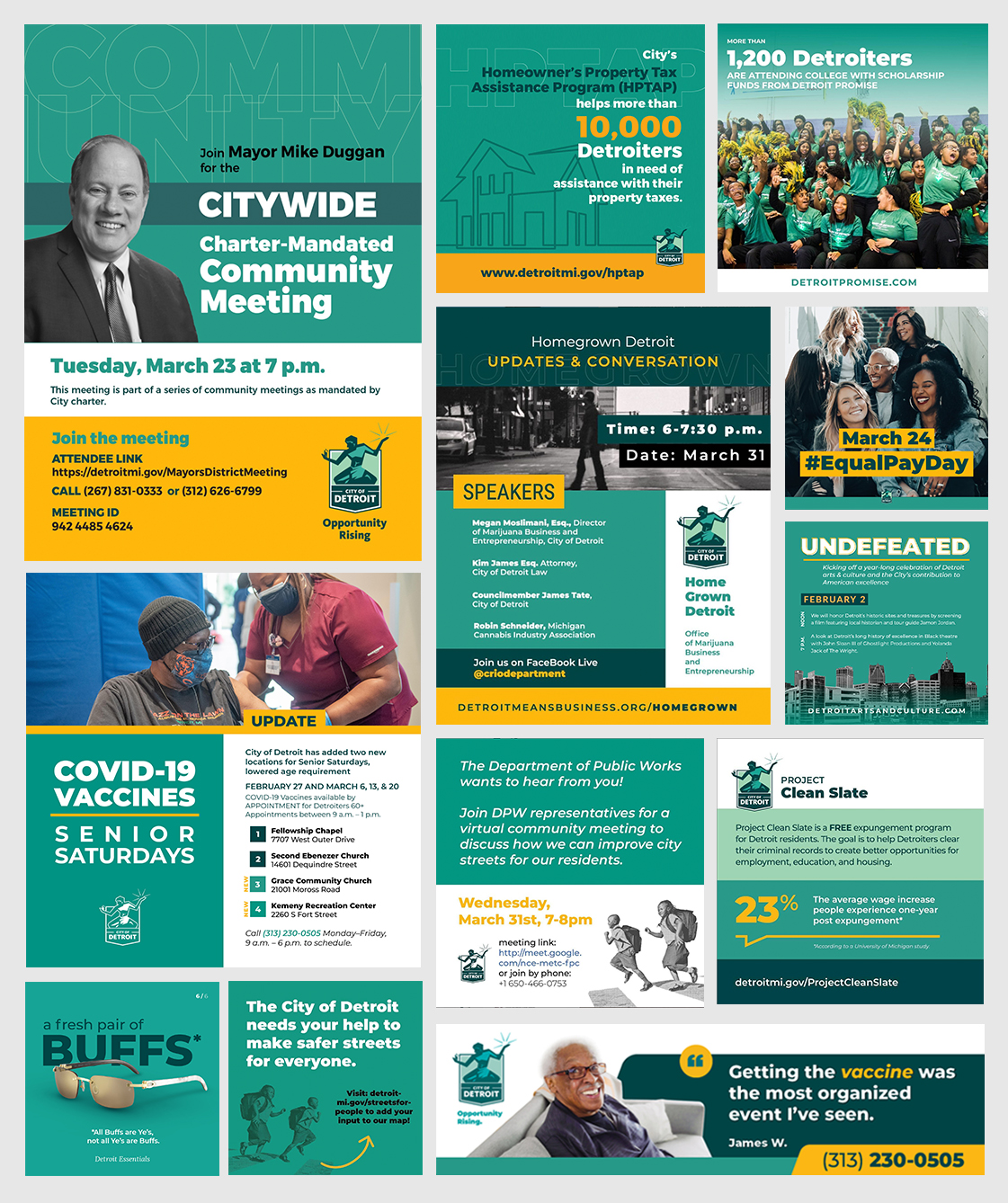 No matter the department, you can hardly tell them apart. Some of this was created by our designers, others by external teams, and there are a few that are by non-designers. As a brand strategist, this brings me joy. 
The colors are the same as always, just used in a brighter, more refreshing way.
From there, we looked at the number of services that we had as a city and organized nearly 190 into 9 sections.
Access
Business
Culture
Family
Fun / Recreation
Health
Home / Live
Jobs
Safety
Going forward, we'll be building campaigns around each.
This organizing led us to another question. How could the city website be a resource guide that you could navigate by needs? The new design, launched shortly after State of the City, has a new home page that is even more dense with information, yet vibrant and communicates our resident and opportunity-focused ideology.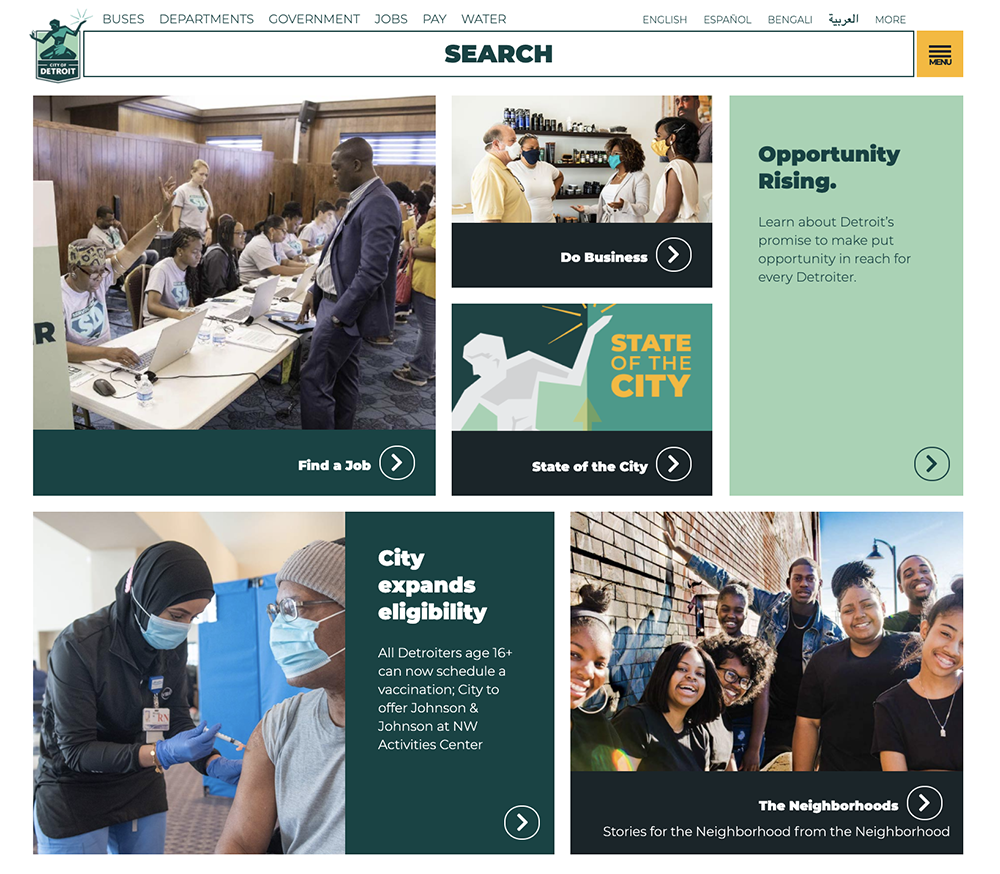 New Homepage for Detroitmi.gov
The Opportunity Pages are "Department Agnostic." They sort information by need. So if you have a family or are looking for a job, you don't have to guess what department they might be in. They're located right where you need them.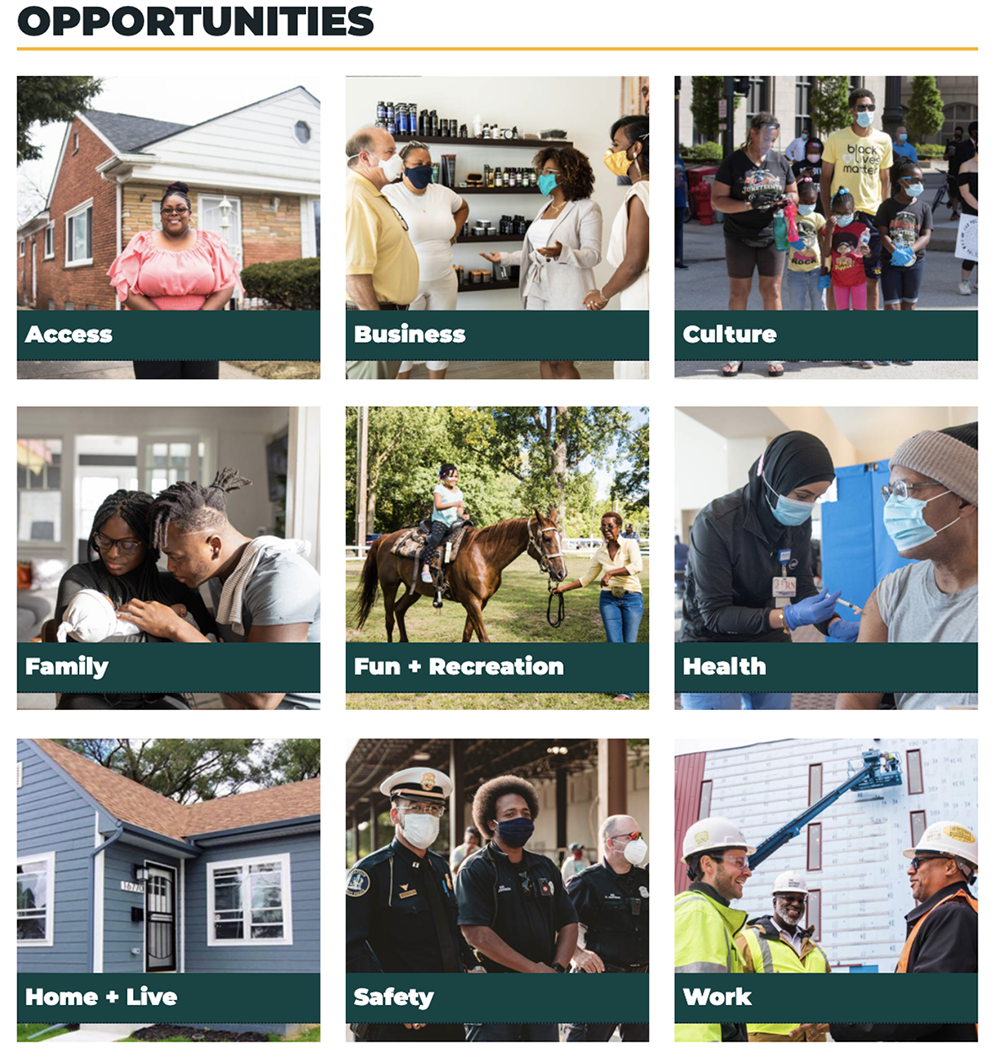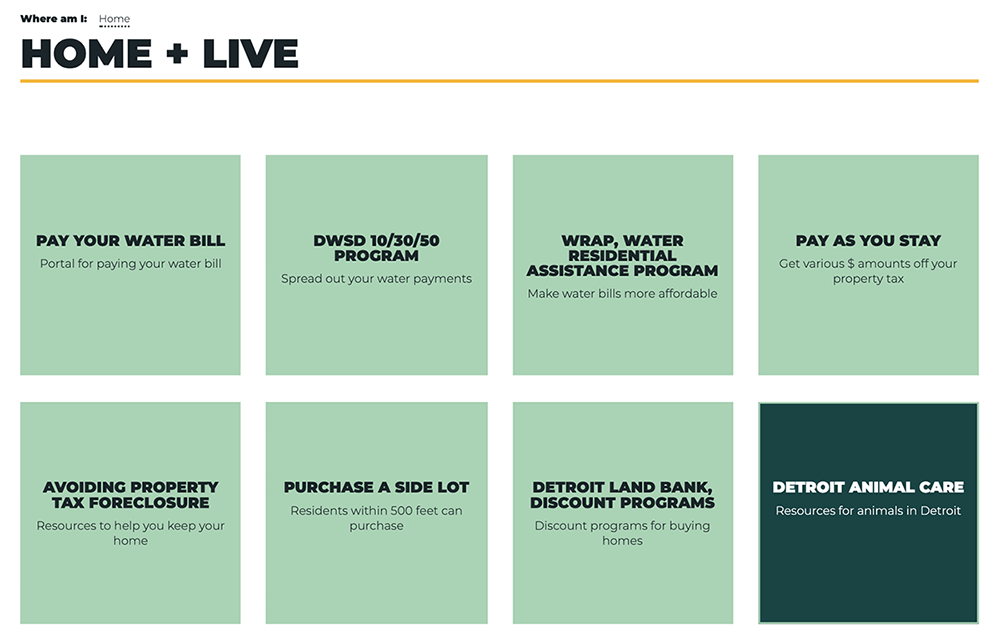 Opportunity pages: Detroitmi.gov/opportunities 
Check them out and see what opportunities Detroit has for you, your family, or your business.
The website will continue to evolve and roll out more pathways for residents to find what they're looking for. 
Currently, the social team is lead by a strategist that is much more organized than myself, and she's taken that output of the channels beyond what I was capable of on my own. It's incredible to see how those channels have grown to be so densely packed with resources, updates, and stories.
So follow the city channels online: Facebook | Instagram | Twitter
And of course the Neighborhoods: Facebook | Instagram | Twitter
In our statement, the "Rising" is important. We understand that this is just the first step. But just like how Detroiters continue to rise to meet each challenge, we will continue to create tools, programs, and services to help them. As we launch and sustain a consistent narrative through platforms, media, community dialogue, and good old fashion ground game, our mission with Opportunity Rising is simple. Make opportunities easy to access. We know that Detroiters always excel when given a chance.
So, now what?
Well, even though I'm working daily to support departments, helping get the word out about services, and leading the charge of Opportunity Rising, I feel better this year about stepping into the primary capacities of being "Chief Storyteller." What does that mean? It's a good question. What the hell is a Chief Storyteller? It feels like a role that takes on the characteristics of the person that holds the position. I want to continue the legacy created by Aaron. Lifting deeply Detroit stories with all the sarcasm, wit, culture, and pride that comes with being counted out and creating your own lane. To continue the mandate of educating the world on what's truly special here, but first and foremost to remind Detroiters that what we have is so magical and unique.
But also, I have to do the things that are uniquely Eric. That includes Expanding the way we use media and content and having public conversations that make people nervous. Connecting resources to emotions and building brands that people can trust. I've got big plans for "TheNeighborhoods.org" and its corresponding brand. I'm also incredibly excited to introduce you to the new team. It's such an incredible idea Aaron founded it's only right that we push it to the limit.
We've already begun posting resident profiles on the Neighborhoods social and in partnership with the city's social media. So keep your eye on our channels, you might see your friends, families, or heroes. We want Detroiters to be able to see themselves honestly reflected in City of Detroit Media and marketing.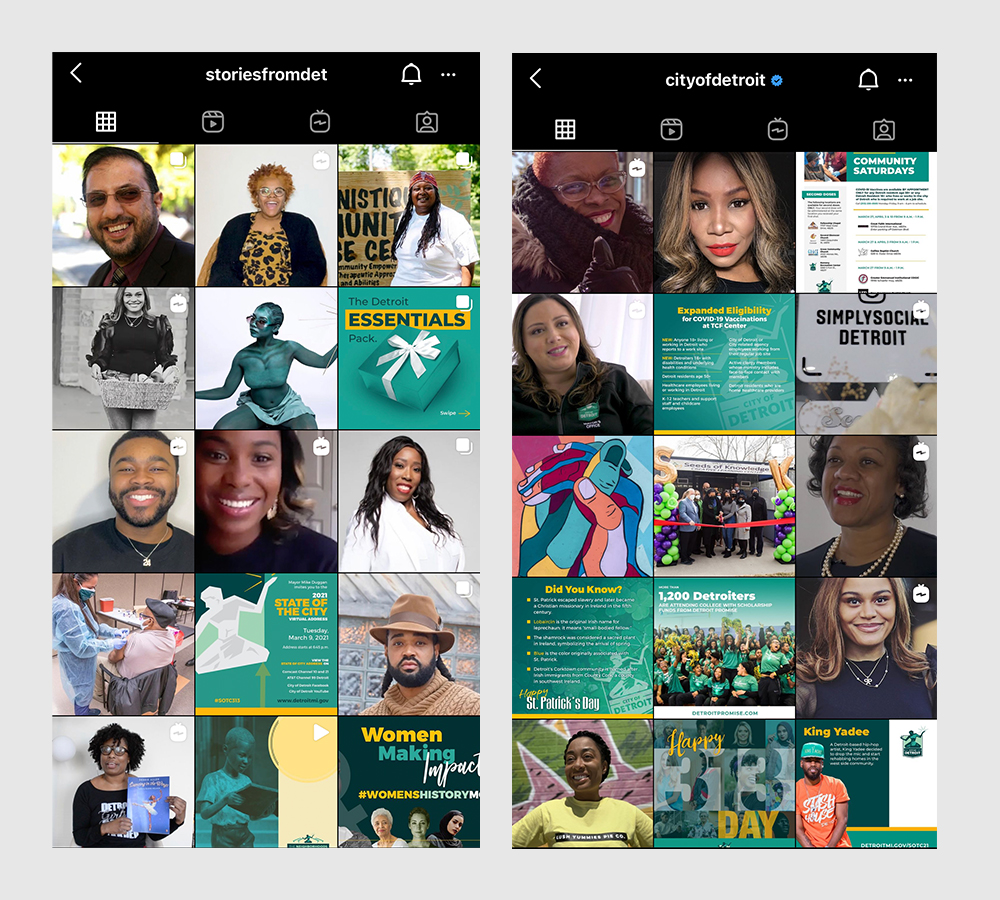 As we expand the idea of what "Storytelling" can do for a city and community, I hope you're inspired by it. But more than that, I hope it helps to make your life as a Detroiter measurably better. I hope the work we do with this team brings you joy, laughter, hope, and even tears. Storytelling is the sort of thing that moves people to action by tapping into something very foundational. It is ideas and emotion captured, then shared.
So buckle up, it's about to get real Detroit up in here. Tap in.