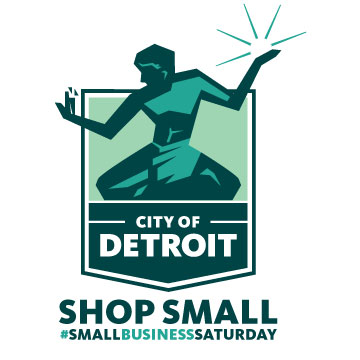 Shop Small in Detroit
Do your part to support local businesses this #SmallBusinessSaturday
Since 2010, the Saturday after Thanksgiving has been designated as Small Business Saturday. The idea was originally an initiative from American Express but in 2011, the U.S. Senate passed a resolution to make it a nationwide event. 
Studies show for every dollar spent at a small business, 67 cent stays in the community. 
In addition to the Black Business Crawl initiative from the Civil Rights, Inclusion and Opportunity department, here are a few Small Business Saturday events happening around the city this Saturday, November 30. 
Grandmont Rosedale Development Corporation will be hosting their fifth annual "Shop small GRANDmont Rosedale" from 11 a.m. until 4 p.m. Throughout the neighborhood, businesses will offer shoppers special sales or host pop up events for entrepreneurs.  Participating businesses include Grand River WorkPlace, LeeAnne's Luxury Bridal Boutique, The Town Hall Caffé, Spa-A-Peel, and Cutz Lounge the Grooming Shop. Shoppers can also enjoy neighborhood tours from the Detroit Experience Factory and free rides on the Connect10 route from DDOT. A full list of participating vendors can be found here. 
ILERA Apothecary will be offering a free gift of rose petal bath salt or a travel bag with in-store purchases of $25 or more. The store is located at 1620 Michigan Ave., Suite 120 in Corktown. 
Mobile hair stylist, Tarana Hayes, is offering off 40% all services for Small Business Saturday. You can book your appointment by following her on Instagram at @beau_t_zone. 
Mama Coo's Boutique is a resale/vintage shop with handmade and imported pieces. To kickoff their holiday season, the first 25 shoppers who make a purchase will receive a gift bags with goodies from our handmade vendors. The first 50 shoppers will receive holiday ornaments. The boutique is located at 1701 Trumbull in Corktown. 
The Gaelic League (2068 Michigan Ave, Detroit, MI 48216) will be providing Christmas cookies, Irish soda bread, and Irish brown bread as a snack for guests to enjoy.  Warm drinks will be available for purchase as well as memberships and merchandise.
Join Dcreated Boutique for their holiday pop up and enjoy 20% off purchases of $50 or more and a complimentary Shop Small tote bag and swag with any purchase. They will be downtown at the Holiday Markets from 11 a.m. until 10 p.m.
If you need a place to eat, THEY SAY Restaurant (267 Joseph Campau, Detroit, MI 48207) will be offering a Small Business Saturday lunch special; 6 They Say Wings and fries for $7. The special is available from noon to 5 p.m. 
Jazz enthusiasts will be happy about this sale. The Aretha Franklin Ampitheatre will open its box office for the 2020 Wednesday Jazzy Nights series. The Box Office will be open Saturday, Nov. 30 from 10 a.m. until 3 p.m. 
On the eastside of Detroit, Terri's Cakes Detroit, The Craft Café and the Alger Theater will be hosting pop up events to highlight local entrepreneurs until 6 p.m. today. There will be snacks, treats and free wine at The Craft Café. All three businesses are located on E. Warren Ave. between Outer Drive and Alter Road. 
The Detroit Economic Growth Corporation has a full list of events and sales on their site. Remember to shop small on Nov. 30 and support your local community.