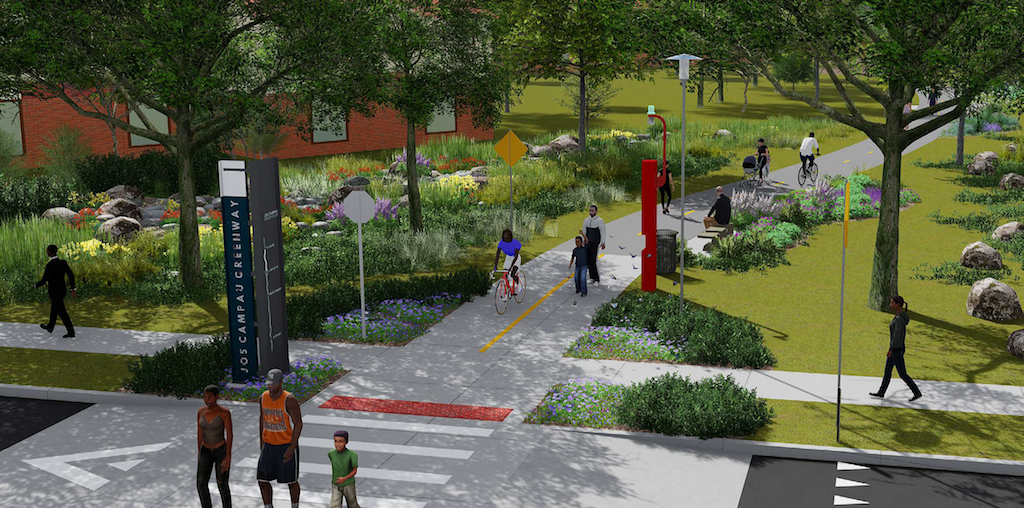 New $4.9M greenway to connect East Vernor to Riverwalk
Construction on 1.2-mile path begins this week
Construction is underway on the Joseph Campau Greenway, a $4.9 million, 1.2 mile greenway that will run from Vernor to the Riverwalk, connecting more neighborhoods safely to Detroit's international riverfront. The project, which was initially announced as part of the East Riverfront Framework Plan and will parallel the Dequindre Cut, includes new pathway construction, streetscape improvements, updates to recreation opportunities and renovations of existing greenways. 
The project will be completed in two phases. Phase one, which includes construction from the RiverWalk to Robert Bradby Drive, began in May 2019 and is expected to be complete by fall 2019. Phase two will complete the greenway from Robert Bradby Drive to Vernor. Construction on phase two is expected to begin in spring 2020, with construction completed by fall 2020. 
Currently, the existing pathways have broken concrete, worn-out recreation courts, flooding problems and other issues. The Joseph Campau Greenway will renovate these existing portions and add pedestrian improvements, including a 10' shared use path for pedestrians and cyclists; play opportunities and recreation features; new benches; outdoor power stations; mile markers; green stormwater infrastructure to prevent flooding
The city will also install clear, well-lit entryways to the greenway and new landscaping, creating a landscape buffer between the path and residential units. The greenway will be managed by the City's General Services Department and the Detroit Riverfront Conservancy. 
Road crossings and streetscape improvements will also be completed, allowing for safe pedestrian crossings at intersections along the greenway. Raised sidewalks will be installed across Larned and Lafayette, in addition to the entryways and landscaping, to calm traffic near the greenway.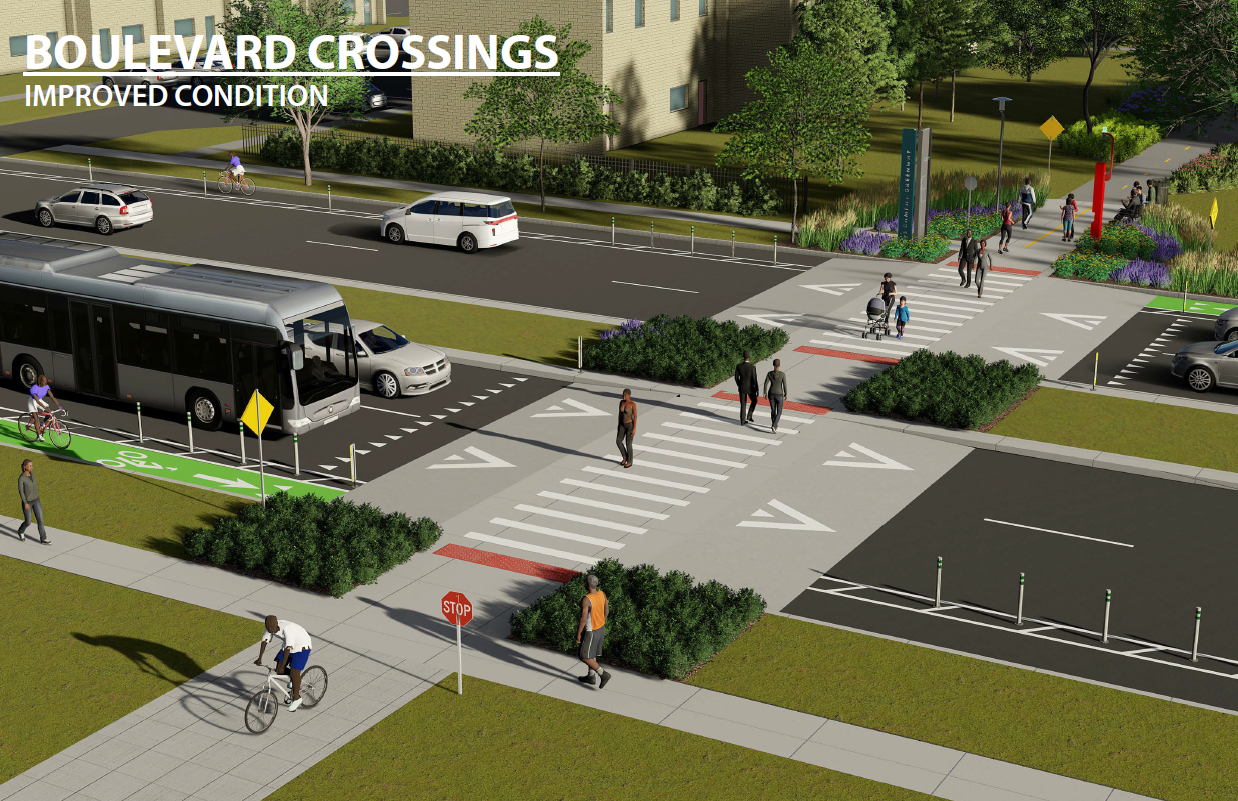 The greenway will connect to the riverfront via a newly-constructed path between Larned and Jefferson and on-street improvements on Jos. Campau. The new connection, a non-motorized path, will connect to new bike lanes, updated sidewalks and newly paved streets on Jos. Campau. 
A number of new security features will also be installed and the greenway will have strictly enforced hours of operation from 6 AM –10 PM. Cameras and emergency call boxes will be installed every 500 feet along the pathway and will be monitored 24-hours by the Detroit Riverfront Conservancy and the Detroit Police Department. New and improved lighting will also be installed, and bollards will be added to entry ways to restricted unauthorized vehicle access. 
"The Detroit Riverfront is one of the most diverse, safe and vibrant places in the city," said Mark Wallace, president and CEO of the Detroit Riverfront Conservancy.  "The Joseph Campau Greenway will become a tremendous asset for residents living in east side neighborhoods and it will provide them with direct access to the riverfront.  We look forward to welcoming them to the riverfront when the greenway opens this fall. Like the Dequindre Cut, the Joseph Campau Greenway will provide a wonderful pathway for Detroiters to come to the riverfront."