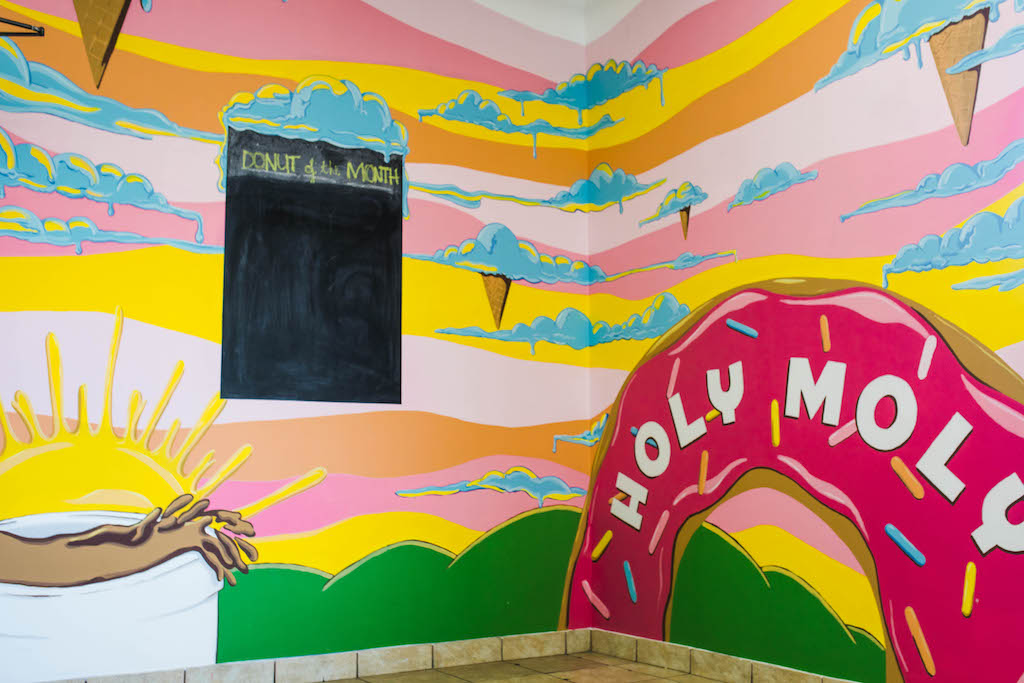 The hole story of Holy Moly, Eight Mile's curious new doughnut shop
Rooted in tradition, the shop gives a new twist to a tasty treat
When you think Detroit and doughnuts, Elias Donuts, Dutch Girl and maybe a J Dilla album come top of mind. Holy Moly Donut Shop on Eight Mile Road near the I-75 exchange is pitching itself to land among those household names.
Only a month after opening up, owner Victor Attisha, says the small shop has already become somewhat of a regional destination. "We get people from Jackson, Port Huron, Cincinnati and Cleveland," he said. "People are coming from everywhere to try our donuts." 
It's a 24-hour shop that offers customizable doughnuts, falling in line with new doughnut traditions that break away from usual offerings like plain glazed and coffee cake. Customers choose a base donut -- glazed, red velvet, chocolate are among the starters --  then choose a dip (vanilla, strawberry, chocolate, Nutella or maple) with any combination of the 30-plus toppings offered. 
Those comfortable with the familiar can go for sprinkles as a topping, or go full Detroit and get your doughnut topped with crushed Better Made chips. 
"We have a traditional feel as well as a new-aged donut feel," said Attisha, a doting father said he grew up on Dutch Girl Donuts and wanted to put a new flair on the traditional treat. 
When doors first opened at Holy Moly, they shared the building with a marijuana dispensary. Jokes among locals quickly spread online; wouldn't putting a weed shop next door to a doughnut shop be an instant slam dunk? 
Not the case at all, Attisha said. "Some families didn't want to come; they didn't want to bring their children." The dispensary has since closed, however, and Attisha is grateful for the extra parking spaces. 
And even though customers might come from all over the state, being on the Detroit side of 8 Mile still means some hesitation from Michiganders closer to home. "It's a struggle," Attisha said. "You've got to hope that people won't be afraid to come to the city just to try you." 
It's maybe why other products sold in-store are made right here in the city. Aside from the delicious doughnuts, Holy Moly sells Detroit-made bagels, cookies, chips and ice cream. "We want to support local businesses and make sure we all grow together," he says.
And Holy Moly is definitely growing. Attisha said the company will be opening a second location in the 7 Mile and Evergreen area soon, with hopes of opening at least three more locations across the city.