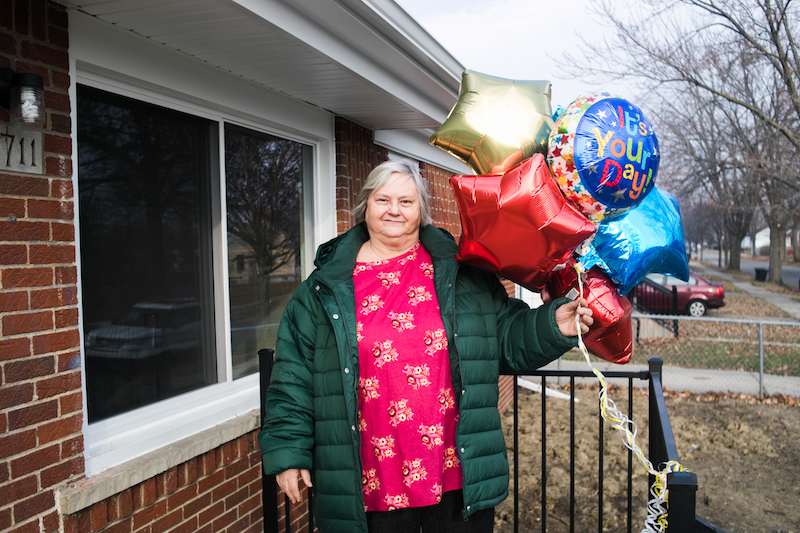 First Delray residents begin move from bridge footprint to renovated Detroit homes
Program offers voluntary relocation prior to Gordie Howe project
"Welcome to my new home!" Maria Walkenbach shouts, arms raised and hands above her head as a steady stream of contractors, cameramen and, well, whoever else wanted to stop by to say hello.
Inside a two-bedroom home on Ashton Street in Warrendale, Walkenbach is all hugs, laughs and smiles. There is no furniture in any of the rooms, which are all freshly carpeted except for the kitchen, which has new laminate hardwood floors. Soon it will be full, because today, the former Southwest Detroit resident takes ownership of the home.
Walkenbach is the second resident living in the footprint of the planned Gordie Howe International Bridge to move — voluntarily — to a newly refurbished home available in 19 Detroit neighborhoods, as part of the City of Detroit's Bridging Neighborhoods Home Swap Program. About 220 households are eligible for the program; about 15 are scheduled to take ownership of renovated properties in the next few months, while another 20 are currently participating in the program and beginning the home-shopping process.
The renovated homes are owned by the Detroit Land Bank Authority and receive up to $60,000 in construction costs before being deeded over to the new homeowner. The homes are up to code and energy-efficient, with new windows, mechanical systems and upgraded kitchens, bathroom and flooring.
Warrendale residents embraced Walkenbach when she first met community leaders during the home-shopping process, she says. "One of the reasons why I picked this neighborhood was because they have a very active block club, they have CB patrols, and they've already reached out to me several times in the last month to get involved," she says.
"It felt great to be welcomed to a new neighborhood. I know nobody. I know nothing about this neighborhood, but I feel very, very welcome."
"I have nine brothers and sisters, and I'm the only one left in Detroit. I'm a diehard Detroiter, I believe in this city, and I won't be going anywhere."
A paraprofessional at Nolan Elementary School, Walkenbach says she wants to volunteer at another nearby school in the neighborhood, as well as help out with one of Warrendale's community gardens at the corner of Auburn and Whitlock streets. During a Motor City Makeover event earlier this year in Warrendale, Walkenbach was with her future neighbors cleaning up streets and alleys. 
Not bad for someone who was largely unfamiliar with Warrendale, save for now-deceased relatives who lived there 30 years ago.
"I've always lived in Southwest Detroit. I was born, bred and I said I'll be dead in Detroit — not that I wanna die!" she laughs. "Yeah, I've been a Southwest Detroiter all my life and I cannot wait to explore other areas of the city of Detroit, 'cause I never realized there was so much more than Southwest Detroit to offer the city. It's unbelievable."
For her house, Walkenbach has eyes on putting up a swimming pool in the backyard for her grandchildren, ages 2, 4 and 7. Other kids in her old neighborhood also used the pool through the years, but those numbers dwindled over time.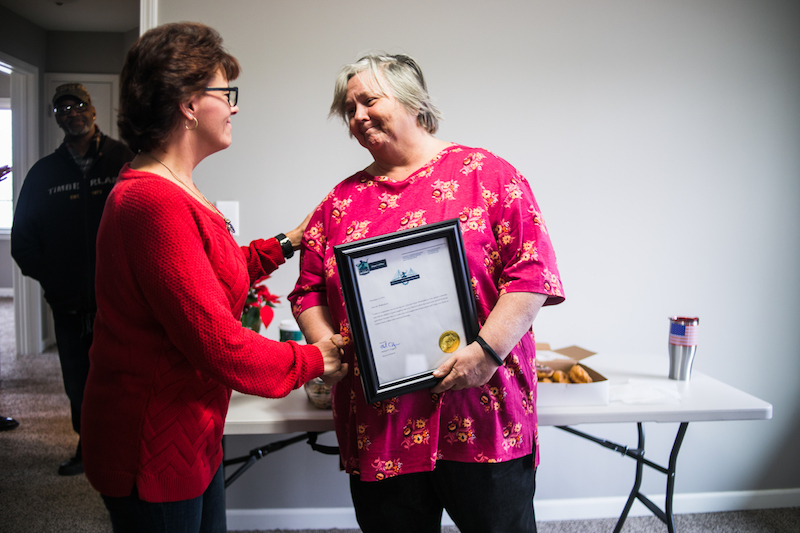 "I lived in the house for almost 20 years, but my mother-in-law lived in the house previously before her death for about 15 years. It's like a family home. The memories there are going to be hard to leave, but they're all in my heart — and on Facebook," she says. "It was time. My husband unfortunately passed away in the home six years ago and I need a fresh start to make new memories and just start over again at my late life. But I'm so excited. I am overwhelmed.
"I am a little scared, because I don't know the neighborhood," she admits. "Tonight or tomorrow when I spend my first night here, it's gonna be a little scary. But God will get me through it and so will my grandchildren, because they're already coming to spend the night!"