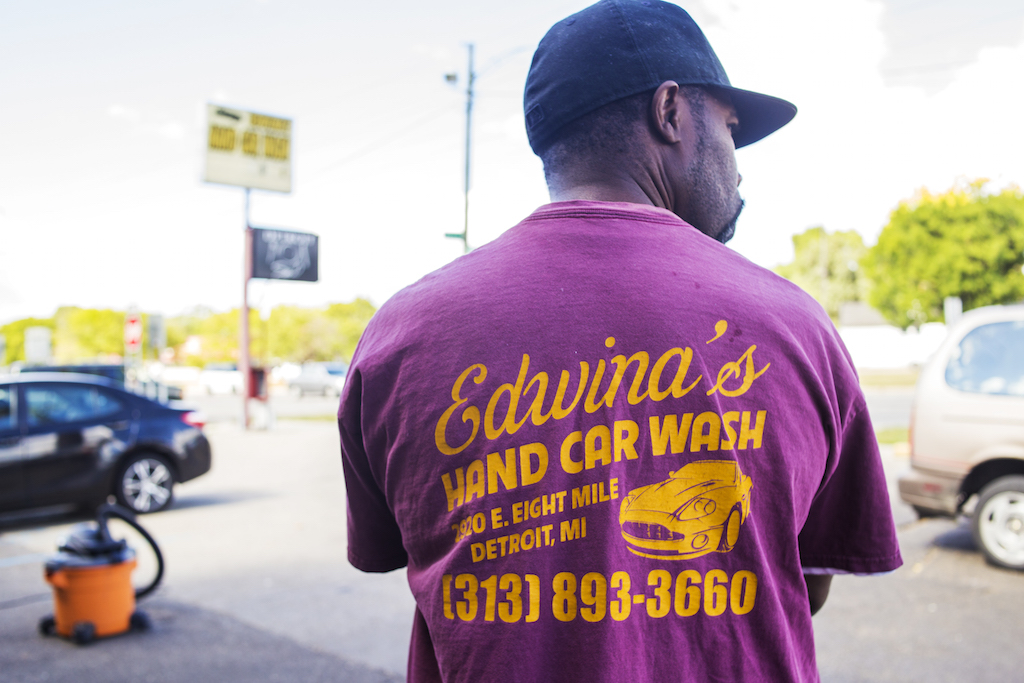 On East 8 Mile, a family-run car wash serves suds with a smile
Edwina's Hand Car Wash has been an eastside staple for three decades
If you're ever driving down East 8 Mile Road, you'll end up passing a lot of things: a coney island, a weave shop, a Dollar Tree, all of which can be found all over Detroit. But right off Dequindre on the right side of the street is a family-owned business, Edwina's Hand Car Wash, a one-of-a-kind.  
"The car wash was opened because my brother, Donald White, had a dream to open a car wash with a restaurant attached to it," says current owner, Brenda White. "It's named Edwina's Hand Car Wash in honor of our mother, Edwina White. It was originally on Jefferson, then it moved to 8 Mile and Dequindre and it's been here for about 30 years. 
"My brother got ill in 2000 and I started operating it for him," White adds. "I've been doing it now for about 16-and-a-half years."
Donald White was the original owner of the car wash, following a dream to have a hand car wash in Detroit born from a love of cars and family. He passed away during the summer of 2015. 
"Running the business since Donald passed away in 2015 has been a rewarding experience," White says. "It has its pros and cons. We just try to make sure the cars go out clean and that customers are pleased with the work that's been done. Our first priority is the customers. I do enjoy cleaning cars and watching the customer's reactions." 
Next door, customers dine at Detroit Soul while the staff at Edwina's handles business. "I like working with the employees who are also my family. They keep me going," White says.
"Since the business is run by family, we don't get to sit back and relax."
And it's becoming a family affair. While Donald White's death affected the family dynamic, the business still had to go on. Younger members of the White family now are heavily involved in day-to-day operations. 
"Ten years from now, I see Edwina's Hand Car Wash at its current location, ran by nieces and nephews with more generations to come," says Isaiah White, Donald's nephew who works at the car wash. "Since the business is run by family, we don't get to sit back and relax. We have to get our hands dirty and operate it every day, because at the end of the day we don't want to let our family friends down with bad service."
Running a business isn't easy, Isaiah White says, but it's something this family is willing to do. They understand how important it is and are upholding the legacy of Donald White and his vision.
"Being a part of a family business has been an eye-opener. You get a different view on how a business operates," he says. "I grew up on the current owner running the business, but since the passing of the original owner, we see how greatly appreciated he was and how he has impacted people to keep coming back not only as customers but family friends."
All of their hard work doesn't go unnoticed. The car wash has loyal customers who appreciate their company and quality service. It's very well-known around the city for being one of the few hand car washes in the city. 
"The workers at the car wash are so courteous," says Detroit resident and frequent customer Ella Aldrige. "It's always a great experience coming here, all through the years. I have been coming here since they opened (and when I) got my Cadillac in 2003. I send my neighbors here; I tell them 'Go up there if you want your car clean.' 
"I love Edwina's — even though my husband goes somewhere else," she says, laughing.